For many, many, many years, there's been a subject that's circulated in the embroidery world that I've never bothered to write about here on Needle 'n Thread (on the blog), because it is a debate that I don't want to have.
It's not that I'm wishy-washy; it's not that I won't stand up for my beliefs. It's just one of those topics that I figure isn't worth debating over. It's not a matter of principle; it's not a matter of life-or-death, right-or-wrong, just-or-unjust. In life, you pick your fights. And arguments over embroidery thread, when there are much greater issues to occupy one's mental energy with, just don't seem that important to me.
Still, I've been recently barraged with the question because the topic came up on a couple embroidery websites recently, and I've been asked about it off and on over the years because it comes up in classes, guild groups, books and conversations now and then. I can't tell you how many emails I've written on the subject!
And so, this morning, once and for all, I'm going to write about the question here on Needle 'n Thread: you'll know exactly what I think of the subject and finally, I'll be able to reply to inquiries about it with a direct link to this article. (Saves the fingers, you know…)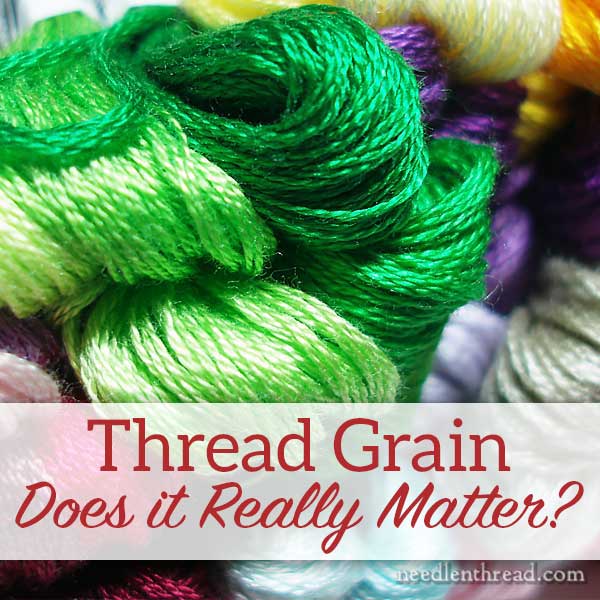 The question is: Does "thread grain" really matter?
Now, if you've never heard of this question before, I'm asking you – no, I'm begging you – to dismiss it from your mind right now.
If you've been happily chugging along with your needlework and achieving good results and really enjoying the heck out of it, please don't let this question disrupt your current, happy stitchuation!
The Notion of Thread Grain
First of all, this is the thread grain notion: embroidery thread has a grain, kind of like wood has a grain (or cooked meat has a grain). Therefore, If you rub along embroidery thread in the wrong direction, you'll be working against the grain, and subsequently, you will achieve inferior results with your stitching, because you're pulling the fibers against the grain.
To remedy this, you should determine the direction of the grain of the thread before you begin stitching with it.
To ensure that you're not stitching against the grain, thread grain advocates generally suggest several approaches:
1. Always thread your needle from the same end of the floss, which should be pulled from the right end of the skein. To make sure you do this, you pull your floss from the right end of the skein (this in itself is sometimes a major undertaking) and cut only one strand (of the six) at a time, threading the "front" of the strand into the needle (the end opposite the cut you just made), and that way, every time you thread your needle from floss from a pull skein, you're always threading it so that the thread travels in the same direction through the fabric, and that direction is with the grain and not against it.
2. "See" the grain and thread the needle accordingly. If you have pre-cut floss, run it through your fingers in both directions. Whichever direction causes the thread to look hairier or fluffier, that's against the grain, so thread your needle so that it passes through the fabric in the opposite direction, so that it's passing through "with" the grain.
3. If, somehow, your eyes cannot detect the grain, try to "feel" the grain. Run the thread through your fingers in both directions. Whichever direction feels rough is against the grain. If your fingers are too insensitive to feel the grain, run the thread across your upper lip, which is apparently more sensitive than your fingertips, and whichever direction feels rougher is against the grain. Thread your needle so that the thread pulls through the fabric in the opposite direction, so that it's going with the grain.
Why?
Thread grain advocates contend that stitching "with the grain" of the thread will result in smoother stitching, in fewer knots as you work with your thread, in embroidery thread that doesn't wear down as quickly.
My Take
It doesn't matter.
Personally, I'm a no-grainer. If you want to be a grain advocate, feel free.
From what I've noticed, whether one is a grainer or not does not make that person a better or a worse stitcher. And it is not a question of great ethical import, so when it comes down to it, just between you and me and the dog, I don't really care.
My Reasoning
I side with the research that's been done on the subject, even though I haven't applied my own eyes to the microscope.
If you want to go deeper into the subject and read some research on it, here are some sources:
(Update, 2018: There used to be a very good article on the Heritage Shoppe website, which is now defunct, sorry)
NeedleArts magazine, March 1999 – you'll find an article by Dr. Margaret Jenkel (she's a research physicist) about her experiments on embroidery thread (cotton, silk, and wool). Her final conclusion is quite blunt. Her last words of the article: "Thread has no grain."
My own reasoning, as far as it goes, on the whole question:
1. Personal experience: I've never seen any indication of thread grain when working with floss.
If my thread is particularly knotty, it's normally because of the needle I'm using (maybe it's too small? Maybe it has a burr on it?), or because the thread is worn, or because I'm allowing the thread to twist up so much… it could be lots of reasons.
If my satin stitch looks different when I change my thread, it's not because I'm now stitching against the grain of the thread. It's because my previous thread was beginning to wear and I've switched to a new thread. This is one reason for burnishing the satin stitch, once the piece is finished. It evens out these problems.
If my long and short stitch looks different when I change threads, it's for the same reason. As the thread wears – even a tiny bit – a new thread is going to look different next to the old thread.
These points are all easily remedied: change needles, don't stitch with worn thread, and so forth.
2. It doesn't make sense in the marketing scheme of things. Mercerized cotton embroidery floss has been around for a long time. So has wool. So has silk. If it were so important to use the threads only from one direction in order to achieve good results (or optimum results), the manufacturers would be instructing on thread grain. They don't. And in fact, they will tell you their embroidery floss does not have a grain.
3. Insisting on determining thread grain before stitching is often detrimental to the developing interests of new stitchers. It's a terrific way to make matters unnecessarily complicated. I've seen it happen. I've seen ladies at needlework shops demonstrating how to determine the grain of thread, and I've seen their students sitting, completely frustrated, rubbing pieces of thread back and forth on their upper lips. It can be a real turn off.
4. Update, 2018: Over the last several years, I've had the opportunity to talk to two scientists and a physicist in the agricultural world who are experts in the agricultural foundations of producing textiles. This is really not "real" scientific evidence – simply anecdotal – but when I brought up the subject of cotton thread having a grain, they looked at me like I had three heads. I explained the argument to them. They chuckled at the notion and fairly roundly said "no," that it makes no sense. By the time cotton is thoroughly "manufactured" and ready for textile production, there's no possibility of any noticeable grain, nap, or any structural scaling. That pretty much fixed the subject for me permanently.
Concerning Thread "Nap"
Sometimes, there's a variation on the question. Instead of "grain," substitute the word "nap" – that thread has a visible nap that travels in one direction because of the way it is spun, and that this nap is visible on heavy yarns (knitting, crochet yarns) but not visible on embroidery threads because of the difference in the size of the threads. But, the nap can be felt (by the ways mentioned above) and, therefore, you should never stitch against the nap of the thread.
I would apply the same reasons listed above to the question of thread "nap" as well.
What about you?
So, now I've said it. That's my take. When it boils down to it, I don't think it matters. It isn't worth arguing about, that's for sure.
If you want to chime in on the issue, feel free to leave a comment below.