Whenever I hear from Larissa Borodich, a stitching friend from Moscow, I always know I'm in for a visual feast! Her goldwork and pearl embroidery is always sumptuous, meticulously worked, and downright beautiful!
Larissa's latest piece – like the last stylized pomegranate she sent photos of – comes from a design I shared on Needle 'n Thread ages ago. It is by far one of my favorite "sampler" designs for goldwork – and it could be interpreted in other types of embroidery, too.
So, here's some splendiferous eye candy for you this morning, plus a little bit about the design itself.
Glorious, isn't it? The combination of goldwork threads, pearls, and semi-precious beads is exquisite and rich!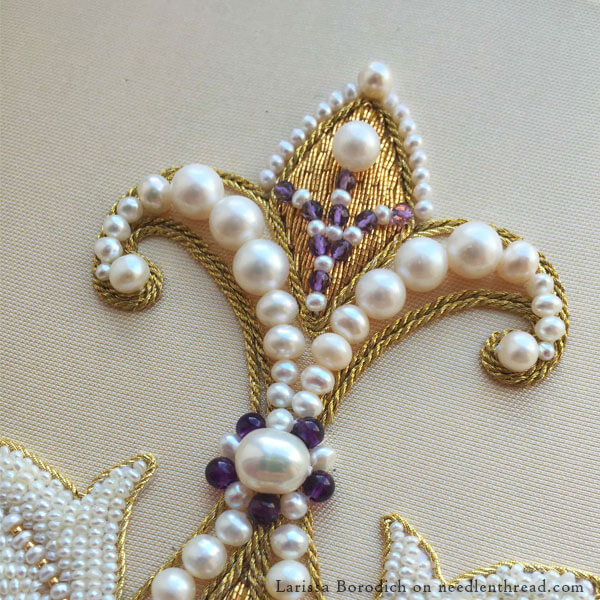 For the goldwork threads, Larissa used gold cord, imitation Japanese goldwork threads T70 and T71, and chip work using check purl. The beads are amethyst.
The couched gold threads in the center are worked over padding, as are the pearls on the "fronds" on each side.
The completed embroidery is 6.5″ x 5″.
More About the Embroidery Pattern
This design is the center section of this goldwork sampler pattern by Hinda Hands, which I wrote about here, years ago.
This is one of those designs I've always meant to work into a nice, clean line drawing, and some day, I will! The pattern can certainly be used for more than goldwork! It would interpret well into a crewel embroidery sampler, too, for example.
You can find the book that this design came from (it's called Church Needlework: A Manual of Practical Instruction by Hinda Hands) available online for free at Internet Archive. It's an excellent old book on ecclesiastical embroidery and the techniques used in church needlework.
When I bought my copy of this book, there weren't yet any extensive online collections of public domain books, and not a lot of interest in old ecclesiastical embroidery. Books on the topic – even old, used ones – were hard to find, and when you did find them, they were pricy.
Now, you can find this book used through sources like ABE books online, but there's also a reprint out that's available. The reprint, though, is a direct copy, and it's not guaranteed to be perfect. The description on Amazon has a bit of a disclaimer on it. But if you like to have the book in hand, rather than accessing it online or downloading it to your computer, you can pick up a copy of it fairly inexpensively now.
More of Larissa's Embroidery
If you'd like to see more of Larissa's embroidery, you can browse through these previous articles on Needle 'n Thread, highlighting her work:
Beadwork & gold threads embroidered frame
Pearl & goldwork embroidered frame
Meticulous artwork in tent stitch
High relief pearl and goldwork icon
Stylized pomegranate in pearl and goldwork
Thank you!
Thanks so much for the flood of good wishes after Wednesday's article! I would like to reply to each and every one of them, and if I can, I will.
I don't really like to use Needle 'n Thread to sound off about personal problems, but I did want you to know that I have a little hurdle in front of me that's going to slow me down for a bit and affect my publishing schedule here on the website. Looks like I'll be having surgery around the first week of November – keep me in your thoughts and prayers, and I'm sure all will be well.
By the end of November, things should be back to whatever we can call "normal" – you know, thread-obsessed, embroidery addicts chatting up the world of needlework. Sure, that's normal! In fact, it's the best kind of normal, right?
Enjoy your weekend!