Oh golly! I've been wanting to write this book review for Alison Cole's new book, The Stumpwork Masterclass: Raised and Embossed Embroidery, for a long time!
If you acquire this book – and you must, if you have any interest in stumpwork, historical or contemporary – you'll understand the delay. It is not your typical book. It is a tome, and I wanted to read it cover to cover before writing about it.
Well, I finished it, and now I'm going to tell you all about it!
Stumpwork Masterclass is a book that began as a masterclass Alison was requested to teach for the Embroiderers' Guild in Victoria, in Australia.
And it's exactly that – a course, recompiled in book format, that covers all the elements of stumpwork embroidery, from its history, design elements, composition and structure, stitches, supplies, techniques…everything you ever wanted to know about stumpwork (and things you didn't even know you wanted to know!), you'll find in this book!
The book is illustrated throughout with historical and contemporary examples of stumpwork. If you're like me, you won't launch right into reading it. You'll go through the pictures – and there are a lot of them, and they're gorgeous and fascinating.
In my mind, you can never have too many photos in a needlework book! Especially if they're pertinent, clear, colorful.
The first part of the book is devoted to history and design, and makes great reading.
I love the fact that Alison included an organized timeline of the historical era most famous for its stumpwork. I have a Thing for timelines – they put things in historical perspective, succinctly.
After the historical background, we jump right into stumpwork, and from here, the book is divided according to techniques used to produce all the typical elements (and some not-so-typical) that we see in stumpwork.
Alison begins with discussing padding, since padding is such a dominant part of stumpwork embroidery.
Here, you'll learn all kinds of methods for adding padded elements to your embroidery projects, from using orts, fabric, paper, making padded slips, using wired armature, soft cotton padding, felt padding and stuffed felt, working with wooden forms, and other types of padding, too.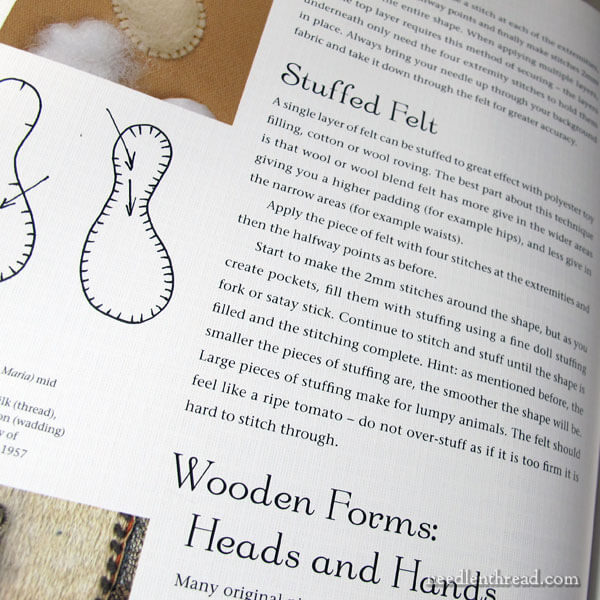 Trust me, it's thorough! Examples are shown, and techniques are discussed and illustrated.
Much of the instruction throughout the book is done through written explanations accompanied by diagrams and line drawings.
Reading through the book is much like reading through a professor's notes for a course – which is essentially what the book is. But don't get me wrong! It's not a dry, boring course. After all, it's Embroidery we're talking about!
You'll also find step by step photos of fun techniques, too.
After the section on padding, there's a massive section on creating stumpwork people, covering everything from making up the body parts and so forth, to dressing them in intricate clothing, making trim for their clothes, creating their hair – you name it, if it has to do with people in dimensional embroidery, you'll find it here!
The section on people is followed up with a thorough exploration into needle lace stitches, which are a big part of historical and contemporary stumpwork.
From here, we move into putting needle lace into play in stumpwork projects, using it with different types of materials and techniques.
Then, the rest of the book is divided into other elements common in stumpwork, following kind of a historical approach to stumpwork, but filled with contemporary examples, too, of using the same elements today.
So, there are separate sections on stumpwork animals, flowers and leaves, skies and signatures, grounds (grasses and whatnot), trees, birds, grottoes and fountains, buildings, bugs, and borders.
Then, there's a section on finishing and a section on making wrapped panels.
In each section, you'll find historical examples of the elements along with contemporary interpretations.
You'll find all kinds of techniques that can be used to produce the elements – with lots of variety!
You'll find explanations of different materials and threads that can be used, and examples of how to create the elements different ways, with different approaches.
One thing that I love best about the book is that, while written on a very solid historical foundation, the author incorporates contemporary examples that bring stumpwork into the 21st century. It's not all about meticulous re-creation of specifically 17th-century designs.
This approach allows for the development of the art, rather than the static imitation of the art of earlier centuries.
And another thing I love? Well, did I mention the pictures? I could get lost in the pictures alone!
For anyone with an interest in historical embroidery, in stumpwork (contemporary or historical), in techniques that can be applied to different types of embroidery, too – this book is well worth adding to your needlework library!
It's extremely thorough, instructive, interesting, and exciting!
Where to Find Stumpwork Masterclass
Alison's books (she has two excellent goldwork books, too: The Midas Touch and All That Glitters, both of which I've reviewed) are published by Alison Cole Embroidery, and are sold through her website in Australia.
You can find Stumpwork Masterclass available on her website here. It's a big book, and it's quite heavy, which makes the postage outside Australia quite expensive. The postage is almost as much as the book.
On the bright side, for those of us in the US and in the UK, if you do the currency conversion, it's not as much as it seems, price-wise. This morning, based on today's exchange rates, the book plus postage works out to US$67.84.
For the stumpwork enthusiast, I think the price is well worth it! This is the type of book that makes a magnificent reference for years and years to come. It's also the type of book that will certainly be popular, especially among the historical stumpwork enthusiasts, so you never know how long it will be in stock and available.
To place an order on Alison's site, you have to fill out the online order form here, and then she'll send you a Paypal invoice. It's easy to do – just read the instructions on that page.
And heck, you can always take the sting out of the book price a bit by ordering some of Alison's kits, too. Ha ha! I drool over Alison's kits. While the exchange rate is good, I figure now's as good a time as any to pick up one or two of them, right?
Yeah, you know me. Any excuse…
Seriously, though, if you love stumpwork, indulge in the book!
No affiliation – just admiration for Alison and her work!