Happy Monday!
I won't start this week by grumbling about the Most Ridiculous Time Change that we call Daylight Savings Time. Some day, reason will prevail and it will be abolished altogether, don't you think?
So, instead of bemoaning DST, I'll start the week off sharing a tiny bit of progress on Late Harvest. I Really Like this leafy element that I stitched over the weekend.
At first, I wasn't sure I'd like the color combo, but I love the techniques involved. The strange thing about the colors, though, is that, as the element came together, the colors seemed to morph into something rather pleasing.
I really wanted to finish this whole stumpwork cluster of three leaves over the weekend, but alas, it didn't happen!
Are you ever surprised how long it takes to stitch something that's relatively small? I am! The lattice leaf in the photo above took me just over four hours to embroider, and it's smaller than my index finger!
I'm not sure if that says something about my slowness in stitching, or about the intricacy of the particular element, or about the whole nature of hand embroidery. In any case, I thought I could finish the three leaf cluster with no problem, but I was duped.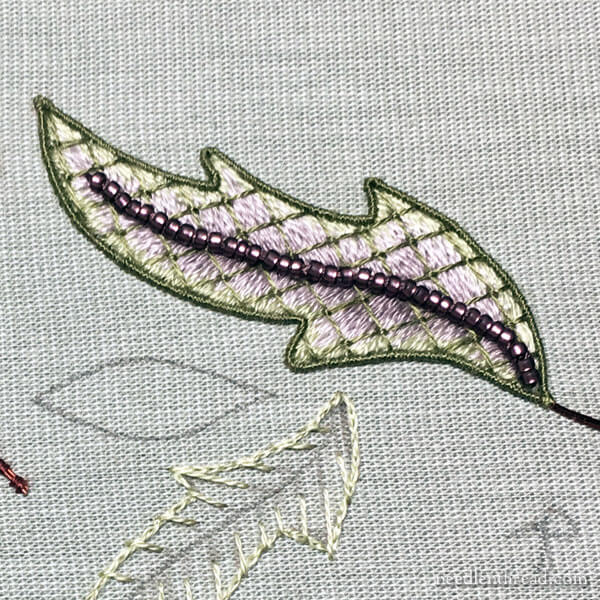 This particular leaf uses the same technique found in this larger leaf that I showed you a while ago. It's a long and short stitch base, topped with a lattice grid, topped with a beaded vein down the middle.
My beaded vein leaves a bit to be desired. It has a bit of a wobble to it, doesn't it? Funny how I only notice those things when I see close-up photos!
Anyway, once the leaf is embroidered, a wired outline is worked around it using an overcast stitch (like a tiny satin stitch) over the wire, right along the edge of the leaf.
The Really Weird Thing about this particular leaf is the color combination.
Wait. Let me re-phrase that!
The Really Weird Thing about this particular leaf was my first perception of the color combination.
The outer edge of the long and short stitch is a very pale, soft green (3013 in DMC).
The inside shading is a color that, when I first saw it on its own, I though of as a kind of clayish gray. I pulled the color out and thought, "Oh, yuck. This is going to look a bit gunky."
But when I combined the two inside shades (DMC 452 and 451) with that light green, the color transformed before my eyes. The purple tones in the grayish threads took over, and the leaf ended up being a really pretty combination of pale green and soft purples.
And I liked it! A lot!
I love the trellis over the long and short stitch, too. It adds such a pretty touch!
Yep. I have to say, Hazel Blomkamp's color combinations and stitch combinations are absolutely fascinating – which is undoubtedly why I love working this kit!
Weekly Plans, Thank You, and Extending the Spring Sale
This week, I'm planning to make tons of headway on Late Harvest! I might even finish it.
To eliminate a 200-mile drive every day to my treatment center, I'll be staying in Kansas City with Late Harvest as my sole companion for the last week and a half of radiation treatments. Trust me, this is a good thing. The daily drive was a bit much.
I really have to shout out a huge Thank You! to all who took advantage of the Spring Sale on Needle 'n Thread this past weekend. It's thanks to you – and to all who have bought my ebooks over the years, really! – that I can justify staying in the city for eight days, and I can't thank you enough for it! I hope you enjoy the e-books.
And speaking of the Spring Sale, I had a lot of requests to extend it past the 15th of the month and several requests to add some other e-books to it, especially the Lattice Jumble Guide and the Marian Medallion e-book. So I've done that for you – all my larger e-books are on sale now, and the sale will continue through the end of this week for those who wanted that extra little break.
I'm not abandoning you altogether, even though I'll be out of town. I have to show you my set-up for stitching in a hotel room. It's rather weird, but it works.
I hope you have a glorious day, wherever you are, and that the sun, even though it's rising an hour later every day (rrrrrrrgh), shines on you all week long!