Living in a small rural town in the middle of Kansas has its advantages…but it also has certain drawbacks.
For example, local embroidery supplies are pretty scarce. And locals who share an interest in embroidery are scarce, too. That's why I love, love, love our little community on Needle 'n Thread! Thanks to the internet, we can share ideas, tips, and tricks about embroidery with ease, almost as if we live right next door to each other!
This month, I experienced another disadvantage of rural life. Mid-May, I received one of those delightful little cards from the Post Office that said I had a package waiting. I love those cards! Especially when I'm not expecting a package! But upon perusal, I saw, circled boldly, "Last Notice. Package will be returned to sender in two days." Last notice? Last Notice? I never got a first notice! Needless to say, I hastened to the local PO (which has the oddest hours on the face of the earth), and retrieved a very intriguing package, which I'm going to tell you about today.
This particular package hails from Cynthia – you might remember her from the incredible work she did in formatting my Marian Medallion e-book – and in it is an item that may very well be The Solution to all your whitework embroidery transfer fears.
Cynthia is a thoroughly thorough person. When seeking a solution for transferring whitework designs (specifically for Schwalm embroidery), she decided to experiment with several different transfer possibilities.
Enclosed in her package was the result of her experiments – photos of her Schwalm whitework, cleaned and pressed, with no evidence of transfer lines; samples of small stitched pieces cleaned in different solutions, also with no evidence of a transfer lines; a write-up of her method of experimentation; and the winner of her experiments – a Pilot ENO pencil in blue, with extra leads.
This particular Pilot pencil – the ENO – comes in a variety of colors, but the blue is most suitable for transferring whitework embroidery designs. Why?
Blue has a tendency to make white look whiter. It "disappears" more easily into white. And so it's always a better choice than other colors – like gray or red, for example – when it comes to transferring a design for whitework embroidery. If all the blue doesn't disappear entirely, it's not as noticeable.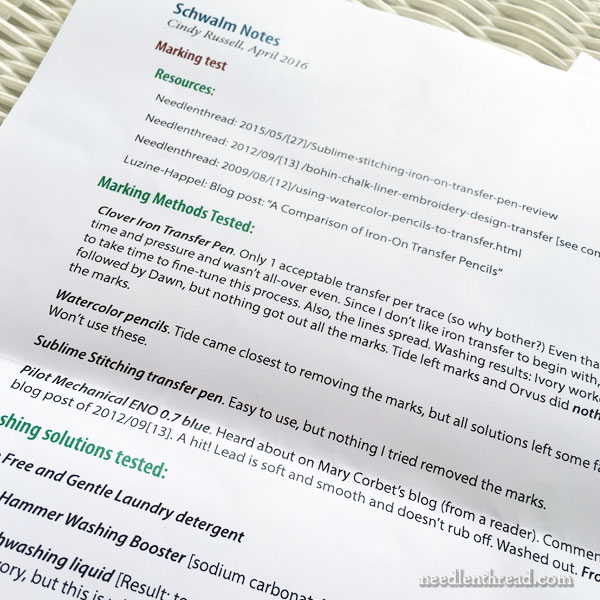 Cynthia tested several different transfer methods, including the Clover iron-on transfer pen, water color pencils, Sublime Stitching's transfer pen, and finally, the Pilot Mechanical 0.7 ENO in blue.
With the Clover iron-on pencil, she found that the lines spread a bit, that the marks only transferred once and unevenly at that, and that no washing solution that she used removed all the marks.
The watercolor pencils also left faint marks that did not entirely wash away.
Nothing would remove the Sublime Stitching transfer marks.
But finally, with the ENO, she found a transfer pencil that drew a smooth, easily visible line that doesn't rub off, and that washed away without a trace.
Cynthia used a variety of washing solutions, including Tide Free and Gentle Laundry Detergent; Arm & Hammer Washing Booster; Ivory Dishwashing Soap; Dawn Dishwashing Liquid; and Orvus. Her chosen method for the samples she worked ended up being 2 tablespoons of Tide Free & Gentle mixed with 1 tablespoon of Arm & Hammer Washing Booster in 1 quart of water, soak for 18 hours, rinse, and finally, boil the piece in a pot of water for five minutes.
It sounds complicated, especially the last boiling part, but the boiling removes all soap residue and gives the linen a final whitened result that is quite crisp and stunning. I've been boiling whitework linens to clean them for a long time – it's worth the effort!
Ivory dishwashing soap also worked well, following the same method above.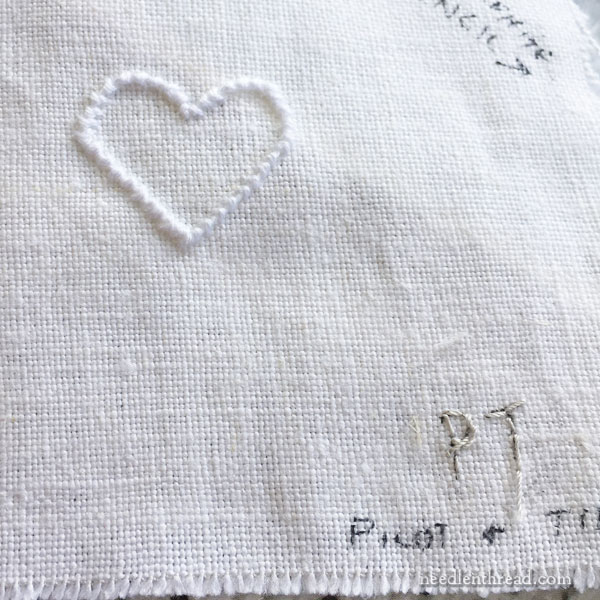 Here, you can see a small embroidered sample. The ENO was used to draw the design, and the washing was done as above. Not a trace of blue. Perfectly white, perfectly crisp. Exactly what you want to happen when you wash away transfer lines on a whitework embroidery project!
A huge thank-you to Cynthia for testing, samples, and such a thorough write-up! I'm pretty excited about the ENO, and I can't wait to make use of it! It's always nice to transfer a design with confidence and know that, in the end, the lines will be gone!
Where to Find the ENO
The ENO is not widely available in big box or office stores (or at least, not in Kansas – I tried!). In the US, you can find the blue ENO through the following affiliate links:
Blue 0.7 ENO – Pencil (Amazon)
Extra Blue ENO 0.7 leads (Amazon)