Some of the questions showing up in my inbox lately have to do with Coloris, DMC's new multi-colored stranded cotton.
I'm working on a little Coloris project as we speak – I'll share that with you in upcoming weeks. I always figure you can get a better idea of a thread and what it does by actually stitching with it, rather than just handling it and staring at it. And to that end, I've been playing about with it! (Hey, any excuse to play with thread!)
In the meantime, I'll answer a couple questions about the thread that may help you decide if you want to add this new collection of twenty-four colors to your stitchy stuff.
Let me put it this way – if you have a fun streak when it comes to embroidery, I'm pretty sure you're going to want to add it to your stash!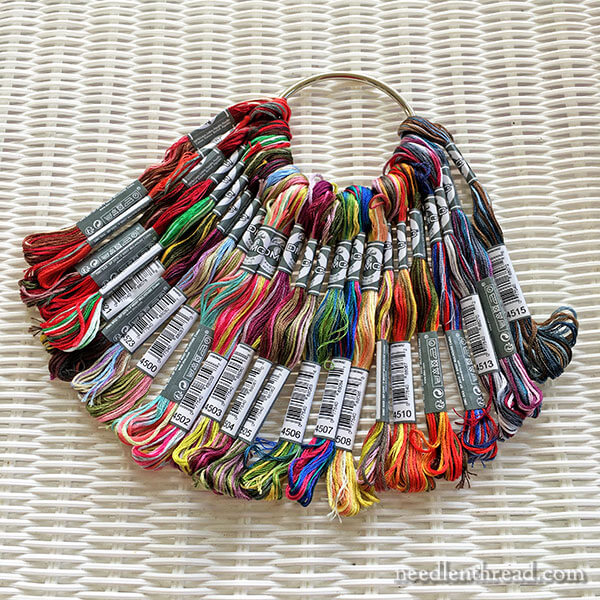 What is Coloris?
First of all, the very basic question: what is it?
Coloris is a mercerized stranded cotton, just like DMC's regular stranded cotton. It's the same base thread.
It's made up of six strands that can be separated and used individually for very fine work, or used two, three, four, five, or six strands at a time, depending on how heavy you want your stitching to be.
The difference, of course, is all in the color.
Coloris and Color
Coloris is a multi-colored thread. Each skein is pretty much packed with color!
And while the colors in each skein are compatible, they don't necessarily belong to the same or similar color families. They are complimentary colors, and they involve some vivid contrasts.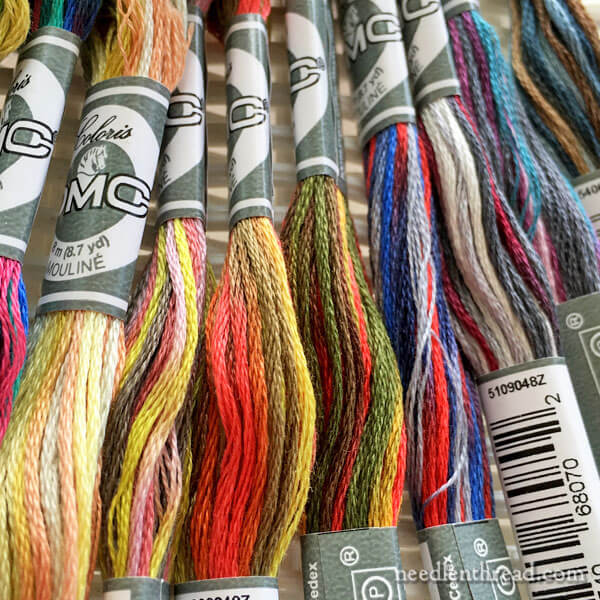 How does Coloris differ from Color Variations?
Color Variations is DMC's more familiar line of "overdyed" threads. Each skein combines shades (in a soft and gradually changing sequence with no noticeable harsh contrasts) from the same or neighboring color families. The colors change gradually – you're into a new color about every four inches of thread. The colors blend blend smoothly and seamlessly.
Coloris is the wild-and-slightly-hyper cousin of Color Variations. The colors within each skein change more frequently – about every 1.9 inches – and the colors that make up a skein don't promise a lack of contrast! You'll find contrasting colors working together for a dramatic, motley effect.
You might call Color Variations soft, elegant, gentle and calm.
Coloris you might call bold, vigorous… and a bit crazy.
What's the Point?
Coloris fills a gap in the cotton embroidery thread line by supplying a variegated thread that changes colors more frequently and that employs vivid contrasting colors within the individual skeins, for a more dramatic and noticeable effect when stitched.
Like other variegated threads, you can manipulate Coloris to do interesting things with color, within the constraints of the colors offered in each skein. We'll look at this concept later, when I share some stitched samples with you.
In the meantime, the advantages of Coloris are the same advantages you'll find in DMC stranded cotton: it is easy to stitch with, it is colorfast and fade resistant, and the colors and their sequences are consistent from skein to skein.
Where to Find Coloris
Check with your local needlework shop! If they carry DMC, chances are, they have Coloris in stock.
I haven't checked any of the hobby and craft stores that carry DMC to see if they have Coloris in stock, but I would imagine most stores that carry DMC will eventually carry the collection.
Tags