Ahhhh, Monday! I love you! I always feel like you give me a fresh start!
Today's article isn't precisely a fresh start – it's a continuation of the floral scrip monogram alphabet that I'm adding to this collection of free monogram patterns for hand embroidery here on Needle 'n Thread.
Today's letters are Q, R, S and T.
This particular alphabet has features the weird S and T. If you're a fan of monograms alphabets – especially those from older sources – you've probably pondered the weird S and T before.
In the image above, the S and the T are the letters on the lower line.
Of course, you know this! But, isolated, the S and the T are not super recognizable when compared to today's handwriting practices.
(Come to think of it, today's handwriting practices don't always produce recognizable letters, either!)
These "outdated" letter forms of the S and the T are actually pretty classic when it comes to monogram alphabets. They hail from days when letters were elegantly scripted, and they would have been perfectly recognizable in their time.
Among monogram fans, the letters don't really pose a problem because they are pretty typical.
Changing the Letter Form
But if you want an alternative to the weird S and T, it's possible to produce one. If you're not handy with script or lettering yourself, just find a font that you like, print the letter at the size you want, and trace it.
Then, trace the embellishments from the floral script alphabet onto your new letter – the central bunch of flowers, the little flowers at the tip, the "tongue" at the base, and, if there's a place for it, the dot. You might have to tweak the embellishments a bit to make them work with your new letter style.
Just be aware that the new letter you produce may not fit consistently with the rest of the alphabet. And that's ok if you're just doing a one-off! But if you're doing a series of letters from the same alphabet and you want consistency, you'll have to be careful in your selection of new letters. You'll want something that looks enough like the rest of the alphabet to fit in well.
Stitching Ideas
If you're looking for stitching ideas, you'll find a collection of articles with tips and techniques for embroidering monograms listed here.
Among them is the E from this alphabet, shown above.
Floral Script Q, R, S, T – Free Printable
Here's the free PDF printable for letters Q through T in the Floral Script Alphabet. The letters will print at 2.5″ high if you choose "100%" or "No Scaling" or something similar in your print settings.
Floral Script Q – T (PDF)
Favorite Monograms – PDF Collection
You'll find the complete Floral Script alphabet – along with 15 other decorative alphabets – all in one place in Favorite Monograms, a downloadable PDF collection of 16 monogram alphabets perfect for hand embroidery and other crafts.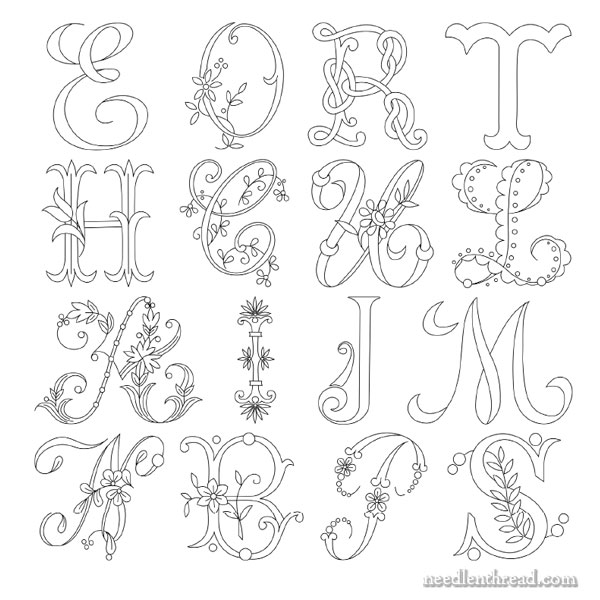 In the photo above, you can see samples of each alphabet available in Favorite Monograms.
The 16-alphabet collection is delivered as via a download link to your inbox shortly after purchase, so that you can begin creating right away! Priced at less than $1.00 per complete alphabet, monogram lovers can't go wrong with this collection!
Favorite Monograms is available in my shop, here.