I really had a great time running A Stitcher's Christmas this year!
For those just joining in, A Stitcher's Christmas was a series of ten give aways leading up to Christmas, featuring some really wonderful needlework-related gifts.
Thanks to all who participated in the series, and a Huge Thank You to the small needlework businesses who offered the prizes! It was a lot of fun!
Today, I'll wrap up the series by announcing the winners of the last two prizes – this collection of A-Z needlework books, and these two miniature tapestry kits.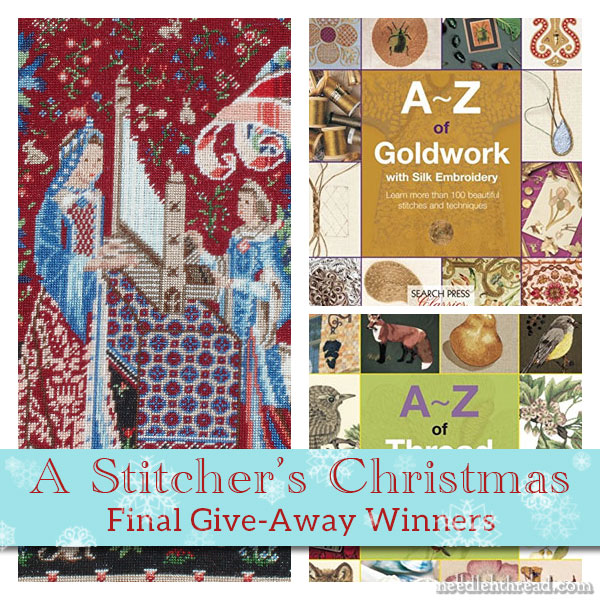 Miniature Tapestry Kit Winners
Thanks so much to MicroStitchery for the gorgeous miniature tapestry kits! There are two randomly drawn winners for this give-away, one for each tapestry kit.
Update, 2018: While MicroStitchery is still online, they are no longer honoring orders. I have heard from many folks who have placed orders with them, but have never received the orders and had to apply to PayPal for a refund. I've tried to contact Joy, the lady who took over the business, but with no luck. Just a word of caution, for those looking for miniature tapestries!
The Sense of Hearing miniature tapestry kit winner is Julie Newman, and the Sense of Taste miniature tapestry kit winner is Maggie Hillock.
I hope you both enjoy your new kits, and that they give you much stitching pleasure in the New Year!
A-Z Books Winner
Thanks heaps to Search Press for the collection of three A-Z embroidery books: The A-Z of Goldwork, A-Z of Stumpwork, and A-Z of Thread Painting.
The randomly drawn winner for the three A-Z books is Alycia Andress. You'll love the books, Alycia!
Coming Up on Needle 'n Thread
Next week, we'll return to regularly scheduled broadcasting here on Needle 'n Thread. This week, I'm enjoying a little break from publishing on the website, but not from All Things Needle 'n Thread. I've been stitching up a storm on several projects, and I'll share progress on those shortly into the New Year.
I'm also doing my end-of-year planning for next year. It never quite works out exactly as I plan it, but before each year commences, I try to make a good solid sketch of what I'd like to accomplish on Needle 'n Thread that year.
In 2017, I'll be launching a new section to the website (more on that closer to March), I'll be showing you the progress of at least five projects during the year, and in between those, I'll be sharing new tutorials, books, tips, little projects, and all kinds of needlework-related stuff as the year progresses.
My overall plan is that Needle 'n Thread improves over the previous year, and that I improve along with it. It doesn't always work that way – life can throw in a few curves – but I always like to start out with the hope and optimism that a New Year always brings. I'm really looking forward to 2017!
Enjoy the last week of 2016 and I'll see you next Monday!