Last year (or just a few weeks ago), the subject of time management and embroidery came up repeatedly in my inbox. I mentioned it briefly here on the blog and got lots of response, asking for me to cover the subject.
The more I've thought about it, though, the more I realized that time management is a really difficult subject to cover in just one article, for several reasons:
1. Time management is a huge topic, and lots of sub-topics fall underneath it.
2. What works for one person when it comes to time management is not necessarily going to work for another person, because everyone's circumstances are different.
3. I am not the best example to follow when it comes to time management. Yes, I have certain tricks – more like rituals – that I go through, to help me manage my time and make sure I get my work done, but, like anyone, I tend to slip up and fall off the wagon now and then. So I'm plagued with self-doubt when it comes to sharing ideas about a lofty subject like how to manage your time!
4. Time management is not quite the same thing as organization (although organization has a lot to do with time management), and when it comes to embroidery specifically, I think it's more a question of organization than actual time management.
So today, I thought I'd share with you some ideas on managing embroidery projects, especially if you are the type of personality that needs to have a lot of things on the go at once. This is a much more specific topic than "time management," and perhaps the ideas we share here (and in the comments below) will be more of a direct help to those of us who stitch and who want to have time to stitch more often.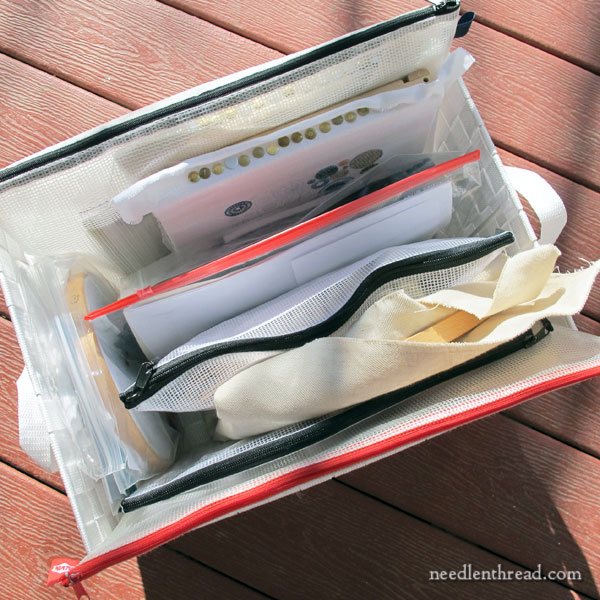 It doesn't look like much, does it?
The photo above features the Epicenter of My Embroidery World. It represents the Stuff Getting Done.
While I do have a workroom where my supplies are (more or less) stored and organized, when it comes to actually getting needlework done, the basket in the photo above is It.
In that basket are nestled nine embroidery projects that are currently underway in my life. There is a tenth project set up on a frame and stand, with all its contents in a separate box, but all in all, when it comes to getting any stitching actually done, that basket above represents everything I'm working on.
Taken as a whole, it doesn't look like much. It's just a lightweight large nylon basket that I picked up at a store for about $5. It's large enough to hold large projects and small, but light enough to be easily moved and small enough to situate in an out-of-the-way place that doesn't contribute to household clutter.
In fact, it stays at the foot of my bed in my bedroom. No one ever sees it but me!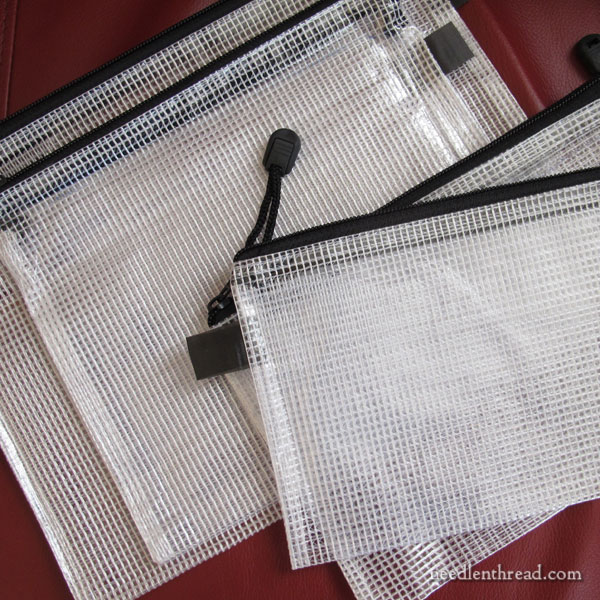 Organizing Each Project
Nine projects in one basket sounds like a lot. And if all the ingredients for those projects were dumped into the basket, it would be a lot, and it would be pretty messy and disorganized.
So I use a variety of different types of bags – ziplock bags, mesh zipper bags (like the ones shown in the photo above), and the like – to organize each individual project.
That way, when it comes to working on a specific project, all I have to do is grab the one bag that contains everything for that project and work from that bag.
What's In a Bag?
A project bag contains everything I need to do the work required on that project. Here's the list of what's in every bag:
1. The project (mounted on frame or hoop)
2. All threads and embellishments
3. The instructions
4. A needlebook with a variety of needles in it
5. A small pair of scissors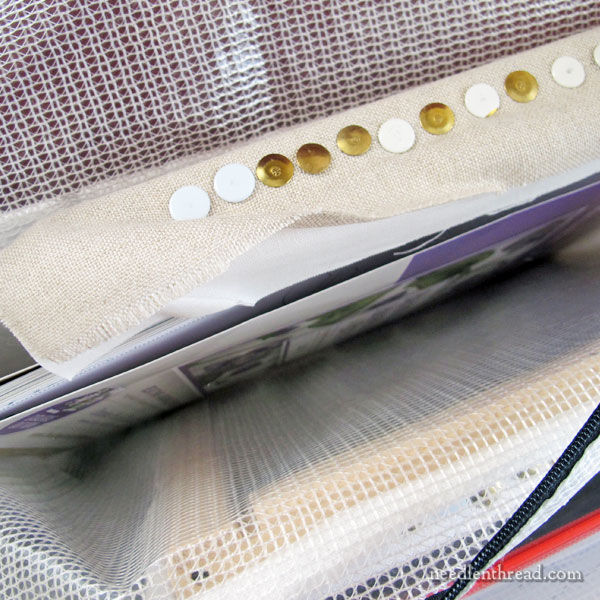 When it comes to instructions, sometimes I'll have a whole book or magazine in the bag (like in the bag above). Sometimes, I'll make a copy of the instructions and put that in the bag instead. It really just depends on whether the instructions are in a large book or something with a manageable size to it.
Sometimes, if I'm working on my own design, there are no instructions. In those cases, I usually have a small notebook in the project bag, where I can take notes on the project as I work on it.
Bags Inside Bags
Often, larger bags contain smaller bags.
For example, all the threads for one project might be inside a smaller bag inside the larger bag. This keeps my threads neat.
Embellishments, if there are any, might be in another small bag, so that they're not knocking around loose in the larger bag.
My Bag & Project Policies
I have a few Bag and Project Policies. They work like this:
1. One project in one day.
I never have two bags out of that box in the same day. If I have time to stitch (which I always make time to do), I work from one project bag on that day. I don't switch between lots of projects in one day.
2. Take it out, put it back.
I have a small house. I can't leave out a whole project and its pieces. I purposely organize my projects so that they are easy to take out and just as easy to put away at the end of a day.
Sure, I might leave the project out during the day if I know I'm coming back to it, but at the end of the day – or when I know I won't get back to it that day – I can put it away with very little effort.
3. Don't Share.
Sounds selfish!
What I mean is, don't share between bags. I don't take a hoop off one project and put it on another. I don't take one color of thread from one bag to use on a different project. I don't take a needle from one project to use on another project.
This keeps me from coming up short on something – or having to search for a tool or whatnot – when I finally have time to sit and stitch.
This might not work for you – admittedly, I have a lot of tools, lots of thread, and a hefty supply of needles. But if you can manage to isolated tools and supplies for each project and not share between bags, you'll spend more time stitching and less time looking for supplies or tools.
15 Minute Policy
Finally, to make progress on stitching, I employ my 15 Minute Policy, which is this:
Even if you only put 15 minutes into a project in one day, you will make surprising progress. And, if you grant yourself 15 minutes as a "carrot" or "reward" now and then – if you don't hit the snooze button, if you finish a chore quickly, get that walk in, skip the coffee shop and go straight home from work, get dinner done early – whatever! – you'll find more pockets of 15 (or more) minutes here and there throughout the day.
Even if you only put in a few stitches every day, you'll see rapid progress on a project – much more progress than you'd see if you go stretches of time without stitching anything!
If you keep your projects individually organized, you'll be able to grab those 15 minutes quickly and make more of them, than if your projects are unorganized and not ready to go at a moment's notice.
What About You?
Any ideas for project organization, that can help people make the most of their embroidery time? If you have any, feel free to share them in the comment section below!