It's winter here in Kansas.
It's biting cold out, the heat is on, the air is dry. I don't have a maid and I haven't invented a magic sink, so the dishes still need washing every day! My hands just want to be rough and scratchy this time of year.
Rough and scratchy hands are a frustrating inconvenience when you're working with fine embroidery threads – any time of year!
You know how it is: you're stitching along pretty happily with a brand new thread, when disaster strikes! Your thread snags on, of all things, your thumb! That curséd dry scratchy patch on the side of your thumb! Grrrrr! The plies of the thread bunch up, the fibers get hairy, you have to trim the thread and start anew.
I know I'm not the only one with this problem, because inevitably, in the winter, I get a lot of inquiries about how to work with fine embroidery threads when your hands are rough.
Over the years, I've tried myriad solutions for this problem. Today, I'll chat about what works for me, and then ask you to share your solutions, too. If we put our heads together, we can most likely save many people from the frustration of stitching with rough hands. After all, 30,000 heads are better than one.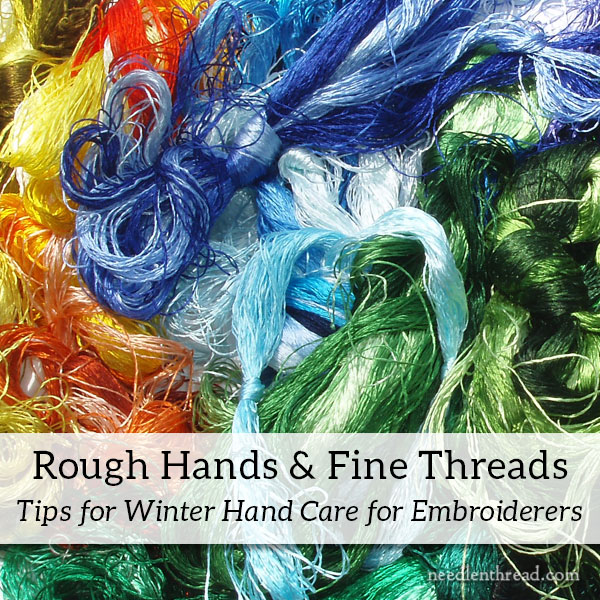 Several years ago, I wrote this article about using an olive oil and sugar scrub to keep the hands smooth and ready for embroidery. At the time, I was working with flat silk, which is one of the worst threads to tackle when your hands are rough.
I've also written about lotions for stitchers – the kind you can use right before you stitch, without washing your hands. The lotion by Au Ver a Soie was a favorite, but it's no longer made. The other one, Stitcher's Lotion, is widely available at needlework shops. And in the comments on that article, you'll find other recommendations, too.
The sugar scrub works well for a short term solution, when your hands are in dire straits but you still have to stitch. And stitcher's lotions work ok, too, for a short term solution, but they don't really eliminate rough skin, or the little cracks and crevices that can form on chapped and really dry skin.
I haven't had to use either solution above for some time. Instead, I just made a few changes in my routine and developed a couple habits that I think contribute to my current state of Happy Hands.
Happy Hands!
The fact that my hands are happier and embroidery-ready at any time are due to these points:
1. I drink a lot of water. It doesn't cure all skin ills, and if I only did that, I think I'd still have winter hands. But I think keeping hydrated inside helps the skin on the outside.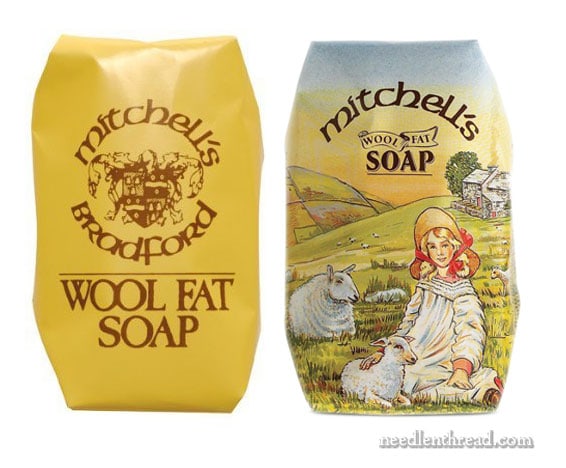 2. I got rid of pump soaps at the sinks in my house and replaced them with good, old-fashioned soap. The best soap I've found, that I really love and keep at all my sinks, is Mitchell's Wool Fat Soap. It's made in the UK, but you can get it on Amazon – I have it listed on my Amazon Recommendations Page here. I found that pump soaps, even the good-for-you ones, contributed to drier skin, especially because I'm prone to washing my hands frequently. Yes, bar soap is a little messier, and you have to take time to clean a soap dish, but it's worth it.
Moisturizer
For the most part, I contribute my happy hands to those two points above, but I still use a moisturizer, especially during the winter and at other pivotal points now and then, when necessary.
I don't have a dishwasher, so whenever I do bouts of intense cooking with all the requisite pots and pans, I always apply a moisturizer after cleaning up. (Dish soap – even the good-for-you stuff – wreaks havoc on hands, but I can't stand to use gloves.)
If I've been outside in the weather or doing tool-ish things (for example, I assembled bookcases last week and unpacked and broke down tons of boxes), I wash my hands and apply moisturizer.
During winter, when things are especially dry, I lather up before bed.
Making recommendations on moisturizers can be a touchy subject. I know lots of people who are very protective of their favorite lotions and lots of people who are adamantly against different ingredients.
I've tried all kinds of moisturizers over the years, from standards to organics, sensitive skin, specially formulated, every expensive, very inexpensive – the list goes on and on.
But, for whatever it's worth, the moisturize I keep coming back to, even though it's moderately pricey, is called Yu-Be, and it comes in a little tub. It's also on my Amazon Recommendations page.
It has a bit of a mediciney smell to it when first applied because it has camphor in it, but the smell dissipates. For chapped skin, winter skin with little slits in it, garden hands, or just very dry skin, I find this stuff soothes, heals, and smoothes things up very quickly. For extreme cases, slather it on at night and put white cotton gloves on.
What About You?
So, those are my tips: routinely hydrate from the inside by drinking water, get rid of pump soaps and replace them with simple soaps (I like Mitchell's Wool Fat, as it provides some moisturizing benefit), and use a good moisturizer when you need to.
Do you have any tips to add that might help out your fellow stitchers? If you do, feel free to share them in the comments below!
This article contains affiliate links to my Amazon Recommendations page, which means Needle 'n Thread receives a small commission for purchases made through those links, at no extra cost to you. Thanks!