Ahhhhh. Two momentous things for you today!
Wait… make that three! It's a banner day!
First, I want to introduce you to a new (and beautiful, and functional, and strong, and light – and a little bit different) slate frame that's on the market.
And then, to spread the joy a bit, we'll have a give-away! Because I know you want one, too!
And mixed in with it all, you'll get a sneak peek at a new project that's been simmering on the back burner.
Update, 2019: At this point in time, I'm cautioning folks about purchasing from Mythic Crafts. After a very successful crowd-funding campaign in January of 2018, many of the backers have still not received their goods from backing that campaign. I hope that Mythic Crafts is able to fulfill the orders made during the crowdfunding campaign, but until they do, I don't recommend ordering from the company's website.
Update, July 2019: Mythic Crafts is out of business.
I've written about slate frames here on Needle 'n Thread before.
Over the years, I've tried many – some good, some not so good. Some great in some respects and awkward in others. Strong, but too heavy. Light, but not strong enough. Strong and light, but not particularly well made. And of course, some that are just right.
The slate frame I'm going to show you today is a little different from most – in fact, I'd say it's different from any other slate frame I've tried. And it falls into the just right category.
It's strong, it's light, it's beautiful. It's perfectly functional. And it has a little variation to it that makes it slightly quicker to set up than most slate frames.
This particular frame comes from Mythic Crafts, which is no longer in business.
Tanja Berlin dropped me a line about Mark a while ago. I couldn't wait to get my hands on one of his frames! He kindly offered to send me one to try, and…well. What's a gal to do? I couldn't say no!
The frames are made from European beech wood, a strong wood that is quite light – and therefore, ideal for putting up with the strain that fabric puts on a slate frame, without adding any strain to the embroiderer from excess weight.
Each part of the frame is well made, perfectly finished to a smooth-as-glass surface, oiled and varnished.
Due to the different times of day I took the photos for this article, the color of the frame looks slightly different here and there. The photo above does the color justice. Really pretty!
This is what makes Mark's slate frames different from other slate frames.
The roller bars (the horizontal bars) don't require webbing to attach the fabric. Instead, they feature a groove in one side, into which a dowel is fitted to hold the fabric in place.
You can see this concept used on other embroidery frames, like the Millenium frame. But I've never seen it used on a slate frame. It works well!
The fabric is pushed into the groove or slot on the roller bar, and then the dowel is inserted into the fold of the fabric to hold the fabric in place.
On the project I set up with this frame, I added some strips of cotton muslin with the linen, for a little more grip around the dowel. With heavier weight fabrics, this wouldn't be necessary, but I found I got a better grip on a lighter weight linen with the additional strip of fabric in the groove.
The dowel fits between the two slots that take the side bars of the frame. My particular frame is the 450mm frame (about 17.75″ wide), which gives me a usable width (between the side bars) of about 14.5″ wide. The side bars can be pegged to reveal anywhere from about 4″ of fabric to 15″ of fabric.
So, essentially, with this particular frame, I get roughly a 14.5″ x 15″ maximum stitching space, which is perfect for my standard projects.
You can see that the fabric comes straight out of the slot in the top roller here, without any extra sewing required. It makes for a very flat surface, top to bottom. Nice!
By lacing the sides and adjusting the cotter pins, you can achieve a drum taut surface, perfect for your serious (and even not-so-serious) embroidery projects!
For this particular project that I set up on the frame, I used a linen thread for lacing the sides, and I laced directly into the linen.
On top of the linen, before the final stretching of the fabric in the frame, I herringbone stitched a beautiful cream colored, textured silk. This will be my ground fabric for a goldwork project. Can't wait to start!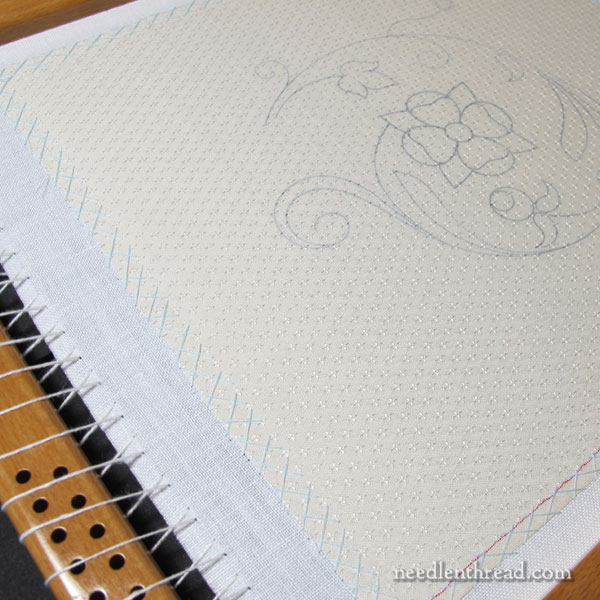 The fabric is stretched tight in all directions and ready to go!
And the best part (besides the fact that the frame works so well and looks so good!) is that it is So Very Light! If I were using stretcher bars this size for this project, they would be significantly heavier. I'm so pleased with the sturdy lightness of this frame.
In a Nutshell
Excellent workmanship, extreme functionality, and beauty, all rolled into a perfect slate frame. I'd call the frame "heirloom quality." It's a frame to invest in, that will withstand the test of time and rigorous use.
Where to Find Them
Mythic Crafts is no longer in business. If you have done business with them and your product has not been delivered, or you have placed a special order in the last six months and not received it, I encourage you to check with your credit card company to see if they can help you recover the funds.
Mark of Mythic Crafts sent me the slate frame I'm reviewing here, but as always, my opinions are my own. You can read my review policy here.