I love meeting a deadline – even if it's just a self-imposed one.
In fact, I'm not very good at meeting self-imposed deadlines, so it's always really exciting when it happens. My goal was to finish Modern Crewel by the end of February, and at 9:36 last night, I put the last stitch in.
I loved working this project! I think it's a gorgeous, fun, and instructive project, accessible to all levels of embroiderers from determined beginner onwards.
Below, I'll show you the changes I made in the embroidery on the hillocks, list all the articles pertaining to this project, and announce the winner of the three A-Z embroidery books from last week's give-away!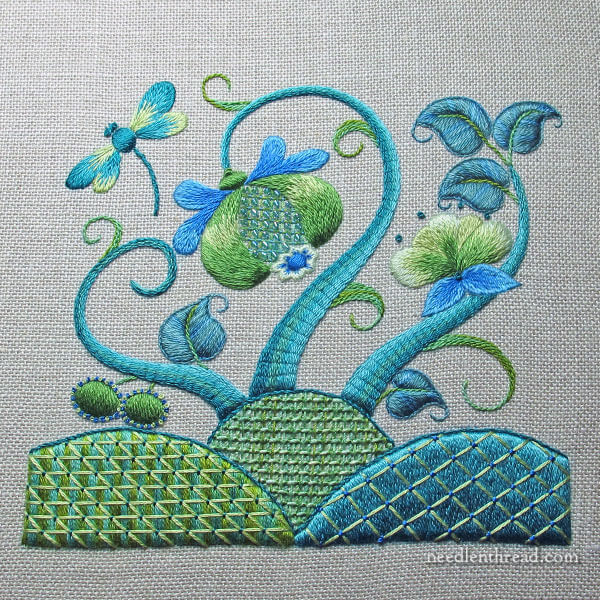 So, here's my finish!
On the front two hillocks, I decided to take a different approach to the stitching.
In the original design, both hillocks are worked in detached needle lace stitches over felt. I wanted something a little less needle-lacy on mine, so I stuck with some typical approaches that still fit the nature of the design.
On the right hillock, using the blue felt that came in the kit as padding, I worked long and short stitch in three shades of blue-ish teal over the padding.
Then, I used two strands of the lightest green floss and worked a lattice pattern over the long and short stitch. I couched the intersections of the lattice with the darkest blue.
The left hillock was a little weirder!
I switched out the blue felt for green felt, and, using one of the overdyed cotton flosses in the kit – one I hadn't used yet, so I had a good-sized skein of the stuff untouched! – I worked long straight surface satin stitches over the green felt.
The overdyed nature of the thread caused the covering to stripe up in fairly regular intervals.
At this point, I was thinking….what am I doing? This is so bizarre!
My plan was to stitch something over those satin stitches, since you could not leave satin stitches that are that long on the front of a project, un-fixed in some way, and expect them to withstand the test of time. Eventually, they'd droop and shift.
I tried a couple different approaches. One included feather stitching in random patterns all over the hillock! But it looked awful, and I forgot to take photos.
Eventually, I settled on yet another lattice design – this one worked in horizontal lines first, and then cut with narrow diagonal lines. I couched the intersections with the darkest teal.
The overall effect of this particular lattice layout, from far away, is a diagonal zig-zag pattern, and I ended up liking it!
To finish the edges of the hillocks, I worked stem stitch with two strands of floss in the darkest teal.
I didn't stitch around the sides or bases of the front hillocks, but just across the tops.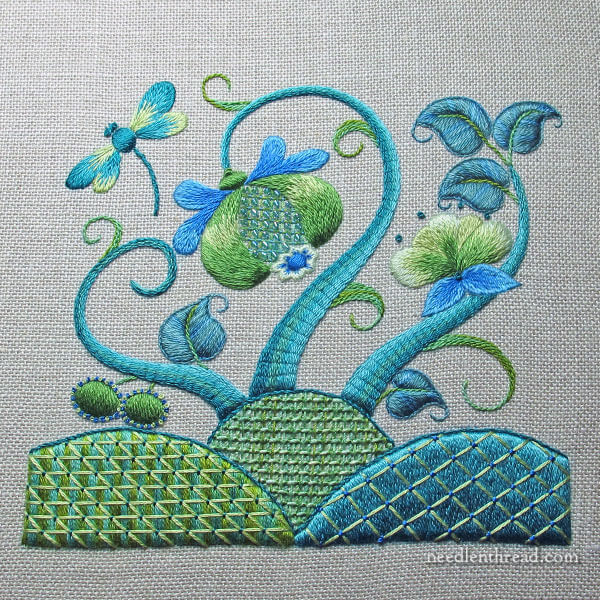 What will I do with this piece? I'll most likely frame it and give it to someone as a gift. That's generally what I do with these types of projects.
So, one off the list! I just loved working this project – thanks to Susan Porter for such a gorgeous design and to Inspirations Magazine for publishing it!
Modern Crewel Articles
Here's a list of all the articles involved in this project, in case, you want to follow it through chronologically:
Modern Crewel kit review – where you can find the pattern, instructions, and materials list
Something Bright into the Mix – setting up the project
Raised Stem Stitch on a Trunk
Two Approaches to Padding Filled Areas of Embroidery
Pomegranate, Stems, and Leaves
Tips on Thread Twists and Needles
Close to Finished & Handling Shortages
Coming Up!
I'm still chugging along on the 56 count piece and on the crewel firescreen. I'll be adding a little needle painting piece into my project rotation, along with a spring-inspired piece of two of my own designs. And I'll touch on them all here and there as we go along, sharing tips and discoveries along the way!
Books Winner!
The winner of the three A-Z Books for last week's give-away is Karen Reddick. Congratulations, Karen! I will drop you an email!