Good morning and a Happy Friday all around!
When it comes to hand embroidery, probably the Most Important consideration for any project is the fabric that you plan to stitch on.
It seems strange to say that the fabric is more important than, say, the design you plan to stitch. Or more important even than the threads you plan to use.
But to help clarify my assertion, think about it: without something to embroidery on, there's really no point to embroidery at all!
So let's have a little chat about fabric, and more specifically, about fabric that is used widely in the needlework world – specifically, linen, and more specifically, even-weave and plain-weave linen and the differences between them.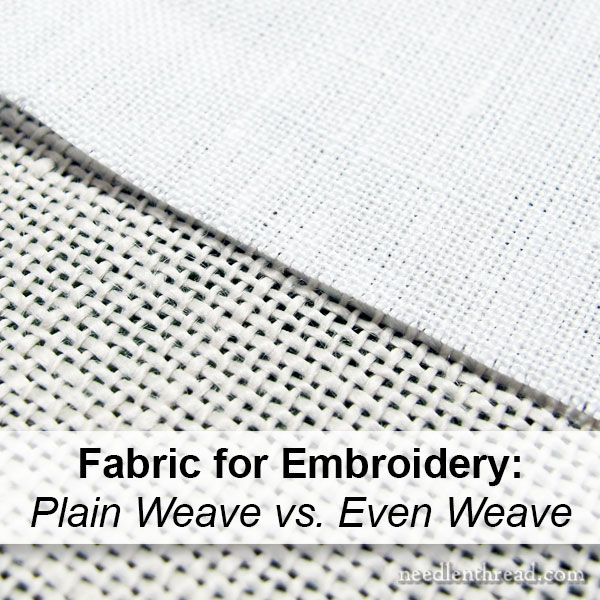 Even-Weave Linen
Even-weave linen is widely used in needlework, especially in counted techniques like counted cross stitch, blackwork, certain types of Hardanger, drawn thread work, pulled thread work, and the like.
Even-weave implies that the weave of the linen is even, with both the warp and weft threads numbering approximately the same in either direction (or at least, so close to the same, that the difference is negligible).
Even-weave linen comes in various thread "counts" which are simply an indication of the number of threads per inch in either direction.
A low count even-weave linen would be, for example, a 20 count linen. In a 20-count linen, you should be able to count 20 threads in one inch of the fabric along the warp or weft. In a 20-count even-weave linen, the threads are usually rather thick and very easy to see.
High count is a little more difficult to define with exact numbers. What I consider high count even-weave fabric might, to you, be a rather low count, and visa-versa. It really depends on what we're used to working with.
But in general, a 36 or a 40-count linen for counted handwork is considered fairly high count. A 50-count linen would produce very fine work, indeed, if the counted stitches were worked over one thread of fabric!
The photo above features, close-up, a 32-count even weave linen.
Notice that the threads form a grid pattern, and that there are distinct "holes" in the corner of each intersection. This is what makes even-weave linen work for counted techniques. It's easy to see exactly where to work the stitches on the grid provided by the weave of the fabric.
Characteristic of linen, with the fabric in the photo above, the warp and weft threads are not always exactly the same size, but the count works out even, anyway.
The better the linen, the closer the warp and weft threads are to each other in size. A very good even-weave linen will have warp and weft threads that are, overall, practically equal in size. Occasionally, you might see a thread here and there that is "off" compared to those around it – maybe fatter, maybe thinner (this is characteristic of linen). But taken as a whole cloth, the threads are fairly even in both directions.
The cheaper the linen (in quality – and, yes, usually in price, too!), the more likely it is that the warp and weft threads are more uneven, although the count should still be right. There are just more irregularities in the overall cloth.
Plain-Weave Linen
Plain-weave linen is not, as you can guess, even in its weave!
Not intended for counted work, a plain-weave will not have the same number of threads per inch in the warp and weft direction. In fact, the "thread count" for a plain weave linen is not usually even taken into account. We just think of it as linen. It usually has a fairly high thread count, counted along the warp or the weft, but count doesn't really matter with plain weave fabrics.
Plain weave linens are often sold by "weight." For example, we talk about "handkerchief weight" linen. Or "sheer weight" linen. These are both light linens, relatively sheer and fine. You might find them listed for sale by actual weight – maybe 3.5 oz per square yard, for a handkerchief weight linen. A canvas weight plain weave is much heavier – maybe 7, 8 or more oz per square yard, and the fabric is, as you can guess, much thicker and heavier.
Plain-weave linen is usually fairly closely woven, and the little holes in the corners of the intersections of the warp and weft threads are not as distinct. Usually, a plain-weave linen is very smooth – it has what is called a "smooth hand," which means that, when you run your hand over it, the surface feels nice and smooth.
Plain-weave linen is the stuff of bed linens, garments, table linens, and the like. But it is also a really nice ground fabric for surface embroidery that isn't counted.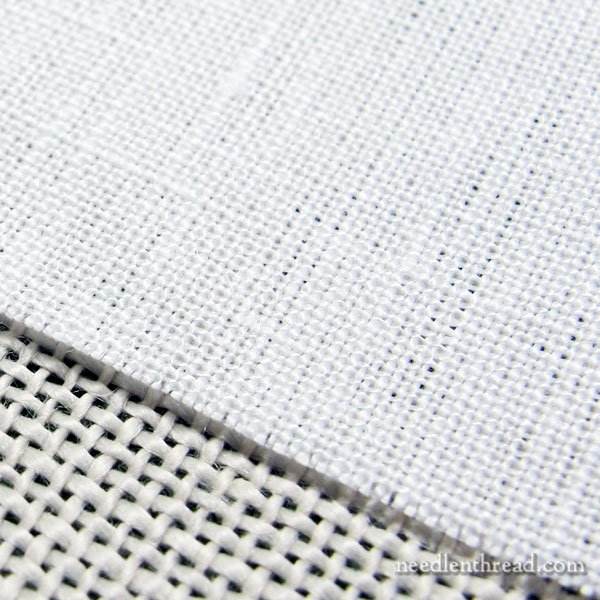 In the photo above, the white linen in the top of the photo is a plain-weave linen. You can see a huge difference between the even-weave below (with it's very distinct grid pattern, open holes around the intersections, and broader woven threads), and the plain-weave, where the threads are in no way as distinct and the entire fabric has a smooth, close surface.
For Stitching
When it comes to counted work, an even-weave linen makes an ideal ground fabric.
When it comes to free-style surface embroidery, a plain-weave linen makes an ideal ground fabric, but you can also use an even-weave linen.
To use an even-weave linen for free-style surface embroidery, a higher count even-weave is normally the best choice, but it really depends on the weave of the even-weave. If the threads are plump and fill the weave completely, then even a lower count even-weave (like a 20-count or 25-count) can serve for surface embroidery, too.
In surface embroidery, designs usually involve flowing curves. To make sure that the stitches have free range of the fabric and aren't confined to the grid of the even-weave, a crewel needle (also called an embroidery needle – it has a sharp tip) is essential, in order to pierce the fabric threads rather than slip between them.
Additionally, a backing fabric – like a cotton muslin – will help give your stitches something to grip into, in case the even-weave is too open to hold them just where you want them. I wrote about backing fabrics here.
Sometimes, it's a good idea to use a backing fabric behind lighter plain-weave linens, especially when denser or heavier stitching is planned.
Over to You!
When it comes to surface embroidery, do you use even-weave linens or plain-weave? Do you have any tips to share about the fabric you like or use? Or any recommendations for other stitches?
Are you new to stitching? Or do you have questions about linen for embroidery?
Feel free to join in the conversation and share your thoughts below!
What's Up Here?
On my end of the computer screen, I'm getting ready for Easter! And just following Easter, my family is flocking to the Midwest in droves for a family reunion.
We haven't had a full-fledged reunion in ten years, since my parents celebrated their 50th anniversary. This year marks their 60th. There will be 110 of us (out of 122) gathered here in Kansas – all my sisters and my brother and their families, with all their children and grandchildren. It'll be a blast! I can't wait to see everyone together again!
So stitching has taken a back burner for a bit while preparing for that event. This weekend, though, I'm definitely putting some stitches into one project or another. I'm craving my needle!
I hope you have a jolly weekend, with plenty of time to spend with your needle and thread!