Did you know my embroidery workroom / needlework library / household storage room enjoyed a Complete Overhaul earlier this summer? Well, it did!!
In June, with the help of my dear darling niece Anna – who is a doggedly determined little gal, with an amazing amount of sticktoitiveness – things got re-organized out there. I'll show you the results later on (please don't expect some kind of Pinterest-perfect crafting space, as it isn't that at all!), with some nitty-gritty tips on organizing and ideal storage vs. making do with what you have and what you can afford.
In the meantime, though, while we were ferreting through some of the older Stuff in the place, we came across a pair of pillow cases that I embroidered a long, long time ago, when Needle 'n Thread was pretty young…and when my "fancy" camera was a 2 megapixel point and shoot!
Amazingly, the pillowcases are still in fairly good shape, though they have gone through the laundry at least once. For those who haven't seen them, or who want to see them in more detail, here are my Opposite Faces Pillow Cases, along with some information about them, how they were stitched, and why you'd want to stitch something like these, anyway!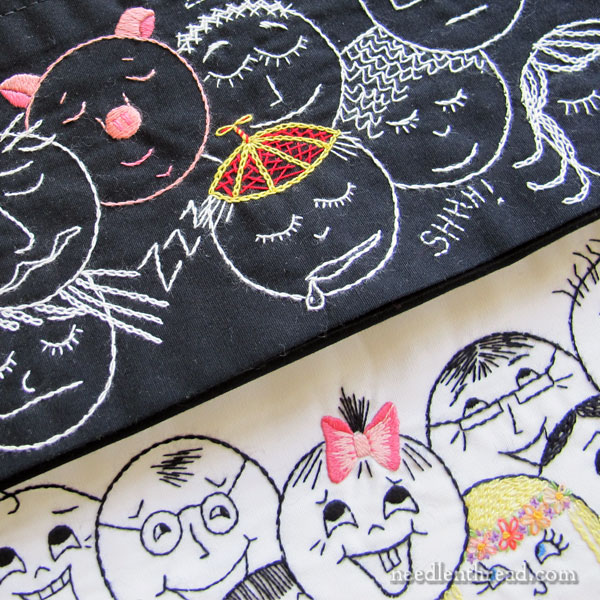 Most of my stitching life, I've been pretty isolated. Until the internet, if you were an avid embroiderer and you lived in the boonies, you were pretty much an avid embroiderer, all alone.
And even when the internet got underway, it was a while before stitching blogs and stitching forums and similar online gathering places really took off.
When I first started Needle 'n Thread back in 2006, I was hanging around a bit on a crafting forum called Craftster (a take-off on "Napster" maybe? Talk about early internet!), which, incidentally, still exists.
They ran a contest (the prize, I think, was a selection of DMC floss and doo-dads), and the entries had to feature opposites in some way or another.
And so my Opposite Faces Pillow Cases were born…though it's not really where they were conceived.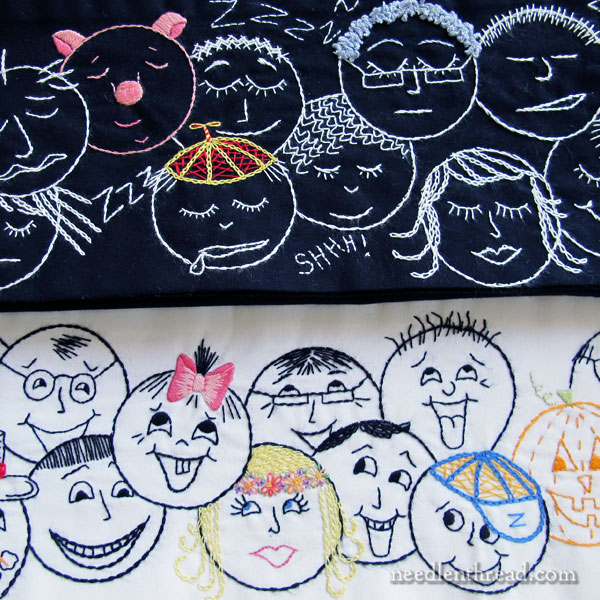 I took two pillowcases, a white one representing daytime and waking up, and a black one, representing, well…night time and slumber.
Then, with pencil in hand and a 1.5″ circular template, I drew a strip of overlapping circles along the cuffs of both pillowcases. I used a white pencil on the black pillowcase and a regular #2 pencil on the white pillowcase.
From there, I doodled in faces – laughing, awake faces on the white pillowcase, and sleepy, snoozing faces on the black pillowcase.
At the time, I also planned on stitching some text on them, from a poem by Thomas Dekker. On the nighttime pillowcase, it would read "Golden slumbers kiss your eyes…" and on the daytime pillowcase: "…smiles awake you when you rise."
Well. It might have been an ok idea, but I never got around to adding the text!
Incidentally, I didn't win the contest, either!
When I was in college, one summer I enjoyed the Ideal Summer Job. I call it ideal, because I've always been an voracious reader, but while classes were in session, I never had time to read beyond school-related material.
So this job was perfect. I worked as a phone receptionist at a big credit union in Florida, and the one requirement (oh darn!) was to stay next to my phone at my (very nice) desk in my (very nice) little office area, and direct calls to different representatives in the loan department.
The lady who trained me, God bless 'er, told me, "Do what you want – read, study, play games (as in, games on paper, because cell phones as we know them now didn't exist)… just stay next to the phone."
So I spent a lot of time reading, and I spent a lot of time doodling and drawing. And I answered the occasional phone calls. It was tough!
And I'd like to say that's when these faces were conceived. That summer, I made a whole line of notecards, writing paper, postcards and the like, had them printed on decent paper, and ended up selling quite a bit of them. You know, anything to pay college tuition!
I called the line A Few Good Laughs, (because, after all, everyone needs a few good laughs), copyrighted the designs on the advice of a friend, and made a bit of cash with them.
In fact, if I recall correctly, the idea was conceived on a whiteboard at my sister's house. I walked in one day to find her doodling funny faces on the whiteboard in her kitchen. The next day at my cushy job, I found myself doodling tiny laughing faces (about 3/8″ round), filling up a large sketchbook page with them. And then came the stationery line.
I made a Christmas card version. A Halloween version. A Birthday card version. And everyday versions.
And years later, I made a pillowcase version.
I've often thought of turning these into embroidery patterns. They're just fun! Every little face I doodled made me smile. And when I embroidered the pillowcases, the same thing happened – only the smile lasted longer, because it takes a lot longer to doodle with a needle and thread!
As far as the embroidery on these goes, it's all pretty simple. The designs are worked in one strand of DMC floss. I used split stitch, stem stitch, backstitch, chain stitch, daisy stitch, drizzle stitch, French knots, satin stitch, open chain stitch, herringbone stitch, long and short stitch – any stitch that occurred to me, to get the results I wanted.
If I were to do these again, in any form, I'd probably work even more stitches into the mix. The more, the merrier!
Heck, I could see a whole line of these! Kitchen towels for the whimsical kitchen (for the friend who needs a pick-me-up, for a fun housewarming gift), a neck tie (oh yeah! I must!), sheets and pillowcases for a kid's room. Or just chortling hoop art.
Anything, really, to remind the world that we all need a few good laughs!
After all, there's not much in this life more enjoyable than a good laugh and a smiling face, is there?
I won't be able to access the internet from July 10 – 17th. If you email during that time, you'll get an auto-responder. Comments left on the website will be queued until I return. Thanks for understanding!