Here in the Northern Hemisphere, it is officially autumn – my favorite time of year!
To put you in the mood for this colorful season, I've just released a new design called Octoberfest!, a vibrant, leafy embroidered kaleidoscope perfect for beginners and beyond.
But that's not all! Not only is Octoberfest! ready for you today, but there's even a special House of Embroidery thread collection available to go along with the design, discounted and with free shipping for Needle 'n Thread readers.
Gosh! What's not to love?
Read on, and I'll tell you all about the project and the threads…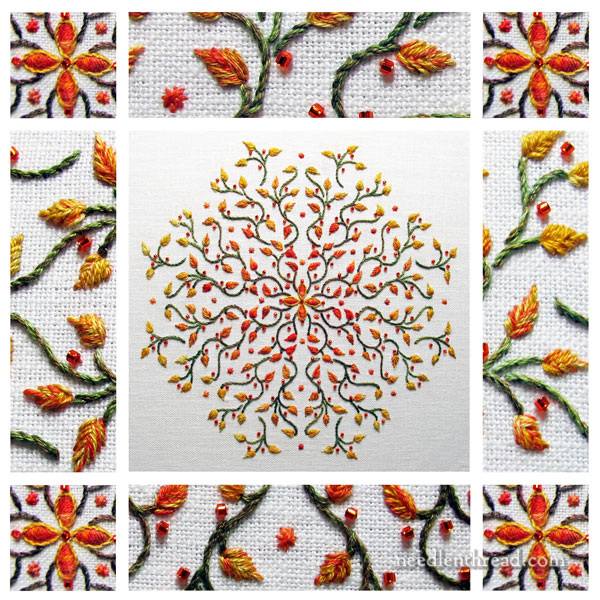 Octoberfest! is a 21-page PDF e-book that features a kaleidoscope design, aglow with flaming autumn color and sparkling with little accent beads.
What's In It?
All this:
7 patterns – the featured design, plus six alternatives including swashes, frames, and two other leafy kaleidoscope variations
Complete list of materials
Clear photo instructions for stitching the featured design
Plenty of tips and techniques in ensure a successful finish
Stitch and color layout guide with instructions on combining threads for gradual color changes
Step-by-step photo instructions for all the stitches
Complete resource guide for easily locating supplies
You'll learn how to combine colors of floss and how to manipulate overdyed threads to achieve the gradual color changes that mimic fall foliage.
You can use the patterns as they are, or you can break them down into segments to adorn smaller or larger projects. You can also enlarge or reduce the designs, depending on what you want to stitch or what materials you're stitching with.
All the instructions are accompanied by photos that you can zoom in on if you're viewing on a computer, tablet or mobile device. They're crisp and clear, so that you can see exactly what's going on in each photo.
If you want to print the PDF – or parts of it – you can do that, too!
The PDF is interactive, with links you can click for further information and other tutorials that will help you learn the art of embroidery. There's a helpful list of linked resources, too.
Ready to Stitch It?
You can find Octoberfest! available right now, right here.
It's a fun project, really relaxing to embroider, and perfect for spicing up your autumn embroidery sessions.
And if you're in the southern hemisphere and heading into spring, there's no law that says you can't change up the colors and make it spring bright!
And that's the really fun thing about this design – it's completely open to your own personal interpretation. You can experiment in any number of ways, to make your finished masterpiece uniquely your own.
House of Embroidery Threads
To embroider this design, I used overdyed threads from House of Embroidery. To make it easy for you to find the threads, they've put together a special mini collection of five, 5-meter bobbins, which are offered here through Akonye Kena.
The mini collection for Octoberfest! is available at a discounted rate of $12 (regular $15) with free US shipping. There's a limited quantity, so if you're keen to stitch the project using the original threads, now's a good time to get them.
They've also extended a permanent 20% discount (excluding sale prices) to Needle 'n Thread readers, if you use this coupon code when checking out: Corbet20
So, right now, you can pick up the special Octoberfest! collection, plus 20% off any regular priced threads, all with free domestic shipping. Pretty good deal!
You can also find the collection directly through this link, in case you want to browse the other House of Embroidery thread offerings.
The mini collection sold out pretty quickly, but never fear – you can still order it! New orders are being placed on backorder, for delivery as soon as the next shipment arrives. The threads are coming from South Africa, so it may take a few weeks. I'll let you know when stock is back in!
Substitutes
You're also welcome to make substitutes with whatever 6-stranded floss you have in your stash. Because overdyed threads like these are dyed differently from standard threads, there's no color conversion chart, but you can definitely select your own range of autumn colors and stitch a stellar design!
Whatchya Waitin' For?
Jump on over here to my shop and pick up your copy of Octoberfest! today!
And don't forget, when you purchase any of my project e-books, I'm always around to help you out with any questions you have.
I hope you enjoy working the project as much as I did. Now go forth and stitch it!
(Can you tell I'm excited about this one? I really am!)