Over the years, I've discovered that most folks who use a regular thimble when they embroider were raised on a thimble. All their hand-embroidering lives, they've used thimbles, so that using one is second nature to them.
Tried-and-true thimble users wouldn't even think of stitching without a thimble, it's just that natural for them to use one.
But if you've never used a thimble while embroidering – or if, the few times you've tried to use one, the result has been awkward and uncomfortable – there's a good chance you've ditched the idea of ever getting accustomed to one.
Over the years, through numerous bouts of stitching, you've learned to put up with the discomforts that can develop in your fingers – you know, that microscopic hole in your finger that the eye of the needle always finds and slips into? That callous that won't go away? That tiny area that splits, stinging and burning, because of the constant pressure of the needle?
Maybe you've adopted some of the thimble substitutes that have shown up on the market over the years and tried to make do with them. Or perhaps you've resorted to coating the skin with super glue or something similar. In some way or another, you've probably sought out temporary solutions to get you through the painful part of embroidering without a thimble.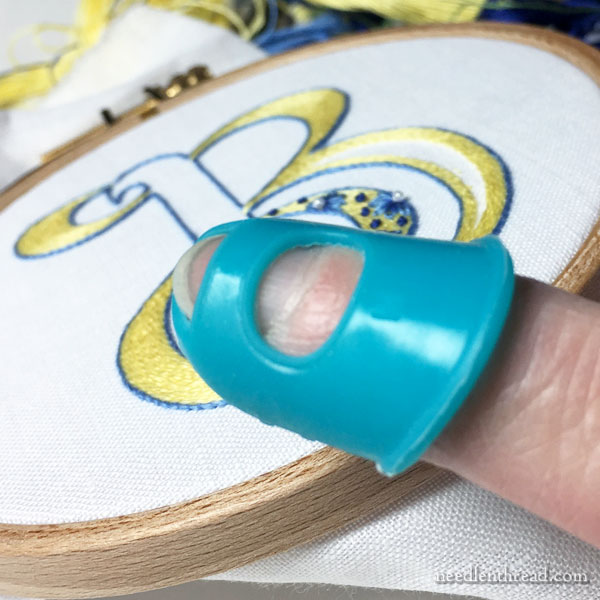 I'm not a thimble user when I embroider. I find a metal thimble awkward. When I use one, I feel like I'm not using my own finger.
Oh, the Things I've Tried!
Over the years, I've invested in many different types of thimbles – from the expensive, finger-tipped shaped ones with the nail bed opening, to rubber coated open top thimbles, to rubber thimbles and silicone thimbles shaped like regular thimbles, to leather thimbles, to thimble "patches," and so forth – always determined that I will get used to using them.
I never got accustomed to using any of these solutions while embroidering. They were always "there," and I knew it, and they didn't become second nature to me.
In a pinch, I've used more than my fair share of super glue, too. But it's not ideal, either – it tends to be rough once dried, which is problematic when it comes to working with silks.
So I've tried a whole lot of everything when it comes to thimbles for embroidery, and never really liked any of it.
And yet, my fingers still craved help!
And then, accidentally, I finally found a solution that works and that I really like.
Not a Silicone Needle Grabber
In the photo above, that's not what I'm using, but it's where my explorations began. That's a silicone needle grabber by Prym. You slip one on your finger or thumb (or both), to help you pull difficult needles through fabric.
They're handy and helpful in certain situations, but you shouldn't normally need them all the time, especially if you're using the right needles.
Besides, they pose a couple problems when it comes to using them as a thimble substitute.
This is the most obvious problem:
There are little breathing holes in them, on the finger-pad side.
A thimble with holes in it is a useless thing!
Still, I would sometimes use one as a thimble by turning it on my finger so that the solid part covered the area of my finger that develops needle holes.
But then I started thinking… If I could have something that's a little snugger, no holes, made of the same material – perhaps slightly lighter – then that might be the perfect thimble solution for me.
I started looking. I figured somewhere out there, someone has surely come up with a soft silicone thimble, with no holes in it, that fits the tip of the finger.
No luck.
Then, in a kitchen supply store, I came across these:
These things, as they are, don't work that great for thimbles, because they're way too long. They cover most of the finger, making it difficult to move the fingers in a normal way.
These are silicone finger protectors that are sold for kitchen glove substitutes (they withstand temperatures up to 600 degrees, I think?), and they're also sold for craft use, to protect fingers from hot glue and the like.
They come in packages of different sizes, so that they can fit over all five fingers. And they don't have any holes in them.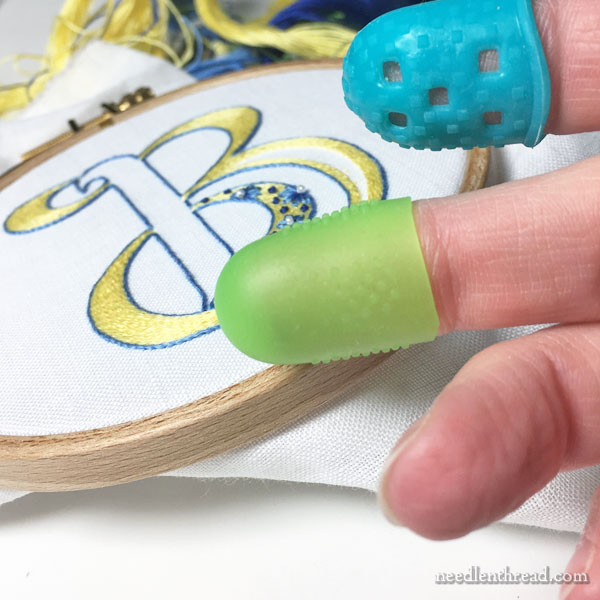 I took a medium one and tried it on my middle finger, which is not usually the finger I need a thimble on when embroidering. (When hand sewing, I need one on the middle finger, but that's a different story.) Normally, when embroidering, it's the first finger that develops a hole. But in this particular case, on this particular project, it's my middle finger that needs help.
I wanted a snug fit on the finger, but not tight enough to cut off circulation or anything.
Then I just cut away the excess, so that the thing fit on the tip of my finger, right above that last joint.
To make it comfortable and to give the tip of my finger some air, I trimmed out a space for my fingernail.
It Works Great!
My "thimble" works great! It doesn't feel awkward. It protects me from the eye of the needle going into my finger. It rolls easily on and off my finger. It fits snugly and doesn't move around – but not too snugly to be uncomfortable.
It's not as bulky as a leather thimble that I'd use for, say, hand sewing (such as piecing quilts, hand hemming and so forth).
And it serves as a great gripper, too, for those who want one – making it really easy to pull needles through the fabric without having to switch to a separate needle gripper.
Where to Find Them
So, if you struggle with the whole thimble thing, and you haven't found a comfortable solution, maybe these will work for you, too!
In the US, you might find them at kitchen supply stores, craft stores, and even sporting stores. I found mine initially at a kitchen supply store, and because of that, I think they were more expensive than they should have been.
Of course, they sell them on Amazon, too. I've added a 12-piece set to my Amazon page here – they're the same thing, only in red and blue.
If your fingers crave a little help but you can't stand a thimble, this could be a possible solution for you!
Hope your week is going well!