Happy Monday! (It does come around quickly, doesn't it?!)
I finished embroidering this leafy tree sampler project that I was working on.
I'll be sharing the whole project with you down the road. I have a few tweaks to make on it and I want to stitch it one more time, with a different approach.
Normally, it's a good thing when a project is finished, right? But when I finished this one, I found myself at that in-between stage – in a state of suspension.
I'll tell you about that and what I did to get out of it. And I'll share some portions of that leafy tree sampler and explain the steps I take after finishing a project like this.
I loved working on this project! The embroidery was fun! With lots of different stitches and many shades of green to mix up, it provided variety the whole time – never a chance to get bored stitching the same thing or the same technique over and over again.
And because of the nature of my design, I found it was a perfect project for stitching in stages.
Whether I was "binge stitching" for several hours, or I just had a few minutes to eke in some stitches, this project worked well either way. No matter how short or how long the stitching session, progress is always obvious and there's always a little accomplishment, even if it's just one little leaf!
Incidentally, in the photo above, the finished project is soaking wet.
When I finish a project that's worked on linen or cotton with threads that I'm confident won't run (so, DMC cottons, wools, certain silks – but not hand-dyed, overdyed threads), I give it a bath in cool to lukewarm water, sometimes with a little liquid ivory in it.
In this case, I soaked the piece overnight, because my drawn lines hadn't quite disappeared after a half hour or so in the bowl.
The next morning, the lines had disappeared enough, so I removed the embroidery from the bowl it was soaking in, rinsed it well under cool water, and laid it between two clean, thick bath towels. Using my hands, I pressed out the excess water.
Then, I blocked it on a cork board. I've explained how to damp stretch and block a piece of embroidery in this tutorial.
If you want a really nice finish on your embroidery – wrinkle free, with any puckers that have developed completely minimized if not gone altogether – then you should stretch and block your needlework.
You can do this after you've soaked it (if it's soakable) like I did with this piece, or if it's not completely soakable, you can pin it on the board as shown in the tutorial and lightly mist it with water. This will relax the fibers and stretch the fabric and remove the wrinkles.
There it is again, very wet, but pinned and ready to dry. I usually leave it at least overnight, but usually 24 hours on the board.
The In-Between
I often experience what I call the End-of-Project Blues, especially when I've been stitching on a project I really enjoyed.
Lately, I haven't had time to fall into that Blue Funk, though, because I have a list of projects I want to get through this year. I've tried to organize them chronologically, so that I move from one to the other in a clear progression. Most of the projects will end up either on Needle 'n Thread as a download for you, or they will be projects that I blog about, so that you can follow along with them or just pick up stitching tips.
Still, despite the chronological order, I'm not always ready to jump into the next project. Maybe I'm waiting on some supplies, maybe I don't have the larger chunk of time to tackle the set-up, maybe the next project just isn't speaking to me.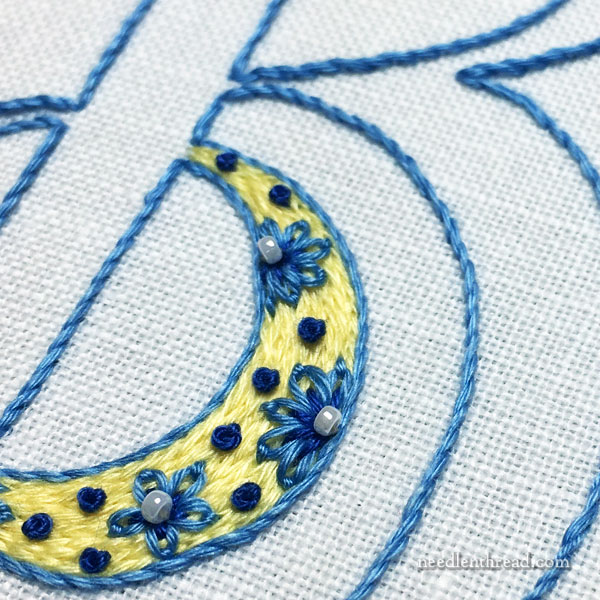 I do not like that state of suspension, where I'm not quite ready to move into The Next Big Project, and I don't have anything to work on.
So that's when I fall back on little projects – my in-between projects – like this developing monogram in the photo above.
I've had this particular style of lettering in mind for a while, and I've got some ideas on how I want to develop the lettering into some blue, yellow, and white monograms. It's one of my favorite color combinations, and this style allows for many possible interpretations.
This little project will give me something to stitch and a little challenge to work through, especially during this week and next, which is always a very busy time for my family.
While I'm stitching on this, some magical things will happen! I'll solidify my ideas for The Next Big Project (because it will be constantly brewing in my head), I'll work ahead on the website so that I free up more time to tackle The Next Big Project, and at the same time, I'll be developing another little project that I can eventually share with you, too.
So it all works out!
What About You?
Did you manage to get in any stitching time this last weekend? What are you working on? I'd love to hear about your current projects!
If you've run into any snags or anything that is holding you up, have you identified the problem and tackled it? Do you have any questions or need any help? You'd be surprised how many folks reading along here on Needle 'n Thread would love to chime in and help you on your stitching journey! Feel free to chat with us about your current project – and any triumphs or troubles – below!
Goings On
Today's the last day of my spring sale in my online shop, where you can find all my project, instructional, and pattern e-books marked 15% off right now. If you're hankering, it's a good time to pick up your favorites!
Over in the Needle 'n Thread Community group on Facebook, some of the participants are getting up a stitch-along for the Lattice Jumble Sampler. I'm not coordinating the thing, but I'll be around to answer questions and so forth, and so will the rest of a very supportive community. If you have the Lattice Jumble e-book and you're on Facebook and want to join in, hop on over to the group! Joining up is simple – just click the join button and answer the three questions there.
Hope your week's off to a swell start!