Good morning, and a happy Monday all around! I hope you had a wonderful weekend and were able to spend some quality time with your needle and thread!
I got in quite a few hours of stitching this weekend, as I made haste to finish my Leafy Tree, which is a sampler of sorts, though not in the traditional sense. It involves many different stitches that I'm using to fill in a lot of leaves, using a lot of greens and yellow-greens.
It's fun!
When I talked about this project a couple weeks ago, I was getting ready to re-start it. The first attempt was on an oatmeal / natural linen, and I regretted that initial choice. I switched to a white background for a couple reasons. I think it was a good decision, under the circumstances.
So far, there are a couple things that surprise me about this project, and a couple things that still need tweaking before I can make it ready for others to stitch, too!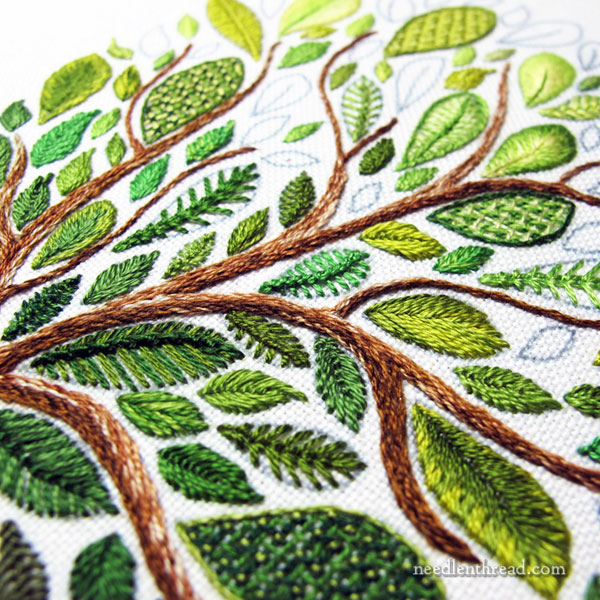 One big surprise was that there are more leaves on it than I realized!
Variety & Quantity – They Don't Always Agree
Despite this list of sixteen different ways to embroidery leaves and leaf-like elements that I put together for you a while ago, not all of those approaches (and the others I had in mind originally) work on this particular tree.
Although the quantity of leaves seems to beg for a similar quantity of interpretations in stitches, I found that, when I strayed into anything particularly textured or particularly unusual as a stitch for a leaf, I didn't like the results. It was too much.
So, while my original intention was to go hog-wild on stitches, in fact, as I work through it, I find that the result is more pleasing and more unified without too wide of a variety.
And that's ok! There's no real room to get bored with repetitive fillings for the leaves, because there's still plenty of variety.
I'm also surprised at the sheer quantity of greens available in DMC threads. This shouldn't be surprising – natural elements are so frequently embroidered, and green is one of the most dominant colors in nature.
The Limitations of Limiting the Number of Shades
But when you try to manipulate greens and yellow-greens into a varied but somewhat limited palette (not too many people want to stitch a project that calls for 75 shades of green…), it's challenging! Fun, but challenging!
I tried to combine both cool and warm values in the piece, too, and for the most part, I think it's working. There are some leaves I plan to pick out and re-stitch, though, due to color placement or just all around bad stitching.
One limitation I'm running into is blending shade values upwards on the tree, to make it progress from dark to light in a coherent way. Perhaps this could be done more easily if I weren't trying to limit the number of shades I'm using to something a little more reasonable. Again, who wants to invest in 75 shades of green for one little project?
On a fun note, I'm using several of the new shades of DMC yellow-greens, and they're working out splendidly. I like them!
As I work along in the project, I also forgot one of my original approaches, which was to use a single strand of floss on the tiniest leaves, so in some groupings, the tiny leaves are quite fine and light; in other groupings, they're heavy and chunky, because I used two strands of floss.
I'm not sure if that warrants tweaking yet – there are still plenty of tiny fill in leaves that I can scatter about with a single strand of floss, to balance things.
The Deadline, What's Next, and What About You?
I plan to have this tree finished in the next few days, and then I'm moving on to another project that I just finished re-designing this weekend. It's a resurrection of an old instructional project from the early days of Needle 'n Thread, re-imagined, and I can't wait to get on to that!
So, that was my weekend stitching! Altogether, I devoted about 8 hours to plying my needle over the past couple days.
And that reminds me, I'm plying a new brand of needle right now, and it's been a revelation. I'll tell you about that in the days to come!
What are you working on? Did you manage to get in any weekend stitching? Did you run into any snags? Did you start something new? Finish something old? Run into any exciting discoveries along the way? Feel free to tell us about your recent stitching adventures! We'd love to hear them – chime in the conversation below!