I succumbed to the temptation to try Tulip needles many months ago, despite what my Prudent Self told me.
And my first experience? It was bad, even before I took my first stitch. I'll tell you about it!
But first, I'll explain why I never planned to try them. Then I'll explain why I did try them, my unfortunate first impression of them, why I gave them a second chance, and finally, a more balanced perspective about them after using them for many, many hours of stitching.
I'll also explain a big problem that they solved for me. If you have the same problem, they might go a long way towards solving it for you, too!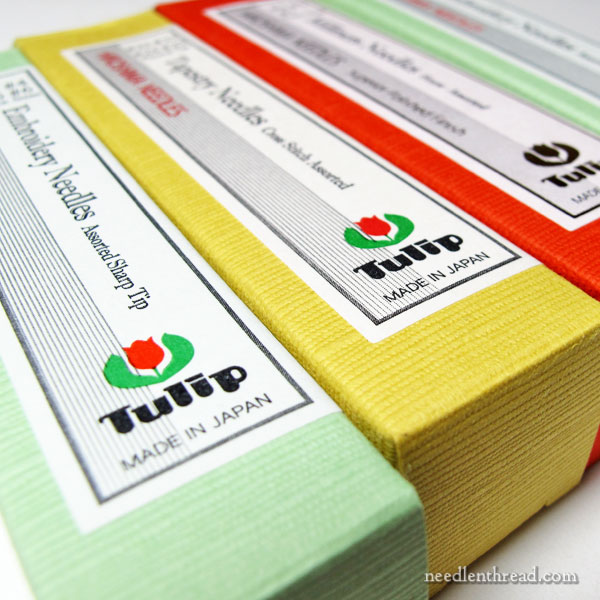 Tulip needles are made in Japan. They're called Hiroshima needles. I don't have any affiliation with the company and I bought my own needles to try, just so I could venture an opinion on them.
I've received requests from readers to review Tulip needles, but the Prudent Side of Me always told me, "Don't spend that much money on needles."
In my mind, Tulip needles are dadgum-golly-wow expensive, clocking in at over $1 each, on average. And I already have a good supply of Bohin, John James, and several other brands of needles on hand.
What, I asked myself, could make one factory-made needle worth more than $1 each?
I don't really like to recommend products that I consider expensive, when other products will do the trick – and sometimes, will do the trick better.
But how could I say, objectively, I like this needle better or It's not worth spending that kind of money on needles, if I didn't actually try the needle?
So I finally succumbed, so that I could objectively say whether or not it's worth spending $8.50 for a tube of 8 needles.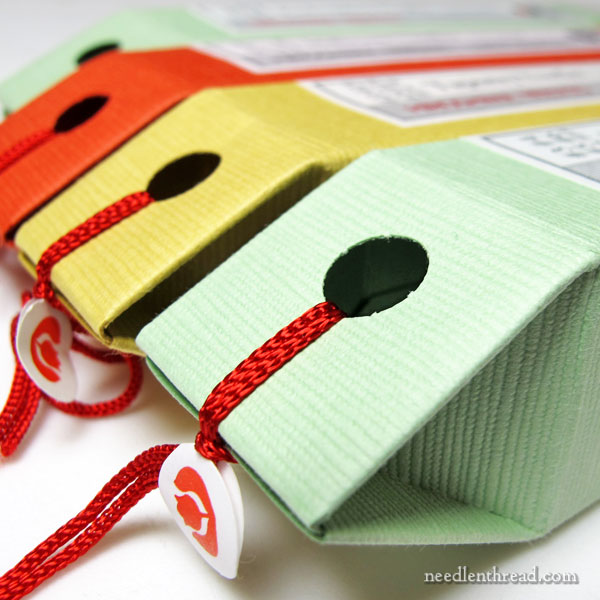 My first foray into the world of Tulip needles was not a happy one.
With my first purchase (from a shop on Etsy), the tube of needles arrived completely crushed into shards inside a bubble mailer. No fancy box – just a crushed tube and some needles in a bubble mailer.
I was not tickled.
And in fact, it put me off the needles completely. I didn't bother trying them. I forthwith forgot about them.
During the following months, I kept receiving occasional inquiries about Tulip needles.
I also discovered at some point that my tube should have arrived in a neat little outer box.
Tulip needles normally come in a clear plastic tube with a small cork in it. The tube is labeled, and it is situated in a very nice little folded box held closed by a tiny length of red silk. The tubes are held in place inside the box by a card insert and the whole presentation is quite classy.
What the heck?! I felt so cheated! I was pretty sure I paid for that extra packaging, considering the price of the needles.
At that point, reason took over, and I decided to fault the original seller I purchased the tube from rather than the needles themselves.
I gave them a try.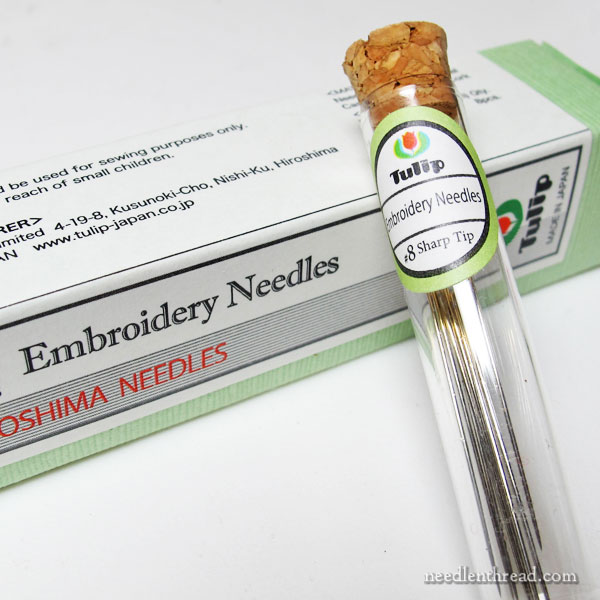 And then I bought more.
I liked them. But I didn't know if I liked them because of that one particular size and type of needle (it was a #9 embroidery needle), or if it really was the needle itself.
So I bought a tube of #8 embroidery needles (it's a size I use frequently) from a different shop. A little while later, when the budget allowed and I found a better deal on them, I bought a few combination packages – including a tube of assorted sizes of embroidery needles, a tube of milliners in various sizes, and a tube of tapestry needles in various sizes.
By the time I was finished buying a total of 48 needles, I was pretty sure I had blown my "needle budget" for the next two years or more!
And I was thinking the whole time that it was probably a pretty stupid thing to do. Would they really be that different from other good quality needles?
Over the following several weeks – and some 120+ hours of stitching – I used those Tulip needles.
And this is what I found:
A Sharp Tip – and More
Tulip embroidery needles have Very Sharp Tips. The needle passes into and through the fabric with very little resistance. Apparently, this has to do not only with the sharpness of the tip, but also with the way in which the needles are processed and polished. Most needles are polished around the shaft. Hiroshima needles are polished down the length of the needle.
I use linen backed with cotton on most of my embroidery projects, and these two fabrics are stretched taut on a frame when I stitch. The linen I use has a close weave.
When you're doing surface embroidery as opposed to counted work, the needle must pierce the linen threads. It doesn't pass between them. It pierces right into them. And when two layers of fabric are stretched taut on a frame, the linen surface becomes somewhat hard, making it a little more difficult to pierce with the needle.
Often, you even get slippage on linen threads that are stretched taut, if you don't put some effort into getting that needle into the fabric. The needle sort of slips off the linen thread, rather than going right in where you want it to on the first attempt.
To counteract this slippage, you end up gripping the needle more firmly and pushing the needle with more effort, to make sure that it's going to break into that fabric at that exact spot.
With Tulip needles and their very sharp tips and ultra-smooth shafts, the resistance on entering the fabric is not noticeable. They slip effortlessly into the fabric, right where you want them, on the first attempt.
Flexible, without Keeping the Bend
Tulip needles have a flexibility to them that makes them comfortable to hold, but not flimsy or noticeably bendable. They remain rigid, but they "give" a little as you stitch with them.
It may seem odd that flexibility in a needle is a good thing. Too much flexibility would be a bad thing – it would make it hard to stitch with. But when you hold a needle and move it around and work it under other threads, it's a good thing if it has just a little give to it. If a needle is too rigid, it's uncomfortable to use.
However, despite the give in these needles, they don't develop a permanent bend.
I can't tell you how many of my needles develop permanent bends from long hours of use. The two Tulip needles I've been using consistently for hours and hours of stitching haven't bent, but they do have enough of a comfortable give in them to keep them pleasant for stitching.
A Problem Solved
Over the past two years, I've developed really noticeable hand fatigue when I stitch.
Over the past weeks, I've put in over 120 hours of stitching, and I've done it with these needles.
I've noticed that my hands haven't tired as quickly and they haven't hurt from gripping the needles and putting effort into breaking through the fabric. It seems to take a lot less effort to stitch, and I am pretty sure this is why my hand fatigue and finger pain is considerably less bothersome. I rarely notice it now.
I don't want to say absolutely that the current state of relief in my beloved phalanges stems from the use of these needles, but it seems to make sense that at least some of the relief is due to the fact that it doesn't require as much effort to stitch when I'm using them.
So, that's something to consider, if you have hand fatigue or joint pain when you stitch. It could be the effort required by the needle, if the tip isn't as sharp as it could be and isn't breaking into the fabric with ease.
(I'm not making any medical claims here – I'm just giving you something to consider and maybe try, if you have a similar problem.)
The Upshot
After a rocky start, I'm a fan of Tulip needles.
As strange as this sounds, I've experienced a noticeable increase in pleasure in stitching when I use them. They feel good. They're comfortable. They're easy.
Would I pay for them again? I probably would if I ever have to replenish my current supply, which I plan to guard viciously.
How do they compare to my other favorite needles, by Bohin? Well… Bohin needles are excellent. And they are much more affordable. You get more needles for a lot less money, and they are good quality needles.
But when switching between the two brands off and on to see if there was a noticeable difference, I kept switching back to the Tulip needles and sticking with them.
When it comes to embroidery on fabrics with a looser weave, that aren't has tightly framed and so forth, I will probably slide right back into using Bohin needles, especially for any projects that I carry about with me away from my work area. Needles are easy to lose, after all.
Where to Find Them
So, I scoured the internet, looking for a good range of Tulip needles in stock, easy to order, and at a good price.
It seems they pretty much average $8.50 a tube, and they come in all kinds of needles. For embroidery, I particularly like the assorted packs of embroidery needles. One includes #3, 4, 5, and 6 (two of each) and the other assorted pack includes #7,8,9, and 10.
In the US, I found the best deal on Tulip needles here, through Handcock's of Paducah, where they're listed at $7.64 / tube. Shipping in the States is relatively reasonable, and they offer free shipping for orders over $70, if you have some buddies who want to go in with you on needle orders. They have a limited variety – they don't have any chenille needles in stock, for example – but it's a good enough variety for the standards (crewel, tapestry, milliner).
You can also find Tulip needles through other local and online needlework shops – check your favorite shop to see if they carry them!
And yes, you can also find them on Amazon in the US, but they're a bit more expensive. I've listed some of them on my Amazon Recommendations page here. They're Prime eligible, but if you want a variety of them, they're a bit steep. I noticed there are some listings for Tulip needles in plain tubes – I'd be wary of those. There are no labels on the plain tubes I've seen listed on Amazon.
In Australia, Create in Stitch carries Tulip needles here.
In the UK, I found Tulip needles at Sew and Quilt, which is located in Cornwall, in Penzance…where they probably stock pirates, too. I've never ordered from them, but it looks like they have a well stocked and maintained website with an easy to use shopping cart system.
And that is more than enough needle talk for the day!
What About You?
Have you used Tulip needles? What's your take? I'd love to hear your thoughts and experiences! Feel free to chime in below!