Time to end the week with a book review!
I've been wanting to review Stumpwork Embroidery: Techniques & Projects by Helen Richman of Blue Bird Embroidery for a while now, but, after waiting for my order from the UK (it's available in the States now), I still had to make my way through the book.
And once you see the book, you'll understand why that took just wee bit of time!
If someone asked me to pin one descriptive word on Stumpwork Embroidery, it would be thorough…
…and expansive… and fun… and detailed… and… well done!
If you're a lover of embroidery in general, if you are stumpwork-curious or have already taken the leap into stumpwork, if you are into dimensional embroidery, historical embroidery, embroidery with texture, appliqué, or layering, if you just like a really good needlework book – well, you know what you have to do!
So, let's look at the book close up, and then I'll share a couple bits and bobs with you about resources and whatnot.
Stumpwork Embroidery is good sized (224 page) glossy paperback filled with all the answers to practically any question you have ever had, or may ever have, about stumpwork.
I could end the review right there, I suppose! It is a Super-Thorough Instructional and Project Book.
What differentiates it from other instructional and project books? Well, there are a lot of big things and little things that make it somewhat different from previous similar needlework books. I'll point some out as we go.
Like many technique and project books, the author begins with a history of stumpwork and puts the technique into context with history and contemporary times.
I found this section, as usual, good to read. And while many books on techniques do go into the historical context, I always find a little something different, a little nugget that rounds out my understanding of needlework contexts or connects one more little thread in the history of needlework. So it's a good beginning!
And while there are historical examples illustrated, I like the fact that she used as illustrations her own interpretations of common historical elements in stumpwork in this section. It ties the past to the present.
Helen presents all the supplies that are typically used in stumpwork – and then some.
While all technique books touch on supplies, since stumpwork is a little more supply heavy when you get into larger or more advanced projects, there's much that can be mentioned in this section.
I'm pretty sure this is one of the most thorough supply sections I've ever seen in a technique book. And I think that's a good thing. If you've ever wondered "How do they do that?" or "What is that stuff they're using?" when looking at a piece of stumpwork, my guess is you won't have to wonder anymore when you have this book in hand.
Following the supplies, there's the basic information on setting up projects, including how to use a hoop, how to dress a slate frame, and other useful information.
Then, there's a stitch dictionary. It covers many embroidery stitches that you can use in stumpwork.
Often, the stitch dictionary comes at the end of a project or technique book. Sometimes they're presented almost as an afterthought. Sometimes, you just get some basic diagrams you have to struggle to translate, to really understand the how the stitch works.
In Helen's book, the stitch dictionary is right up front, telling you that, if you want to progress in stumpwork, you should know these stitches. Stitches are, after all, the backbone of any embroidery technique.
The stitches are presented step-by-step in really good-sized, clear photos. The large photos make it easy to see the detail of the stitch.
And then we get into the techniques of stumpwork!
From using interfacings, to building layers, to appliqué, working with metal threads, covering objects like beads, using wires, using ribbon – everything involved in stumpwork is all here, presented with step-by-step examples.
The author doesn't hesitate to use modern materials, either. She doesn't take the approach of "Do it the way they did it four hundred years ago only." But you'll also find all the traditional methods used in stumpwork, too.
Again, nice big clear pictures of everything! You don't have to guess with this book!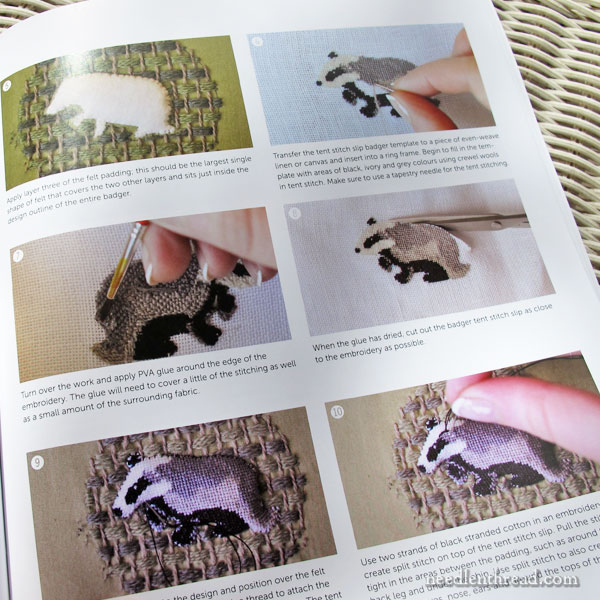 And then we get into the projects, which are arranged from basic to advanced.
Each project comes with a complete material list and beautiful photos of the finished project…
…and step-by-step photo instructions along the way.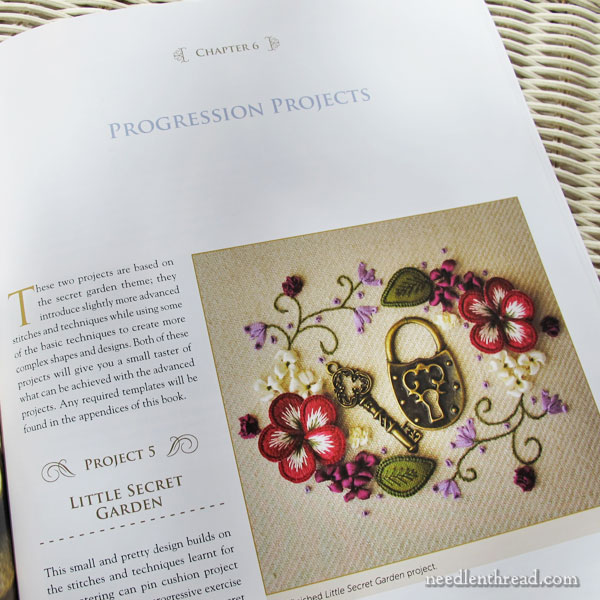 I love it when projects are arranged in a specific order like this in a book. Why? Because newcomers to the technique can easily see how they should progress. If you really wanted to master a technique like stumpwork, you could work through projects arranged in order in a book like this, and by the end, you'd have a pretty good mastery of stumpwork!
Um.
I have a Thing for fish (and frogs and similar things), for some reason. (Maybe I'm cold blooded?)
I love this fish. It's the perfect pet goldfish! You don't have to feed him, and you don't have to clean his bowl!
After the projects – of which there are nine – there's a nice section on human figures in stumpwork.
Helen presents the human figure in stumpwork, historically, and gives many examples. And then she takes you step-by-step through the project on the cover of the book, which is a glorious stumpwork / whitework project.
She shows how the form is created, the details embellished, and finally dressed and presented. It's wonderful!
I got more out of this section on human forms in stumpwork than I have in any other book that touches on the subject.
Finally, at the end of the book, you'll find two things – a section on finishing, with instructions on different finishing methods – and all the patterns for the projects.
In a Nutshell
Oh yes. You need this book. If you have even a sparkle of interest in anything stumpwork-related, you have to have it. It's just that good. It puts order into the whole Stumpwork Thing.
Pros
The book is clear, instructive, well-ordered, and extremely, extremely thorough.
The photo instruction is well done. Short of sitting in a class, it's as good as it gets. Plus, it's a lot more permanent than sitting in a class!
Cons
The only half-way con is that the book is kind of heavy and floppy. If you're planning to work your way through it for instruction, I'd probably do the re-binding trick, where you take the book to an office or printing store and have them spiral bind it for you. Otherwise, it can be a bit unwieldy if you're using it while you're working on something.
Where to Find It & Other Resources
You can find Stumpwork Embroidery: Techniques and Projects through the following book affiliates:
In the US, you'll find it at Amazon – it's the first title on my Amazon influencer's page here.
Worldwide with free shipping, you'll find it here through Book Depository, where it's slightly less expensive, but you won't get it nearly as fast if you're in the US.
If you're in the UK, you can order the book directly from Helen at Bluebird Embroidery, too. For US readers, it's a little expensive that route, as it clocks in just barely under $40 with the conversion and you have to figure in overseas shipping for a rather heavy book.
Helen also carries kits for some projects in the book (the Secret Garden projects, the watering can pin cushion – adorable!). You'll find the kits available here.
Her kits are thorough. The book kits (which require the book for instructions) have everything you need except a hoop, scissors, and glue – and the designs come pre-transferred. All the little findings are there. Even with the currency conversion, I think they're affordably priced. If you want a kit from the book, now's the time to get it before they are sold out!
Good stuff all around!