Out in the embroidery world lately, there's been a lot of talk about thread conditioners and about beeswax.
The topic surfaced when Thread Heaven – a silicon-based "thread conditioner" – went out of production, and since then, I've read and heard a lot of talk on thread conditioning for embroidery. And I've received a lot of questions in the old inbox!
So, today, I'm going to address a couple points addressing thread "conditioning" and the use of beeswax in embroidery.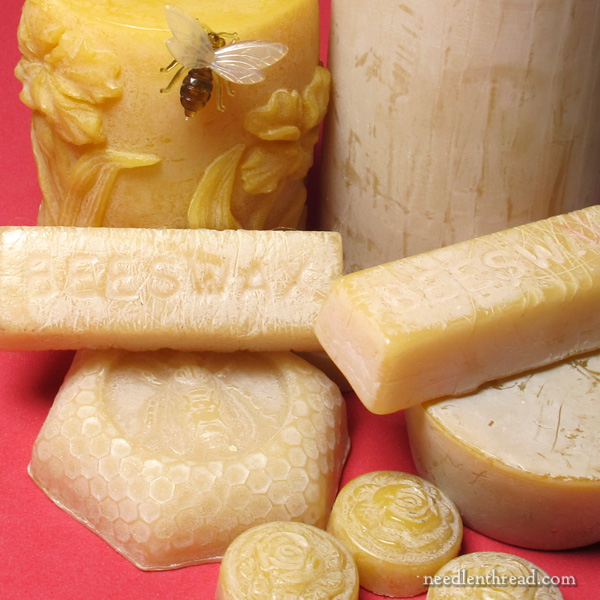 Before we start, if this is the first time you've ever heard the term "thread conditioner" and the subject has never been of concern or interest for you, don't be lead astray by the fact that I'm bringing up the topic.
In most cases, thread "conditioning" is not essential, practical, necessary, or even good for embroidery.
Coating a Thread with "Conditioner"
Coating a thread with a "conditioner" is a relatively new thing in needlework. The idea behind Thread Heaven was that it helped make difficult threads easier to stitch with, by coating them to straighten them, to keep them from tangling, to make them a little smoother, to keep them from fraying, kinking, and so forth.
In the embroidery world – and especially in the area of conservation – the use of silicon-based conditioners is a matter for more research and discussion.
Among the professionals I've discussed the topic with in the industry – from conservators to manufacturers – silicon-based conditioners, over time, seem to have a negative impact on threads, especially those made from natural fibers.
While thread conditioners haven't really been around long enough to test them seriously against time, so far, conservators tend to agree that they are not a good choice for natural fibers if you're seeking longevity from your work. They seem to "hasten rot."
It would be interesting to see some controlled experiments on the topic. The notion seems to be that coating a thread with silicon doesn't allow the natural fibers to "breathe" the way they normally would and tends to trap any moisture content or anything else in the thread that would normally dissipate or fluctuate over time, in different environmental conditions.
The Argument from Logic and Marketing
Logically speaking, a thread should not need a "conditioner" to make it work.
Think about it. A smart thread manufacturer wouldn't create a thread and market it, knowing that a "third party app" – a thread conditioner – is the only thing that will make the thread behave well enough to stitch with it without frustration.
Such an approach would indicate really bad manufacturing and marketing practices, wouldn't it? It would also indicate a lack of real thread and stitching knowledge – which would then beg the question: why is that person in the thread manufacturing business in the first place?
If it's the case that a thread does not work satisfactorily without coating it with some kind of conditioner, then the flaw is in the thread – either in the manufacturing process (in the twist or the tension placed on the thread while its being manufactured) or in the fiber content of the thread.
What About Beeswax?
However, beeswax is another story!
Beeswax has been used for centuries to coat threads – but only in particular circumstances.
By beeswax, I mean 100% beeswax, not a beeswax substitute, and not beeswax mixed with paraffin (which makes the wax flaky and can cause a real mess on your needlework).
The yellow wafer of "beeswax" in the clear plastic slotted containers that you find in most sewing stores on the notion wall is not always 100% beeswax – check the label. If you want 100% beeswax, you normally need to find it somewhere besides the notion wall of the chain fabric store.
Strength & Protection with Beeswax
Beeswax is used in embroidery, but only in certain circumstances, and all those circumstances have to do with strengthening and protecting the thread.
So, in goldwork, beeswax is used to coat the thread before using it to sew the real metal threads onto the fabric. Coating a silk or even synthetic thread with beeswax protects the thread from abrasion by the metal threads.
Beeswax is used to coat threads to strengthen them in other circumstances, too. For example, when attaching objects like buttons or similar things to fabric, coating the thread with beeswax will strengthen the thread against normal wear and tear, so that the buttons – or beads or other objects – are held to the fabric more securely, hopefully for a longer period of time.
The Longevity of Beeswax
Beeswax does not have a negative impact on threads, as far as conservation goes.
I've got pieces of embroidery in my collection that are hundreds of years old. The threads on them that are coated in beeswax are strong and sure, just as they were when first used. And my pieces have not been stored in any conservation-friendly environment over the years, either. They've come from attics and forgotten boxes!
So, beeswax has a good record, and it is often used to strengthen and protect threads used in particular types of embroidery.
Beeswax for Purely Decorative Embroidery?
Once Thread Heaven disappeared from the market, a flurry of advice went around, contending that embroidery threads – and I mean the threads used to create decorative stitches, not the threads used to affix other things to fabric – could be coated with beeswax instead, to help improve the threads and the stitching experience.
If you coat your threads with beeswax (or anything, really) it changes the look and performance of the thread, and it changes the stitching experience, too.
For one thing, threads that are coated in beeswax darken over time. They darken right away, actually, but over time, they tend to get even darker.
Threads that are coated with beeswax don't perform the same way as uncoated threads. They don't have the same "spread" or the same "spring." They don't reflect light the same way.
When you coat a thread, you interfere with the thread's normal properties. Remember, those normal properties are probably the reason you chose that particular thread! We choose a thread because it's pretty, because it reflect light a certain way, because it's soft, because it has a particular twist to it. All of these things are altered when you coat a thread, even if it's with beeswax.
The Upshot
At the risk of causing a bit of controversy, I'm going to go out on a limb here and say this:
You shouldn't need to coat decorative embroidery threads with anything. If you do need to, to make the thread work, then there's a flaw in the thread.
And I'll go a little further and say this:
Especially when it comes to natural fibers (cotton, silk, wool), you shouldn't coat decorative embroidery threads with anything.
The exception? Beeswax for strength and protection against abrasion. But not for decorative work!
Want to Weigh In?
As always, I'd love to hear your take! Feel free to weigh in on the subject below – or ask any questions, or share any insights!