Real thread color cards – if you don't know what they are, you should find out! Because I'm telling you, they're the best thing since packaged chocolate.
You think I exaggerate? No, no!
A real thread color card is The Answer for needleworkers who like to design their own pieces or who like to reinterpret other designs and need to know what colors and shades are available in a specific line of thread.
For those who don't have needlework shops on hand, real thread color cards are a much less expensive way of viewing the shades and colors in a thread line, in real life, without purchasing the whole collection of a particular thread.
If you're not familiar with real thread color cards and how they work, never fear! Today, I'm going to show you what information you can usually find on a real thread color card, and the various ways you can put them to work for you.
For my model, I'm going to use DMC's latest real thread color card, recently published, which includes their newly released colors.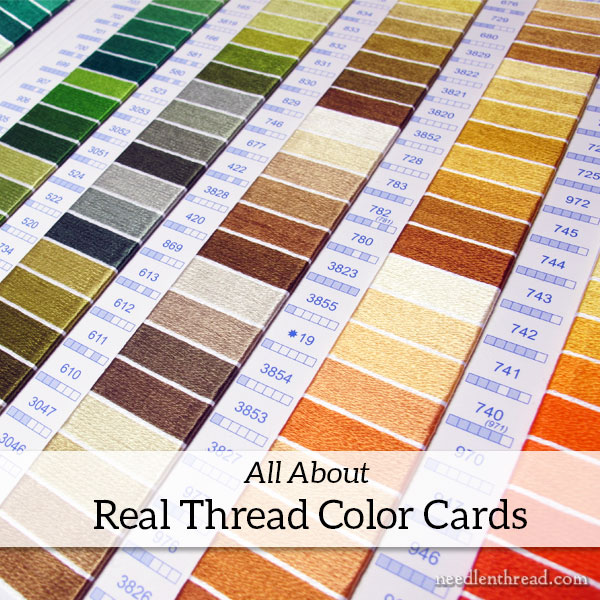 A real thread color card is exactly what it sounds like – it's a color card that sports samples of all the colors in a line of threads, using pieces of real threads.
When it comes to choosing colors for a project, the advantage of a real thread color card compared to a printed color card or an online color card (or photos of skeins) is pretty clear: there's no guessing about how accurate the print rendition of a color card is, and there's no guessing whether or not the electronic colors on the screen are accurate (they usually aren't – computer screens vary in how they render color).
With a real thread color card, you can view an actual fragment of the thread you're considering, being confident that, if you've taken care of your color card, the thread color you're seeing is accurate.
But this isn't the only advantage of a real thread color card!
Lots of Information
Another advantage is that the color card contains a lot of information about the thread, or about a line of threads. That's right! It's not just color you get – you get some extra and helpful information, too.
Using the DMC color card, and understanding that DMC produces a wide range of types of needlework thread, the extra information on the card is very helpful. It allows the user to see at a glance certain information on all their popular threads, all in one spot.
In the photo above, I've circled some of the key information that you can find on the thread card. In this case, the information is about DMC stranded cotton ("Mouliné Spécial 25" – or Art. 117, going by the product number).
You can see at a glance that each skein sports 8 meters (or 8.7 yards) of 6-stranded floss, and the number of colors in the range.
You can see laundering instructions for the product.
Next to the main threads in their collection, you'll also find un-dyed thread samples, to help you see the structure and weight or thickness of the thread. In the photo above, the arrow points to undyed wraps of the various weights of DMC perle cotton.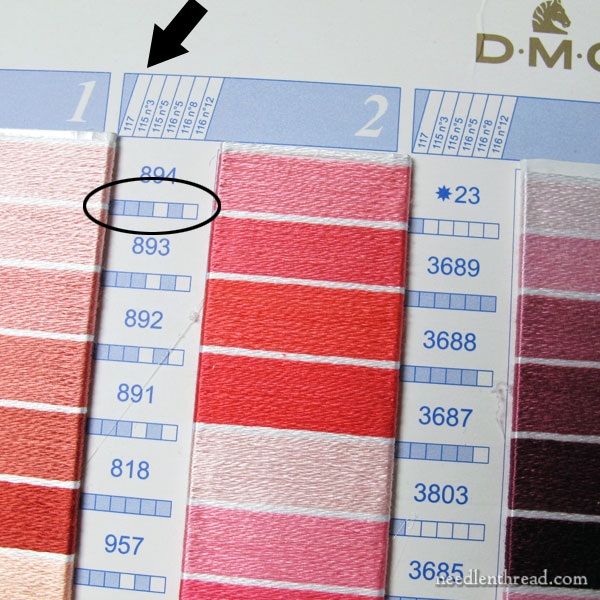 On the main part of the color card, where all the colored threads are neatly wound onto strips of cards, you'll find information about the colors available in each type of thread.
At the top of the page of color strips, you can see the common thread types by DMC listed horizontally across the top of each information column (see where the arrow is pointing in the photo above). There's 117, which is stranded cotton, followed by the perle cottons in skeins (3 and 5 – Art 115, in 16 and 27 yard skeins, respectively) and on balls (5, 8, and 12 – Art 116, in 49, 87, and 131 yard balls, respectively).
In the information column below the thread types, you'll see a number next to each real thread sample (that's the color number for that particular shade), plus a small horizontal grid with boxes filled in (circled in the photo above). Where the boxes are filled in, that particular shade is available in the corresponding weight of thread indicated at the top of the column.
So, in the sample circled above, you can see that color #894 is available in 6-stranded floss, perle cotton #3 and #5 (skeins) and perle cotton #8 (ball).
That's excellent information to know, if you want to work with that particular color in several weights of thread.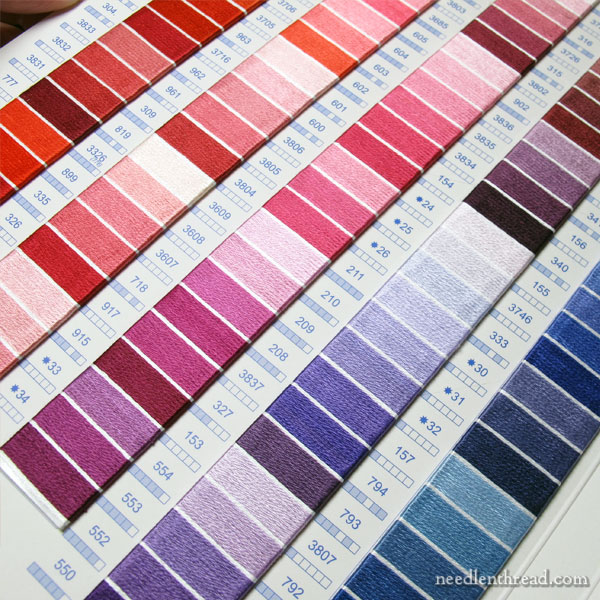 Color Conversion Across Brands
Another advantage of a real thread color card is that you can use it for color conversion across brands of threads, where a color conversion chart may not be available. This is particularly handy if you don't have a local needlework shop close by.
With a universal brand like DMC, using their real thread color card, you can hunt out different brands and thread types that are available in similar colors and shades.
For example, imagine that you want to do a project that features certain shades of blue, but you want to work them in blue silks rather than cottons.
Say you like the range of blues on the DMC color card that are numbered 3746 through 794 in the photo above. Knowing those color numbers that correspond with the blues you'd like in silk, you can call your favorite needlework shop and tell them, "I'm looking for silk similar in color and shade to these numbers in DMC. Do you have any silks that fall in that range or close to it?"
Because DMC is rather universal, they can either consult the color card or look at the skeins and find something similar in the other lines of threads they carry. When you order the threads, you know you'll be getting something pretty close to the color you were looking for.
While it may not get you an absolutely perfect match, it'll get you pretty close!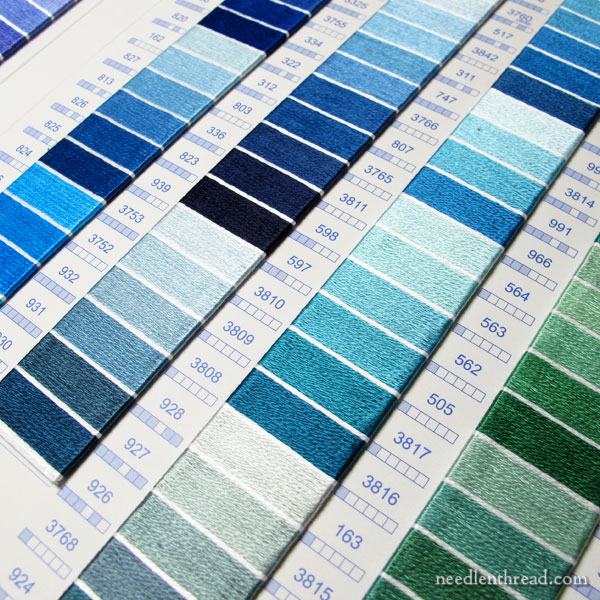 Shade Groupings
Which brings me to the point of shade groupings!
Real thread color cards are generally arranged in color and shade groupings rather than numerical order. This makes it really easy to find a range of shades of a particular color.
I love this feature! While many shade ranges start with a run of adjacent color numbers, they don't always rely on adjacent numbers to complete the line of shades available.
However, when you buy thread at a shop or online, it's usually arranged in numerical order.
And this makes it difficult to see, when shopping, the whole available range of shades of a particular color.
Using the real thread color card, you know what numbers you need to look for, to get the complete shade range.
How to Get Them
Real thread color cards are not always available for every brand of thread – would that they were!
Even for brands that do produce them, they're also not always available. Often, they'll show up as available for a short while, then they'll be out of stock, and then you won't see them again for a long time!
DMC's real thread color card with the new colors is available here right now. I don't know how long it will be available – it was showing up as available for a little while, then out of stock for a while, and now it looks like it's back in stock. If you want one, I'd say now's the time to get one.
Appleton crewel wool has real thread color cards. They're arranged a little differently, with snippets of their tapestry wool (same colors) on small cards that are held in a box. You can find them here through Wooly Thread. If you like crewel work and you work with Appleton frequently, they're good to have!
And several other brands also make real thread color cards. To find out if your favorite thread brands make real thread color cards, contact either the thread manufacturer directly (start by looking at their website and inquire there) or ask at your favorite locally owned needlework shop.
Questions? Comments? Suggestions?
Anything to add to the conversation on real thread color cards? Feel free to have your say below!