If you're one of those stitchers who loves surface embroidery in extravagant designs full texture, patterns, color, sparkle and beads, you may already be familiar with Hazel Blombkamp's series of books featuring projects that hint at a Jacobean flavor, but are totally modern.
Hazel's "crewel" books – punnily titled – focus not on crewel embroidery, but rather on fabulous and ornate stylized floral and similar surface embroidery designs. The projects are worked with a variety of mostly cotton threads in fantastic stitch and filling combinations.
Always fanciful, sometimes flamboyant, Hazel's designs are wildly ingenious when it comes to her use of patterned and textured elements.
With her latest book, Crewel Creatures, she steps over (or just barely scoots over a hair?) to the wild side! The book highlights six curious creatures worked in a style that is definitely All Hazel.
In Crewel Creatures, you'll find a new twist on Hazel's unique style. In Crewel Intentions and Crewel Twists, both of which I've reviewed here on Needle 'n Thread, the projects are somewhat traditional in their floral forms, but delightfully mixed with modern in their interpretation.
In Crewel Creatures, the stylized elements find a new home within the framework of wildlife, namely a tortoise, an ostrich, an owl, an elephant, a snake, and a rhino.
You can still expect that florals and fillings – they're just in a new, fun framework.
Like any good book, Crewel Creatures begins with an introduction, wherein Hazel tells us what inspired the exploration of animals stitched in her unique style.
I remember right before her kit Owlfred came out, Hazel told me how, while traveling, she had come across a "steam punk" owl that inspired her to draw up her own version, which resulted in Owlfred, independently available in his own kit and not part of this particular book. I was delighted to read the story again!
The other beginning matter of the book consists of all the basic requirements for this type of embroidery, from threads to fabrics to tools. Here, you'll find a good overview of the goods necessary to successfully work the embroidery projects in the book.
Following all the introductory material, we delve into techniques for stitching the projects.
The next several sections are comprised of clear diagrams for surface embroidery stitches…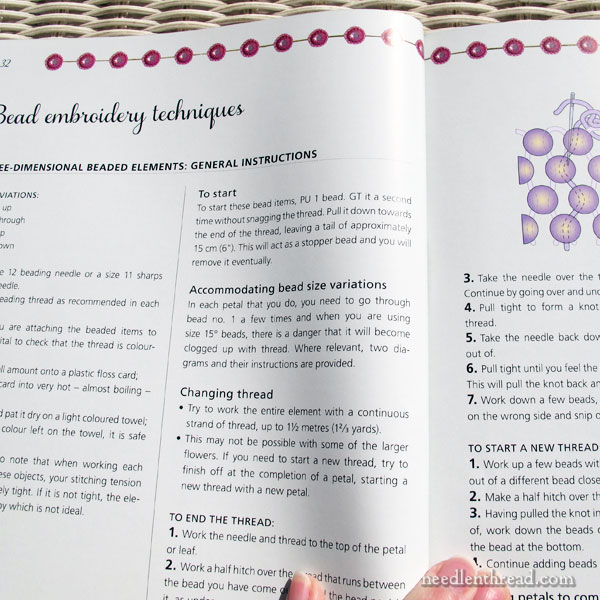 …for all kinds of bead embroidery techniques…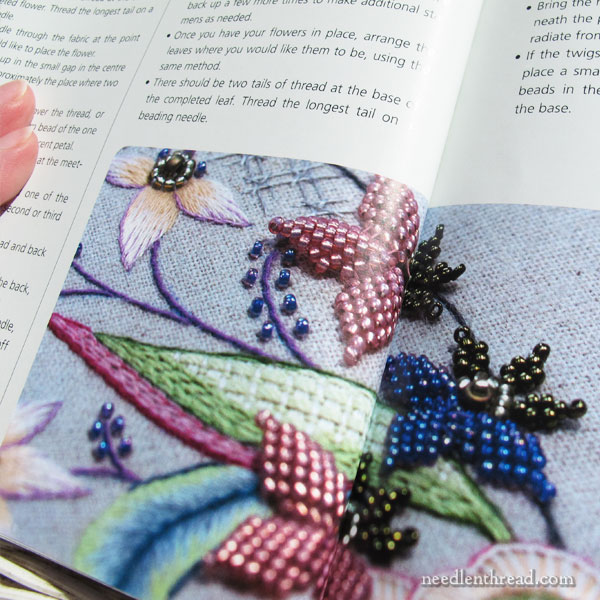 …(with a nice selection of enticing close-ups along the way)…
…lots of needle lace techniques…
…and plenty of woven filling techniques with a variety of charted filling patterns.
Then we move straight into the projects. Each project is introduced by a full photo of the finished project…
…along with some very nice close-ups!
With each project, you'll find a complete materials list.
And then you'll find the step-by-step walk-through for working the project.
As in Hazel's other books, this part is generally presented with photos that highlight each section to be completed, followed by written instructions on how to complete it, referring to the various stitches and techniques that were presented in the first half of the book.
For projects, besides the turtle already mentioned, you'll find this ostrich, which features a lot of needle lace in muted tones – and some pretty snazzy slippers…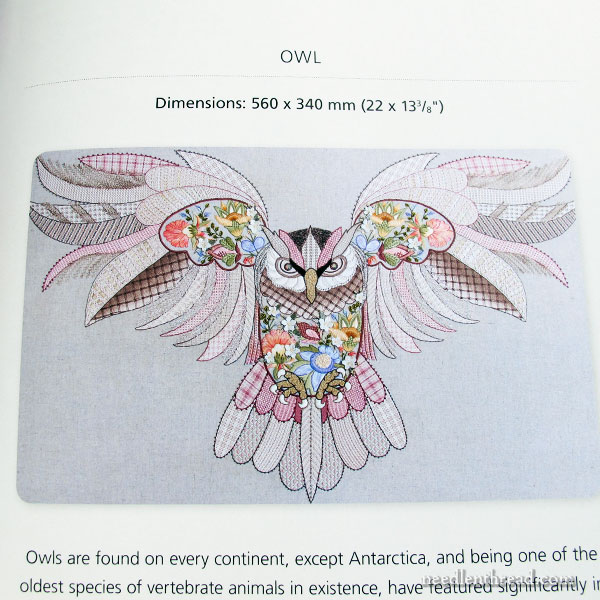 …this owl…
…a snake, which makes me shudder a bit despite the gloss (I have an aversion to the things, no matter how ornate they may be!)…
…an elephant that puts Dumbo to shame…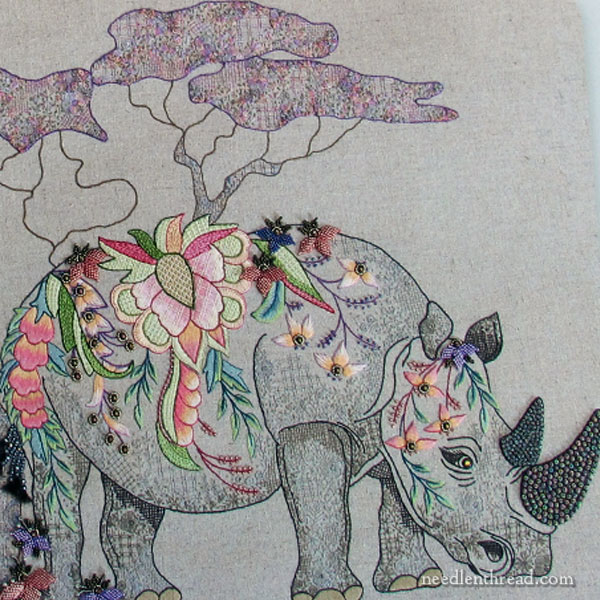 …and a rather fantastic rhino!
Six projects in all, just waiting for you!
The book ends with the patterns for the six projects in clean, traceable line drawings.
In a Nutshell
Crewel Creatures is definitely for the adventurous stitcher who loves color, texture, beads, bling, lots of stitches, and a fun challenge! The variety of stitches and techniques, colors and patterns within each project is so extensive that there's just no way you could get bored while working any of them!
I'd say the book is for beyond-beginner level, but I always hold that your level of determination has a lot to do with whether or not you can tackle a project successfully, even if it's the first time you've picked up a needle!
The book covers a whole heap of techniques. Even if you're not getting it for the projects themselves, you'll find within its pages a lot of good instruction and fun inspiration.
Where to Find It
Crewel Creatures has not been released yet. It comes out this month, though! So now's the time to get your pre-order in!
You can find Crewel Creatures available right now for pre-order through the following book affiliates:
For stitchers in the US, I've listed Crewel Creatures in the first spot here on my Amazon Recommendations page, where you'll also find Hazel's other books listed, along with other stitching goodies (mostly books, but some tools, too).
Worldwide with free shipping, you'll find Crewel Creatures available here at Book Depository.
You can also purchase kits that go along with the projects in this book directly from Hazel, here. They're coming from South Africa, so make sure you're aware of currency conversions, conversion fees, and shipping costs!