A Happy Easter to you and yours!
I hope wherever you are, the sun is smiling on you, whether spring or autumn! In the northern hemisphere, we think it's spring right now, but in fact, it feels more like Christmas…
The above example of ecclesiastical embroidery features the Lamb of God symbol (the Agnus Dei), which, in this particular stance, has been a symbol of the risen and triumphant Christ for many centuries – almost for two millennia.
The antique example above partially inspired my version of the Agnus Dei: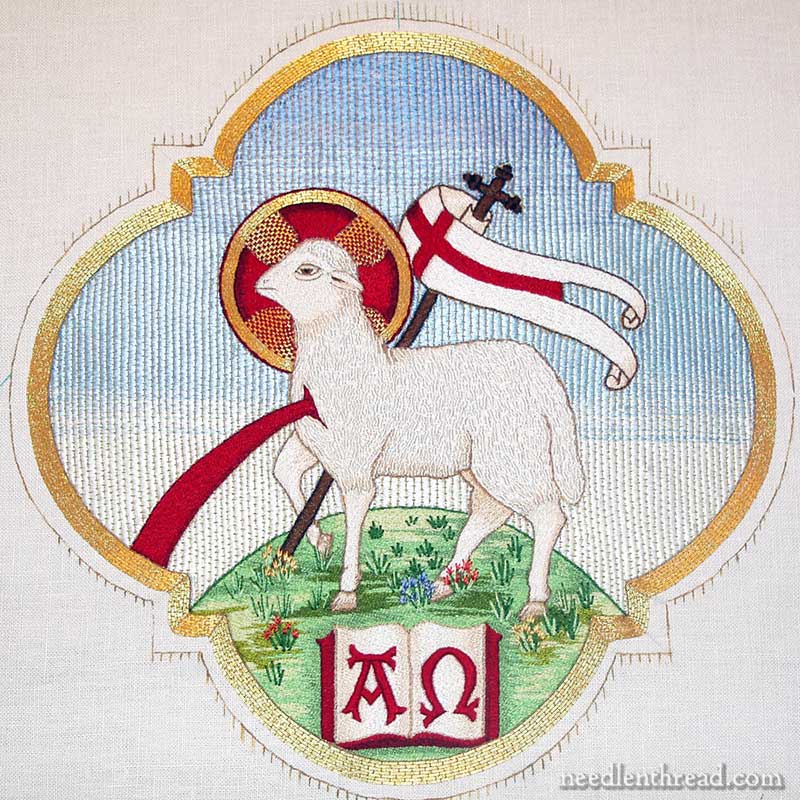 I used the same stitch for the wool on the lamb. It took a little "embroidery archeology" to figure it out, but it worked!
The design for my version was taken from an old book on ecclesiastical embroidery, which you can find online. I've written about it here, with links to the online book.
If you'd like to explore some spring embroidery, I highlighted quite a few spring-related projects (that are free) in my Easter greeting from two years ago, here.
Strangely enough, my original plan for today was to regale you with some spring photos of a tiny project I just finished, very Eastery in color scheme, set in amongst the purple flox that inspired them and that are normally blooming in front of my house by now. Unfortunately, the flox haven't peeped out yet – which is probably fine, because we're supposed to get snow today. Styling a photo out in a dormant flower bed wouldn't have been too impressive. Maybe by next week!
I'll be spending most of Easter Sunday with my family and friends, probably indulging in things like chocolate, lamb, chocolate, roasted potatoes, jelly beans, chocolate, pork roast, chocolate…
…and maybe a green bean? (To keep it balanced and healthy, you know.)
Tomorrow, I'm taking the day off to do a little catch up and sort tax paperwork. (Yay.) I'll be back on Tuesday, with the last installment of Party in Provence, an embroidered kaleidoscope we're working our way through together here on Needle 'n Thread.
I wish you all a joyous Easter!