Here in the Midwest, Spring is trying its darnedest to break through!
But it definitely needs a little help. Two weeks ago, when it was 80 degrees, you'd think that we skipped the season altogether and plunged straight into summer. But no. Now there's a possibility of snow on Easter Sunday.
So, in an attempt to encourage Spring to spring, here's a round-up of some of my favorite embroidery ideas, tutorials, and patterns that are spring related. I hope you enjoy them!
Perfect for spring, there's this three-stitch blooming tree, which really on requires three simple stitches! I doodled up a basic tree shape and went to town with split stitch, seed stitch and French knots.
You can do it, too! If you can't manage your own doodling for the tree trunk, look up "tree silhouette clip art" online, and you'll find plenty to choose from.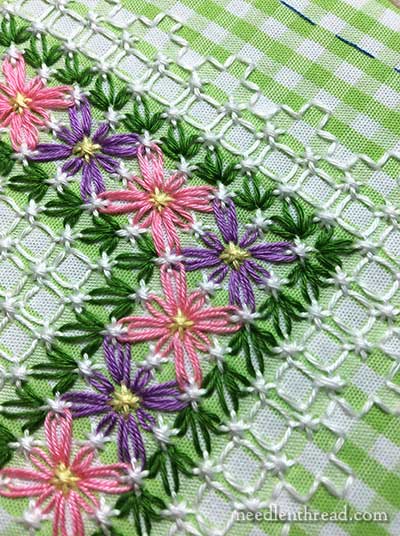 Chicken Scratch Embroidery for Spring
I love embroidery on gingham – it's easy and fun, and once you get the hang of it, you'll find yourself experimenting with different patterns and combinations.
You can find a tutorial for chicken scratch here, and here are a couple patterns to get you going:
Gingham Embroidery Floral Corner 1
Gingham Embroidery Floral Corner 2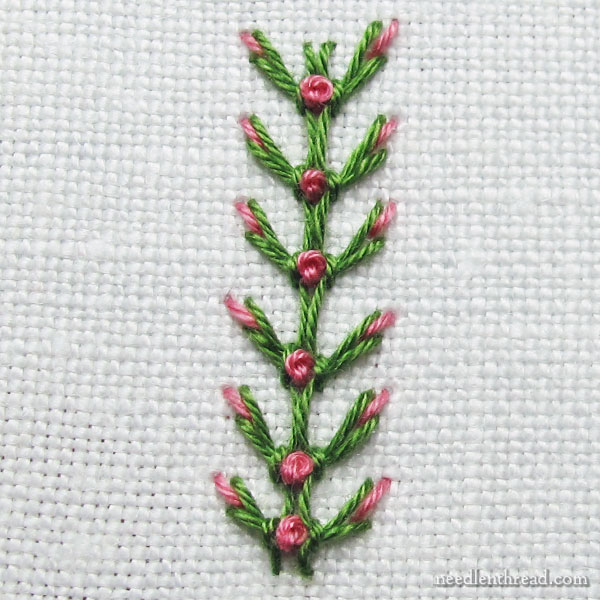 Tiny Embroidered Bud Border
Maybe you'd like to stitch something simple, with just a border of tiny buds?
Here's a tutorial for stitching a simple vine with tiny buds, along with a more complex version, if you want to get fancy!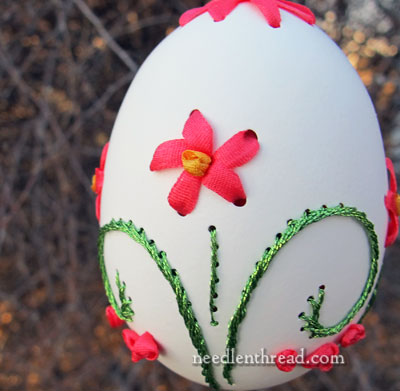 Embroidery on Eggs
Looking for a unique way to decorate your Easter eggs – for next year?
Perhaps this isn't a project you'd want to undertake the day before Easter if you're planning on wowing your guests tomorrow, but embroidery on eggs is kind of fun and kind of addictive! It puts a whole different spin on embroidery and on egg decorating!
Here's my list of tutorials, tips, and information on hand embroidering real, whole, uncut egg shells.
Flower-Producing Embroidery Stitch Tutorials
Roses might not bloom until summer, but embroidering sweet little rose buds is a perfect spring activity.
Here's a tutorial for embroidering a simple rose bud using rose leaf stitch.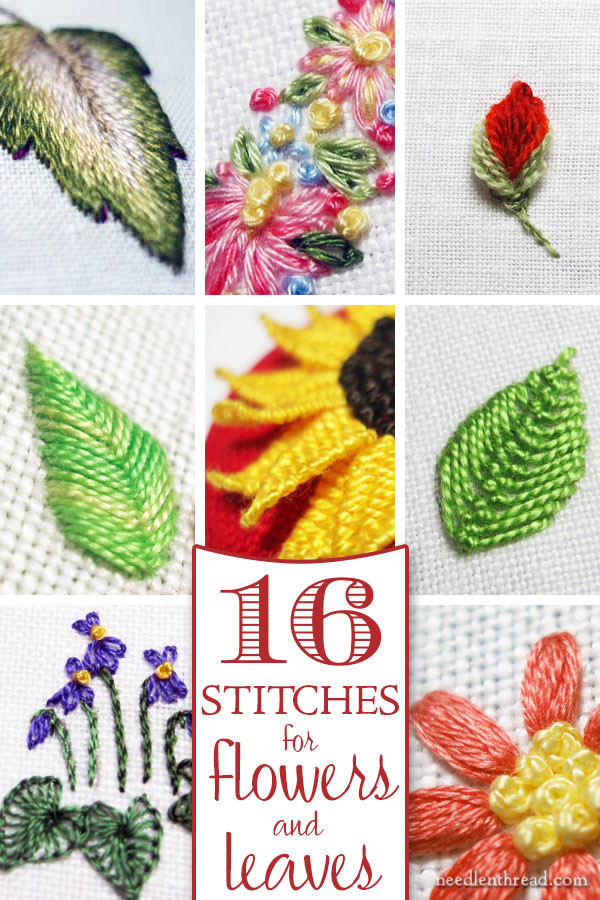 In fact, embroidering any kind of flowers and leaves is a good spring activity!
Here's a list of 16 different stitch tutorials for adding all kinds of flowers and leaves to your embroidery projects.
Patterns for Spring Stitching
If you're looking for embroidery patterns for spring stitching, you might like some of these!
One of my absolute favorite spring embroidery patterns to work on the corner of a simple flour sack towel is this Spring Corner pattern. You'll find a PDF printable for the pattern, plus a list of the colors and stitches I used on my version.
It makes a great lining for an Easter basket, by the way! Your bunnies will love it!
Egg Shaped Embroidery Patterns
Looking for specific egg-shaped embroidery patterns? You might like this Easter Egg filled with Flowers or this Easter Egg needle-lace pattern.
Or maybe you want to stitch a stuffed egg? Well, here are some tips for doing just that, and you'll find a pattern idea for a 3-D stuffed egg here.
Flower in Tambour Embroidery
This particular flower, in tambour embroidery, is a springy favorite!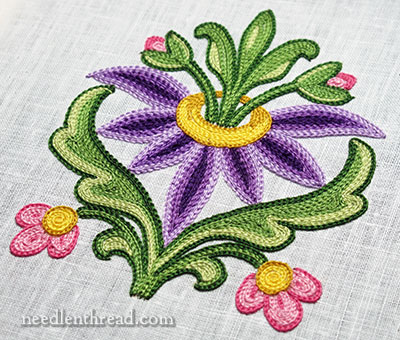 You can find the pattern for the flower here, along with a materials list here.
You might not want to work it in tambour embroidery, but if you do, you'll find a whole list of articles and tutorials and tips for tambour embroidery here.
Religious Embroidery
If you're looking for ideas for religious embroidery for Easter, you might enjoy browsing through this collection of articles on the Agnus Dei project below: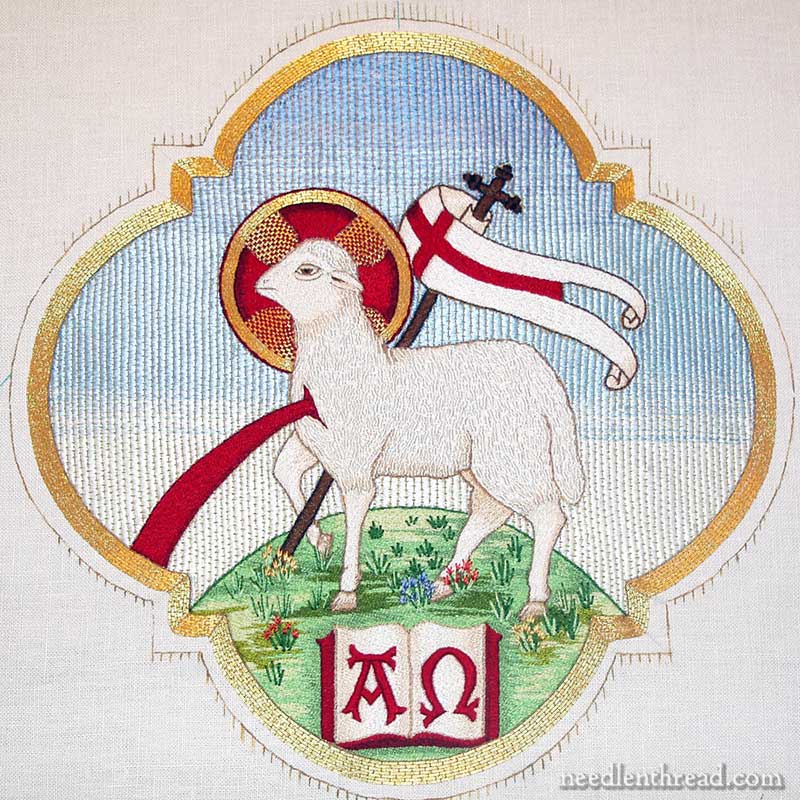 Happy Easter!
I hope these ideas will get you going, if you're looking for some springy touches to add to your projects, or for some specifically Easter-related stitching to get the jump on next year.
Tomorrow, I'll be celebrating Easter with my family, and I can't wait! I'll eventually mosey over to my sister's for the day – which is a good thing, because not only is it fun with the whole crowd there, but she's a great cook, and my appetite is definitely coming back!
Lamb. Pork roast. Salad and veggies. Homemade breads. Baklava. Oh my.
And then, of course, there are the jelly beans. The chocolates. The other desserts.
Hm. I think I'm better off without my appetite…
Ah well. We do what we must.
Happy Easter!