Let's end the week with another little finish – and a request at the end of the article.
Today, it's the blooming tree, worked in three very simple stitches.
And that's really what I like best about this particular project. It illustrates how simple stitches can work together to create a pretty nice finish. Embroidery doesn't have to be complicated.
So, here's the finish and some particulars. You can click on the images to view them larger, if you like.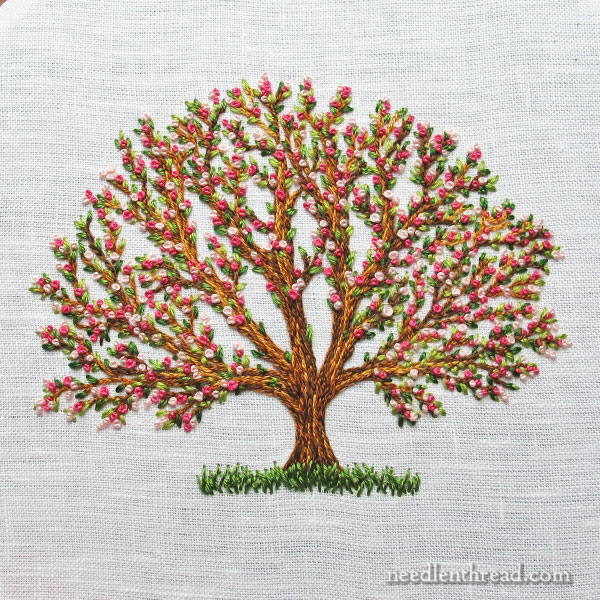 The whole tree, from the base of the grass to the topmost branches, is 2.75″ high. It's just sightly wider than that, at its widest points.
The embroidery on the tree consists of three stitches: split stitch, straight stitch (or tiny seed stitches, sometimes doubled), and French knots.
While the stitches are pretty simple, the colors involved are a little more complex. There are five shades of brown in the tree, three shades of green, and two shades of pink.
The line of grass at the base of the tree is worked in random straight stitches, just to give a grassy ground for the tree.
Now, the nice thing about a tree like this is that it can stand isolated if you want. You could frame it, you could include it on a crazy quilt, you could make a journal cover out of it, or a needlebook, or any number of things.
But you could also incorporate it into a larger scene, like embroidered gardens, landscape embroidery, castles and fairytales – whatever you're embroidering that could benefit from the presence of a tree.
The pattern, instructions, and materials list for this will be released later on – it's part of a series I'm planning, that I'll tell you about a little later this year, after the overhaul on the website is completed and up and running.
In the meantime, though, if you're itching to stitch your own tree, you can take the information provided already and drum one up. Just pick out a range of browns, some good greens, and some blossom colors, doodle up a tree (it doesn't have to be perfect!), and you're good to go!
Seeking Contributors! What are you stitching?
You know what the best thing about Needle 'n Thread is?
You!
The involvement of like-minded stitching enthusiasts on the website helps make Needle 'n Thread more than just a blog.
Now and then, I like to feature reader's work – to share what you're stitching, to hear about what inspires you, to learn about your needlework journey, and to hopefully inspire others with your work and your stories.
To that end, what are You stitching these days? Would you like to see your work featured on Needle 'n Thread? If you've embroidered something lately that you'd like to show us, that you think will inspire others, that made you particularly happy (or maybe even particularly frustrated!), that you enjoyed stitching, that you are proud of persevering through – whatever the case, whatever the level of stitchery, why not share it with us?
If you'd like to contribute for future articles featuring reader's embroidery, write to me at mary(at)needlenthread(dot)com. You can attach photos of your work right to your email. If you have a blog or website, a Facebook page or Pinterest board where you feature your work, feel free to include that information as well. If you don't, don't worry about it!
If you like, you can browse through previous reader contributions here.
I'm looking forward to hearing from you and seeing what you're up to with your embroidery!