With Easter only a few days away, it might be a little late to start a full-fledged Easter embroidery project.
But then again, if you have the time on your hands, it might not!
This pattern, from Joanna at Haft Richelieu, features a darling little bunny, decorative eggs, and little flowers, made into a beautiful basket liner.
You'll find a PDF for the free pattern at the end of the article, so read on!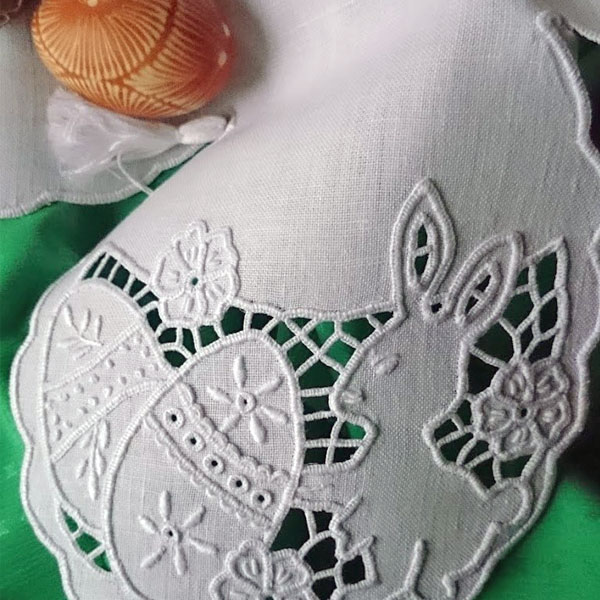 Joanna Jakuszewska offers an amazing collection of cutwork patterns in her publication, Haft Richelieu. You can find cutwork designs for any season, for stitching all kinds of pristine linen accessories for the home. Most of the projects are small enough to work for quicker projects, but many can be adapted to much larger endeavors as well, like table cloths, pillow cases, and even curtains.
I've reviewed some editions of Haft Richelieu before, so if you want to see what they're all about and where to find them, you can read my previous article here.
Cutwork embroidery is usually grouped under whitework. It's normally worked on white linen, using white threads – especially, coton a broder. If you're looking for ideal fabric and threads for cutwork, you'll find both available online through fine needlework shops. Needle in a Haystack carries excellent white embroidery linen perfect for cutwork, called Alba Maxima. You can buy whitework threads through Lacis and through Vaune.
For linen, there are two that really stand out in my mind as perfect for cutwork: Alba Maxima and ecclesiastical linen, both of which are Legacy Linen from Access Commodities. Coton a broder in various sizes, from 16 through 30, are ideal for cutwork, with #25 being the most common size used.
As for stitches, the buttonhole stitch, satin stitch, and occasional other stitches (like seed stitch) are most frequently used, so the stitches are not really too complicated! You'll also frequently see some openwork filling techniques in cutwork pieces. In the Haft Richelieu publications, you'll always find diagrams for the stitches required in the various projects.
Besides linen and thread, you'll need a good embroidery hoop and some fine, very sharp scissors for cutting away the linen. So really, the supplies for cutwork aren't too complex, either!
Free Easter Cutwork Embroidery Pattern
Here's the promised pattern for the bunny cloth.
When you print the PDF, you can choose "no scaling" or "100%" in your printer's menu, to print at the size intended by the designer. However, you can also scale the pattern up or down, depending on your own preferences. The pattern is for a quarter of the design, so you just need to repeat it four times, at 90-degree angles. You can leave three sizes plain and stitch just one side, or you can work the cutwork on as many sides of the cloth as you wish!
Easter Cutwork Embroidery Pattern – Bunny with Eggs (PDF)
Many thanks to Joanna for sharing this pattern with the Needle 'n Thread community! If you're hankering to do some cutwork embroidery, do check out Haft Richelieu – it's one of the best resources available today for a huge variety of cutwork designs.
In the US, you can find the publications through Lacis and Nordic Needle. For other countries, the distributors are listed here on the Haft Richelieu website.