Certain times of the year, the yearn to go road tripping overwhelms me. There's nothing I love better than a good road trip!
One of my favorite aspects of a road trip is staying in different hotels along the way. I love hotel life! I don't really know why. It's not as if I stay at swanky hotels or anything. But I think it's fun to stay in hotels, especially if you're traveling with family or friends.
When road tripping, I rarely bother to take embroidery with me anymore, because the fact is, I never get to it. There's just too much else to do on vacation – too many things to see, people to visit, places to go. Embroidery ends up taking a back seat, if I remember it at all.
But lately, I've had the unique opportunity to stay in a hotel for some extended bouts of time, without the vacation vibe hovering over the whole experience, while I take care of some medical treatments. And I've been staying alone, so there's lots of time on my hands! When I prepare to pack up for these chunks of hotel living, you can bet that, in these circumstances, my embroidery plays first fiddle. I'm not exactly getting out and about and "doing the town," so I need something to do to while away those hotel-room hours.
Whether you're traveling for business, pleasure, or necessity, packing needlework stuff for hotel stays is a good idea, if you know you're going to have time to stitch.
Here are the stitchy things I've been taking along with me lately – maybe they'll give you some good ideas for your next hotel stay.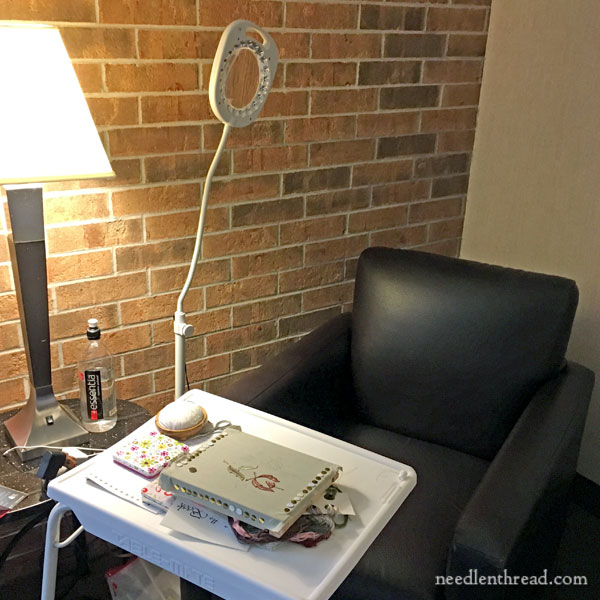 This is my needlework corner in the hotel room I've been living in.
Now, hotel room stitching has its pros and cons. I never find it as comfortable or convenient as being at home, but, with a few considerations, it's passable!
On the con side, there's the whole question of hotel lighting. Hotel lighting is always my first consideration when traveling, because, generally, hotel lighting stinks.
If you're driving to your hotel and you have room in your car, you can remedy the situation by packing along a light. There's no way I'd haul one of my BlueMax studio lights with me – they're heavy and cumbersome. But most craft lighting manufacturers produce smaller lights that are decent for travel.
For my recent circumstances, I've found my Dublin craft light and magnifier to be a good companion. It's not exactly compact, but it fits easily in my car and it's light enough to carry from the car to the room without a problem.
Another option that would work really well in hotel rooms and for travel: CraftOptics, which are super portable and allow for both magnification and light. I have a pair, but my eyes have changed so much this year that, unfortunately, they aren't my first choice right now. But if your eyes are pretty stable, then these make an excellent traveling companion for hotel-room stitching.
If you don't need magnification, but still need good lighting (and if you're staying in a hotel room, trust me, you'll need extra light!), consider any kind of small, portable craft light. I like the Stella lamp, which folds up neatly into its carrying box and is super light and super bright. Other manufacturers, like Ott and Daylight, make perfectly good, small, portable lamps, too.
This might seem like a weird addition to my luggage. It's a small, portable, fold-up table – like a TV table or a couch table. It's very light and very easy to set up and take down. When folded, it doesn't take up a lot of room, but admittedly, it's not something you'd necessarily take through an airport or pack in a super crowded car.
Since I have room in my car, and since hotel rooms often lack moveable table space, I've been packing along this little folding table, and it hasn't disappointed me! It's super useful, not just for embroidery. I shift it around the room, wherever I want a small table space away from the permanent furniture in the room. Whether I dine on it (um…not room service – just sandwiches that I slap together!), use it to set my iPad on for Face-Timing my family, or use it to spread out my stitching supplies, it's been a really good addition to my hotel get-up.
In fact, toting the table allows me to forego toting a stand. I can rest the edge of my embroidery frame on the table, and I don't need to have a stand with me.
If I were to take a needlework stand, though, the Needlework System 4 stand is the way to go. It folds up neatly, takes up little space in the car, and is light enough to carry hither and yon. They also make a travel stand that folds even smaller and can fit in your luggage.
So, the little table and the Dublin craft light are the large items I've been packing for my hotel stays. But what about the actual stitching supplies?
Right now, the project I'm taking with me is Late Harvest, which is set up on stretcher bar frames. I slide the large frame with the main project on it and the small frame with the stumpwork pieces on it into a pillow case, and throw that in the car. (Ok, maybe not throw…)
All the supplies I need for stitching get tucked into a large mesh zipper bag, like the one above. You can find these mesh zipper bags for needlework through local needlework shops and online, through shops like Nordic Needle. They carry them in several very convenient sizes.
Inside the mesh bag is…well, everything! I even throw in a full size pincushion, because I can!
I keep all my project threads and beads (which are in individual tiny bags inside a larger small bag) inside a smaller mesh bag. All my tools go in flat little gift-card tins…
…like this one!
I'm not really sure why I take three pairs of scissors with me, but I do. There's also a circular thread cutter in there (definitely going overboard on the thread-cutting tools…), a pair of tweezers for the inevitable mistakes, and a combination stiletto / laying tool, for cranky threads.
And, of course, there's my bead-mat-in-a-tin, so I have somewhere secure to pour out beads.
My needles, I keep in tiny plastic tubes with tight-fitting tops, so that they're nice and secure. One tube holds my project needles and the other holds a wide array of needles that just might come in handy.
When I'm actually stitching, the needles I plan to use go into the pincushion, for easy access. But when I'm not stitching – when things are packed up and ready to go back in the car – they go back in their tube.
Inside the large mesh bag, you'll also find any necessary printed instructions, a pen and a pencil, and a spool of thread.
Finally, I include a small tin full of these tiny Mill Hill bead embroidery kits I wrote about back in January.
These are my back-up plan. Sometimes, I don't feel like working on a larger, more intense project, but I still want something to do with my hands to help time go by productively. These fill the bill. I have five of them tucked into a small tin, tucked into the large mesh bag. They give me a sense of security.
So, that's my current stitching set-up for hotel rooms. And even though it sounds like a lot of stuff, it really isn't. Everything for the embroidery fits into the mesh bag. The mesh bag, table, lamp, and pillow case with the frame in it all go from the car to the luggage trolley to the room with no problem.
Once I'm settled in my room, I establish my stitching corner and I'm ready to go when the urge strikes!
What About You?
Any tips, ideas, suggestions, solutions for stitching in hotel rooms? Any secrets for successfully combating space problems, lighting, and so forth? What prized stitching possessions do you tote with you for hotel stays? Feel free to share your insights below – I'd love to hear them!