Every time I turn the lights on in my workroom, my internal vocalist starts belting out that song. Yooooouuuuu light up myyyyy liiiife!
I love my workroom lights!
Good lighting is essential for embroidery and for any art or craft. And among the more frequently asked questions here on Needle 'n Thread, lighting is a prevalent topic.
So today I'm going to introduce you to the lights that I use in my workroom and tell you what I like about them. I'm not trying to sell you on them, and I've got absolutely no affiliation with the company. But if you're hemming and hawing over the question of lighting, this information may help you.
And a good light may be Just the Thing to put on your Christmas wish list. You might end up with one in your stocking!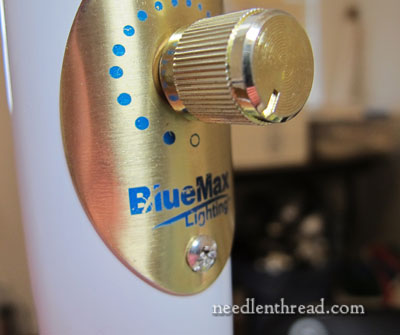 The lights that I use in my workroom are called BlueMax HD lights. They are full spectrum lights, and they are dimmable – that is, you can turn them up as bright as they go, or you can reduce the amount of light they give off. I use the 70 watt lamps, and I have both a floor lamp and a table lamp.
Why Not Ott?
While Ott lights are probably the most popular craft lights out there, I quit using them several years ago, except for my travel light, which I just haven't replaced yet. I always felt that the Ott light didn't give me quite enough light. Ott lights also never worked well for me when taking photos. The colors didn't come out right, and the Ott light pulsates, and although you might not notice the pulsating with the naked eye, the camera picks it up. (If you'd like some specs for comparison, here's a technical comparison between BlueMax HD floor lamps vs. Ott light floor lamps. It's interesting!)
Because I take pictures as I go, it became really important to me to find bright, full-spectrum lights that don't pulsate, that would work well for taking photos, and that would really light up my work well. The first light I acquired that worked as I wanted it to was an UltraLux floor lamp, which I still use but which is no longer available as a work lamp.
You can see the Blue Max light in the foreground here – it's the only one on, and it's completely lighting up my work table. (The older UltraLux is in the background.)
I came across Blue Max lights when I needed to add a couple lamps to the workroom and couldn't find the same UltraLux – instead, the same places that sold UltraLux were selling Blue Max lights, and that's what I settled on.
Once I bought them, I was in Light Heaven! They are, in short, amazing lights to work by.
Pros of Blue Max Lamps
1. They are bright. They're touted as the brightest full-spectrum lights on the market.
2. They are the fullest "full spectrum" lights available, and colors are extremely clear and vivid underneath them. I always color match under these lights.
3. They are dimmable. If I don't want the full blast of light on me, I can turn it down.
4. They are somewhat adjustable. The neck can be bent or straightened, and the head can be pivoted a little bit.
5. They vivify the work surface so much that they reduce the need for magnification. I can work on 72 count silk gauze under this lamp without magnification, but under other lighting, I need help.
6. They are Very Sturdy. The heavy base keeps the lamp stable. Still, it's not too heavy to move, when I need to move it.
7. They are relatively cool. They aren't cool, but they aren't so hot that I notice them.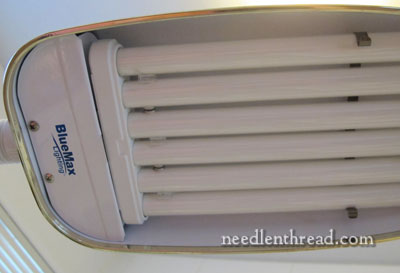 Cons of Blue Max Lamps
Of course, as with any product, there are some cons, and these are worth mentioning, just so you know.
1. They aren't fully adjustable. It would be nice if the floor lamp and table lamp had a fully adjustable lamp head that could tilt a bit better, and it would be most excellent if the pole on the floor stand could be raised and lowered to adjust for differences in height and seating. Alas, neither is the case.
2. They are ex-pen-sive. At least, I find them expensive, clocking in at around $200-$240 for the least expensive floor variety, and around $170-$200 for the least expensive table top variety. Unlike Ott lights, which often go on sale at local craft stores for extreme percentages off, the Blue Max lights don't often go on sale, and when they do, it's just a "little" sale. But a "little" sale is better than no sale at all – and often, you can find free shipping deals. I afforded mine by budgeting so much per week, until I had saved enough to buy them. It was one of the best investments I've ever made.
Where to Find BlueMax Lamps
If you're interested in BlueMax lamps, in the US you can find them online. You'll find the floor lamp and the desk lamp listed here on my Needle 'n Thread Recommendations page here on Amazon, which is an affiliate link.
Your Eyes are Important!
But whether you use these lights or another good craft light, don't skimp on lighting. You can skimp on all kinds of other tools when you're doing needlework, but your eyes are just too important to mess around with. Use good lighting when you stitch!
So, how about you? Do you have a special light you stitch by? What do you like best about it? Have you tried a variety of lights? Any other suggestions for folks out their looking for a good stitching light? Feel free to have your say below!
This article contains affiliate links. Needle 'n Thread gets a small commission when you make a purchase through an affiliate link in my articles, at no extra cost to you. Every little bit counts, and it's a great way to help keep Needle 'n Thread going! Thanks!