Just in time to tuck one of these lovely miniature needlepainting kits into your own Christmas stocking – or to give it to your stitching pal, who will undoubtedly think it The Best Gift Ever – I'm giving away one of each of Trish Burr's miniature kits.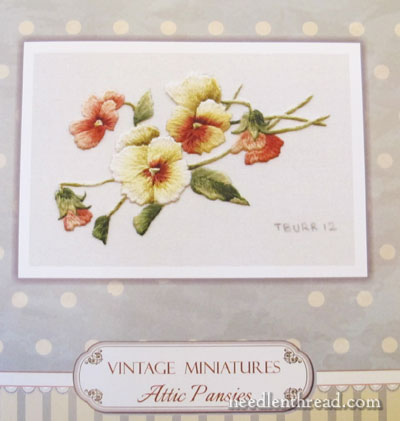 Thanks to Trish, who generously provided the kits for a give-away, you have the opportunity today to win either the Attic Pansies kit (above) or…
… the Bluebirds & Daisies miniature kit.
These are the actual kits that Trish sells. The come with the instructional booklet, the pre-printed fabric, backing fabric, and needles. There's a thread chart in the instructional booklet for the required threads, with conversion between DMC and Anchor, so you can choose which threads you want to use.
Incidentally, the miniature kits won't be available again for purchase until after the New Year (she sold out after my review – sorry, Trish!), so this is your only opportunity to get a kit before Christmas!
(However, if you're eager to stitch one of these delightful minis right away, you can get a digital version now – Trish has made the miniatures available for digital download in her Etsy shop, in response to the popular demand for them. Thanks, Trish!)
Give-Away Guidelines
If you'd like to join in for the give-away, it's really, really simple! Please follow these guidelines:
1. Leave your comment below, at the end of this article, here on the website. Comments received via e-mail or left on other articles are not eligible.
2. In your comment, answer the following question:
What do you prefer to be going on around you while you're embroidering? i.e. do you watch TV, listen to music, listen to audiobooks, embroider around friends or family while chatting, do you prefer silence, do you like to be outside where you can see and hear the wonders of the natural world around you, or … ?
3. Please make sure you leave a recognizable name either in the "name" line of the comment form or within the comment box.
4. Leave your comment by Wednesday, December 12, 5:00 my time (Kansas, USA), and the winners will be announced some time that morning! This Give-Away is Closed – but keep an eye open for other great Trish Burr kit give-aways in the future!
See? Simple dimple!
I'm looking forward to reading your answers to my question above – it's one of the best aspects of a give-away! So, comment away!
Note: Unless you want all of the comments for the give-away filling your inbox, do not tick the "follow-up comments" box at the end of the comment form. Make sure it is left unchecked, or you will end up with many e-mails in your inbox!