I often get questions about sources for cutwork embroidery patterns.
Richelieu (also called by the more generic name of "cutwork") is an exquisite type of (usually whitework) embroidery that involves outlining areas in a design and building little "bridges" of fabric and woven bars, so that pieces of the linen can be cut away, creating a visual contrast between the white linen and the cut away parts of the design. It also often involves some surface ornamentation in whitework embroidery.
There are several publications available that are dedicated to cutwork embroidery, all of them coming from one area of Europe or another.
Today, I'll show you one publication devoted entirely to cutwork that I really like, and tell you why I like it and where you can get it.
The publication is called Haft Richelieu and it is published by Joanna Publishing, in Poland. The publication comes out three times a year, and it contains Richelieu cutwork patterns designed, for the most part, by Joanna Jakuszewska.
Although the booklets are written in Polish, they are perfectly accessible to anyone who likes cutwork.
Each publication contains around 30 cutwork patterns, with beautiful photos of the finished cutwork pieces made from the designs.
Again, the written instructions are in Polish, but each bit of instruction has a diagram which is clearly understandable, no matter what language you speak.
The diagrams for the cutwork part are standard in each publication.
If the projects in any individual issue involve other techniques – like certain types of embroidery or certain finishing-related techniques (such as tassel making) – then clear diagrams are provided for those as well.
Each publication contains a two-page removable spread of full-sized patterns. In the more recent issues, one of the pattern sheets is iron-on, while the other is not. The patterns are drawn in bold lines, easy for tracing onto linen.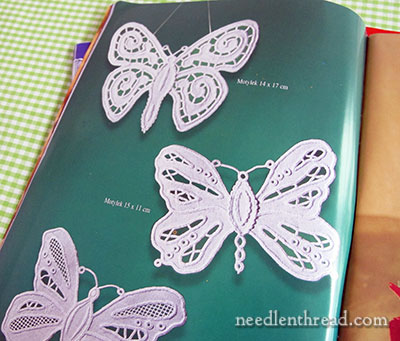 I like the simple layout of the Haft publications, and I like the fact that they provide full sized patterns to work with.
I like the wide variety of designs to choose from in each issue.
But what I really like about the Haft booklets is that the designs in every issue range from small to medium.
If you want to make something large, you can always work out a repeat on the medium designs, for large tablecloths and so forth, but the majority of the designs are for smaller to medium-sized cutwork projects. And this makes sense, because cutwork is a time-intensive, repetitive embroidery technique, and small projects are much easier to tackle.
I love the selection of small ornaments that are offered throughout the year, from Christmas ornaments to snowflakes to Easter and spring ornaments – little pieces that can be made individually and given as gifts or used in the home, that are accessible and realistic undertakings, much more likely to be completed.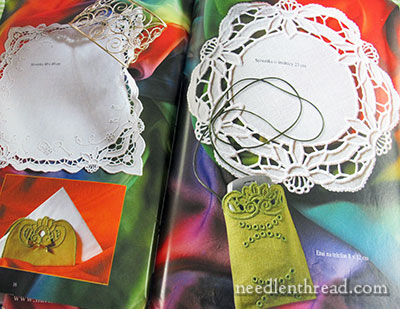 I love the small doilies, and the ideas for making little useful things decorated with cutwork, like the cell phone case in the photo above…
…or the letter pouches, wall calendars, and box fronts in the photo above.
But for those who want a challenging, larger project, there are also gorgeous patterns for table runners, placemats, and other table and household linens.
So, what it boils down to is this: I love the variety of projects in the Haft Richelieu publications, because they are accessible, realistic, and beautiful!
The best way to determine what Haft Richelieu publications you'd be interested in (there are some 52 of them available), go first to the Haft publishing page where they list all the issues. Under each issue, there's a link that says "view more". If you click on that, you'll get an idea of some of the projects in the issue. On the older issues, there are more thorough descriptions of each issue's content.
If you're in Europe, you can probably find the Haft Richelieu publications in your own country through needlework shops that specialize in fine needlework, whitework, and so forth. You can also purchase directly through Haft.
In the US, Lacis carries the Haft publications. Unfortunately, I can't link directly to them because they have a weird website, but if you go to their catalog, and then go to "books" and then "needlework techniques" and click on "cut work" and then scroll about halfway down the page, you'll see them. You have to order by issue number, which is why it's good to check out the publisher's website first, to see what's in each issue. Each issue runs less than $10 a piece, and if you figure how many designs you're getting in each one, that's a pretty good deal!
So, for those of you looking for cutwork designs, I hope this comes in handy!
Maybe one of these days I'll dig out some cutwork and show it to you… I haven't aired my linens in a while!