Two. More. Leaves.
These two leaves:
And the green will be finished.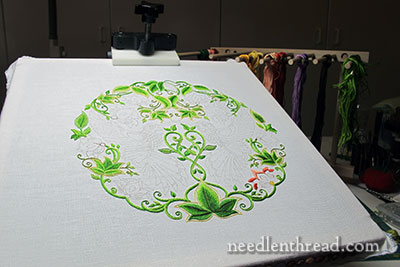 Do you know what that means?
By the end of today – nay, even before the day's end – we can move on to another color!
Flowers! Oh, flowers! Oh, color!
It's not that I don't love the green. I do love the green! And I love the abundance of green!
But I'm so close to finishing the green that I can taste it – it's that delicious feeling of moving onto another stage, another step towards seeing an idea unfold.
Two. More. Leaves.
The long & short stitch used as a filling on so many leafy elements takes a lot of time. Over the last four days, I've spent right around 16 hours working on the leaves at the top of the design.
If you're following along on the Secret Garden project, you might start to feel a bit weary of the leaves – but don't give up! Think of each leaf as an exercise, as a learning experience, as an accomplishment to tick off your list – whatever kind of game it takes to keep you plugging away to finish the leaves.
One thing that you will notice while working on each leaf, for those who haven't done a lot of long and short stitch shading, is that, with each leaf, the whole long & short stitch filling process becomes easier. By the end of the leaves, you will feel much more comfortable with long & short stitch. It will become second nature; it will be as easy for you as working the backstitch! So don't give up!
Now, I'm off! My battle cry this morning: Two Leaves Before Lunch!
If you'd like to follow along with the Secret Garden Embroidery Project, you can find all the information pertaining to this project, including resources, materials, and stitching tips, in the Secret Garden Project Index.