As promised in yesterday's article on chicken scratch (which garnered a lot of discussion!), here's the second gingham lace or chicken scratch pattern for a little corner design.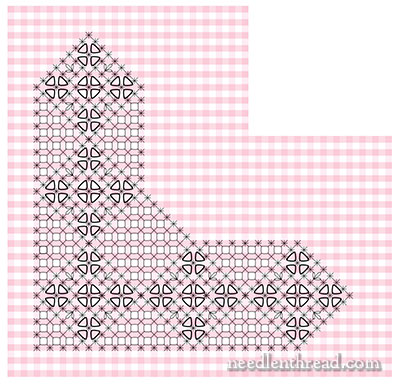 This is what the pattern looks like when worked out: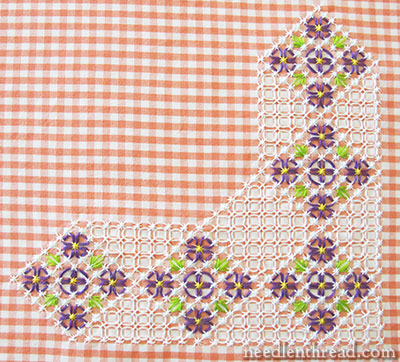 The pattern has obvious repeats (the floral diamond motif), so it's very easy to extend it in either direction as far as you want it to go.
For this design, I used the following materials:
100% Pima cotton 1/8″ gingham (found it through Farmhouse Fabrics – they have some very pretty colors. I found it on their site by searching "gingham" and then clicking "view all" for the selections, and about half way through, I stumbled on the 1/8″ gingham)
For threads, I used #20 coton a broder in white for the foundation double cross stitches, coton a broder #25 for the yellow and purple on the flowers (working the purple in 2 strands), and floche for the bright green leaves. The lacing around the white blocks is worked with #16 coton a broder.
Both coton a broder and floche can be found online through Lacis and through Vaune.
You can make substitutions with regular six stranded floss, or with #8 and #12 perle cotton, or with a combination of both.
I prefer working the foundation stitches in a non-divisible thread like perle cotton or coton a broder, because it's easier to work the lacing stitches under them without catching strands of floss.
Chicken Scratch / Gingham Lace Printable Pattern
Here's the handy-dandy PDF printable for the pattern. The design itself is in black and white, but the background is pink. If you want to conserve colored ink, just choose "black & white" in your printer settings before printing.
Chicken Scratch / Gingham Lace Pattern: Floral Corner #2 (PDF)
If you missed the first chicken scratch floral corner design, you can find it here.
Tomorrow, I'll share a basic tutorial for chicken scratch for those of you who haven't tried it yet, but would like to. It's a simple, fun, and attractive way to decorate gingham for spring and summer projects, and an easy technique for beginners and beyond!
Looking for inspiration & information on hand embroidery?
There are all kinds of reasons to sign up for the Needle 'n Thread daily newsletter! Check them out and sign up today!