Following up on last weekend's gingham lace (or chicken scratch) embroidery pattern that I posted for you, I've been having an ongoing discussion on the email sidelines about the pattern and the recent examples of gingham embroidery that I've been sharing here and on my Needle 'n Thread Facebook page.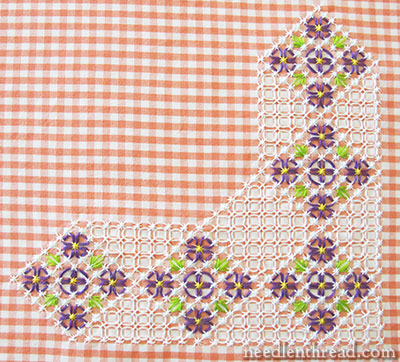 This is the finished corner of another pattern that I'll share with you shortly.
This particular piece also falls victim to the sideline argument mentioned above, because when I posted pictures of it, I called it chicken scratch / gingham embroidery.
What's in a Name?
Do you know, I have a hard time calling this embroidery technique chicken scratch, even though I know that, in America, this is probably the most common name for it. According to a plausible enough theory, the name came about because the stitches look like the marks left on the ground by chicken feet.
Chicken scratch conjures up a particular memory for me, and it isn't the most attractive visual! A pot full of chicken feet on the stove, simmering for stock. All those little scratchy toes sticking up… So instead of using the term chicken scratch, I generally opt for gingham lace or embroidery on gingham.
But it goes by so many other names, too: Amish lace, Depression lace, snowflake embroidery, Hoover lace.
In France it's called dentelle Vichy. It's also called broderie Suisse, and in Spain and Italy, they have their own names for it, too. In Australia, it's called Australian cross stitch.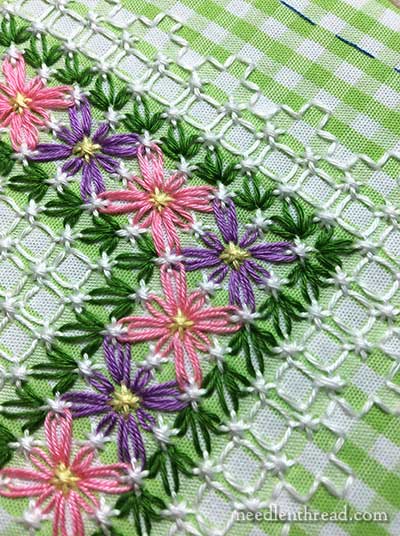 The Argument
I've been told that I am leading you astray by introducing several colors into chicken scratch, and by using stitches and variations that are not "historically accurate." I replied to those who believe this, thanking them for their well-intentioned critique, and the conversation developed into an on-going discussion.
(Please understand that discussion and argument are both civil terms. They do not mean fight – we are simply arguing a point and discussing our different outlooks.)
The argument is that, if we call this stuff "chicken scratch," then that name places the embroidery in a certain historical setting – the Depression era. During the Great Depression, chicken scratch was popular because it required only one (or at the most, two) colors of thread to achieve the lacy look on gingham. So, I am told, if we are to call this "chicken scratch," we can't use other techniques or colors – we must stick with the original approach that would have been used during the Depression.
Furthermore, there seems to be a concern that introducing new-fangled stitch combinations or colors into chicken scratch adulterates it, and eventually, chicken scratch as it was will no longer exist, and this would therefore be a disservice to the embroidery world.
Conclusion: if I want to add color and add different stitch combinations that were not used in the 1930's when chicken scratch was popular, then I can't call it chicken scratch, and must refer to it only as gingham embroidery.
My Take
Even though I don't really cotton to the term chicken scratch, and while I understand the point being made, I don't agree.
"You can only do this with chicken scratch (white thread or two tones on gingham, with only these particular stitch combinations), and call it chicken scratch, because that's what was done in the 1930's."
Ok, try this argument:
"You can only use these colors of wool that were used in the 1600's, in combination with these stitches, if you are to call this type of embroidery Crewel Work."
See the problem?
How stunted would our development in anything be, if that's the approach we took?
If every single named embroidery technique or style only imitated precisely what was done historically with that particular technique, where would embroidery be today?
We could take it to the extreme: Would embroidery then be limited to whatever materials and stitches were first employed, when embroidery was first called embroidery?
I do agree that the name of a technique implies certain things about it. I would not, for example, embroider in wool and just randomly decide to call it goldwork. I would not claim to be doing chicken scratch if I were working with silk thread in long and short stitch.
But I don't believe that the name of the technique limits us to what was done historically with that technique, when the name came about.
Furthermore, I think that this approach would stultify the embroiderer and severely limit the development of the art.
What's Your Take?
I told the stitchers I was discussing this with that I was going to bring the topic up on Needle 'n Thread.
It's not just a question of chicken scratch, mind you. We also got into blackwork, for example. The Historical Purist claims that "real" blackwork can only be done with certain types of threads on certain types of fabrics, in certain types of stitch combinations, and most certainly only in black – and that anything that deviates from this should not be called blackwork. Otherwise, we confuse future generations regarding the "real" definition of "real" blackwork.
But… my argument: blackwork has a place in the history of embroidery in many different cultures, in many different ages, so to which culture and age do we turn, when fixing blackwork to only mean this particular approach? Must it be only 16th century England that dictates what blackwork is?
So, what about you? Are you an Historical Purist when it comes to names of embroidery techniques, or do you agree that there is a lot of wiggle room for personal interpretation within the named technique, and that this interpreting is what contributes to the overall development of the art of embroidery? Or do you have another view, or other thoughts, on the subject?
Feel free to join in on the discussion below!