The other day, I mentioned I was playing around with Chicken Scratch embroidery, or "gingham lace" embroidery.
The fun thing about embroidery on gingham is that it works up pretty quickly, and with just a few subtle changes, you can have a completely different looking design.
Today, I'll share a pattern with you and chat about supplies I'm using.
Gingham Fabric
The fabric I used on the earlier chicken scratch sample is a coral-pink gingham, in 1/8″ checks.
It's 100% cotton, and it's a nice fabric, though quite light. For the little table mat I'm hoping to put together before Easter (!), I will line it with white fabric.
By the way, I love that it's very easy to tear the gingham along the grain to get a good, straight edge, rather than having to cut it.
I purchased it at Farmhouse Fabrics. Especially if you make children's clothes, it's a great place to find fabric.
Threads
In selecting threads to use for chicken scratch embroidery, you need to keep in mind the size of the checks on the fabric, and choose your threads accordingly. Very fine threads don't work so well on large checks. Very heavy threads don't work at all on tiny checks. It might take a little trial and error to figure out which threads will work best for the fabric you're using.
In the sample directly above and in the chicken scratch embroidery we looked at the other day, I used the following:
White foundation stitches (double cross stitches): coton a broder #20 or #25 (I used 20, but both work).
Yellow & Purple (flowers): coton a broder 25: I used one strand in yellow for the double cross stitch for the center of the flowers. In the sample directly above, I used two strands for the petals. In the previous sample (which matches the pattern in the PDF below), I used two strands of purple for the long petals on the flower and one strand for the short petals in between.
Leaves – one strand of floche in bright green.
Threaded Blocks & Scalloped Outlines: coton a broder #16, although you can use 20, and it still works. I found the heavier #16 really makes the white stand out.
Foundation Stitches
I find that the foundation stitches or holding stitches (the double cross stitches, cross stitches, upright cross stitches and straight stitches behind which other threads pass to create designs) are better off when worked in a non-strandable thread, like coton a broder in the various sizes, or perle cotton. If you work the foundation threads with regular stranded cotton, it's very easy to catch parts of them while passing underneath them.
Free Gingham Lace Embroidery Pattern
The printable PDF below corresponds with this sample that I showed you the other day: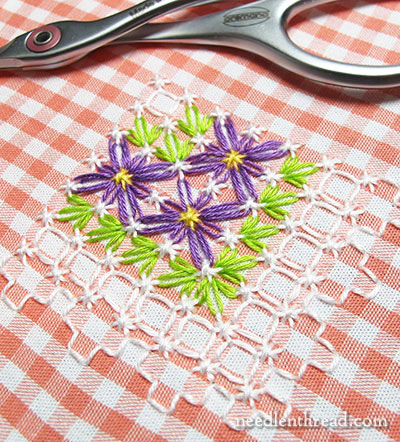 Here's the printable PDF:
Gingham Lace Floral Corner Pattern #1
The red dashed lines in the pattern indicate where you can repeat the design indefinitely, until you want to finish the edge. You can make any adjustments you want in the pattern as you go to suite yourself.
It's been a lot of fun playing around with gingham lace samples, and if I drum up more patterns, I'll share them with you, along with some tips for those who have never tried scratching chickens.
Have a terrific weekend!
Looking for inspiration & information on hand embroidery?
There are all kinds of reasons to sign up for the Needle 'n Thread daily newsletter! Check them out and sign up today!