I've written a little bit about gingham embroidery or chicken scratch here on Needle 'n Thread in the past. It's not a type of embroidery I dabble in often, but I do think it's fun!
Gingham embroidery goes by lots of names: gingham lace, chicken scratch, Depression lace, Hoover lace, Amish lace, snowflake lace, broderie suisse (strangely enough, if you look up "broderie suisse," you'll find lots of tutorials and photos for gingham embroidery, but if you look up "Swiss Embroidery," you'll end up with whitework and other techniques popping up in search engine results) – and probably many other names that I've missed.
They all boil down to relatively simple embroidery worked on gingham fabric, and sometimes on plain, two-toned checked fabric.
Happening on a pretty picture of a very springy piece of gingham embroidery worked on a multi-colored gingham linen, I found myself itching to work up something similarly simple and springy, just to dabble for the fun of it.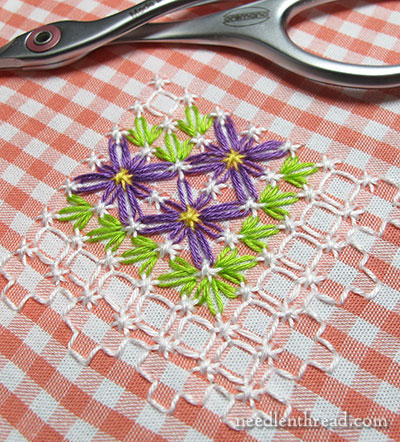 Using a piece of 1/8″ gingham cotton from Farmhouse Fabrics (they have very nice cotton fabrics and excellent service), I set about playing around with coton a broder and floche on the gingham.
Embroidery on gingham is a fairly simple type of embroidery – there isn't a whole lot of complicated stitchery involved – so it's pretty easy to sit down and mess around without a pattern, just to see what develops.
I started working with a corner design in mind, using a grid of white double cross stitches over the darkest checks as a starting point. And then I just went from there.
Although you don't often see a lot of color added to gingham embroidery – often it's worked only in white thread or in two tones, matching the color of the checks – occasionally you do see some contrasting colors thrown in. But there's no reason why you can't use a variety of colors in a piece, either.
It's the white in the embroidery, though, that imparts the lace look, although an opposite or reversed lacy look can be had by using a thread that matches the darkest checks on the fabric.
I had other ideas floating around in my head while playing with the gingham, but none of them have come to tangible fruition yet in the form of any kind of pattern. These two samples were the result of some very random and unplanned stitching fun.
If I stumble upon likable combinations, and if you're interested, I'll put them in pattern form and share them with you, along with some instructions.
Because gingham embroidery is a relatively simple form of stitchery, by the way, it's very easy to teach to children! If you're looking for a type of needlework that's suitable for age 7 and older, this works. I've taught chicken scratch to 6 and 7 year olds, and they took to it quite readily. With younger kids, a larger check and a heavier thread work well.
So, there you have it – some dabbling in springy stuff, just for the fun of it. If you're interested in seeing more, just let me know!