Japanese Embroidery: The Techniques Based on Nuido is the "beginner's guide" to Japanese embroidery, published by the Japanese Embroidery Center in Atlanta, Georgia.
Even if Japanese embroidery isn't your thing, this is a book that you'll find very useful. I've had the print version for a while, and I've learned a lot from it!
The JEC has recently released Japanese Embroidery in a digital version, available at an affordable price. Compared to the $42 price tag for the print version, the digital version is $19. And if you happen to live outside the US, where postage can be prohibitive when ordering books, you can readily see the advantages of a digital edition.
Yesterday, I purchased and downloaded the digital version so that I could give you a balanced review.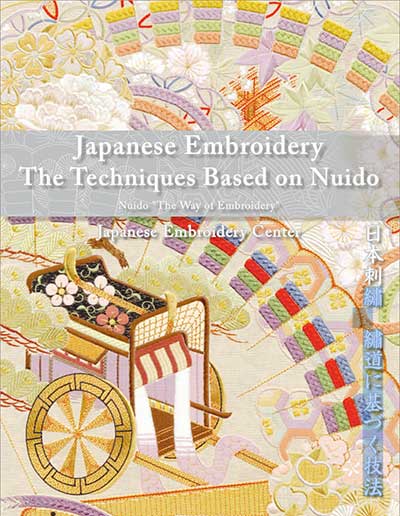 Why do I think you can benefit from this book, even if you aren't really into Japanese embroidery?
Japanese embroidery consists of working with flat silk and with Japanese gold and silver threads. If you want tips for working with both of these mediums, a good book on Japanese embroidery can be quite helpful.
There are other advantages, though. For example, the Japanese embroidery frame can be a useful tool for any kind of serious surface embroidery like goldwork, silk work, or larger projects that need a really taut, stable surface. In Japanese embroidery books like this one, you'll find information on how to set up and use a Japanese embroidery frame.
And finally – and most importantly – the different filling and stitching techniques, padding techniques, and finishing techniques can all readily translate into regular surface embroidery.
So, what will you find in the book? It's divided into two sections: Equipment and Methods, and The Stitches of Japanese Embroidery.
In the first section, you'll find information on the fabrics used in Japanese embroidery (with descriptions), on special equipment (like the koma and tekobari), details on the frame and how to set it up, instructions on twisting the flat Japanese silks into twisted silks, guidance on working with Japanese gold and silver threads, general notes on working the embroidery, and directions on the finishing process.
Anything that requires visual instruction for clarification is presented with clear diagrams and drawings.
In the second section of the book, we are introduced to the stitches of Japanese embroidery. Each stitch is accompanied by a clear photo of the stitch, embroidered, and diagrams on working the stitch.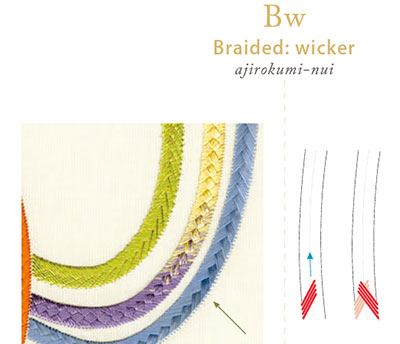 Compared to some stitch instruction books, the approach here is somewhat minimalistic, but still clear and logical. The diagrams and the accompanying text are easy to follow and understand.
The book is over 100 pages, and, to make it easy to get around in the digital version, there's an excellent index in the back with clickable terms, so you can look up any term, click on the associated page numbers, and end up right at that point in the book.
A Note on the Download Process
I'm a fairly computer literate person, so I found the download process easy enough. But you should be warned that you need specific software (Adobe Digital Editions) to open the book. This software is free, but if you don't know how to go about downloading and installing software, you might have to ask a computer savvy friend to help you out.
You'll find information on the digital download process on the product page for Japanese Embroidery. Scroll to the end of the page, under the order information, and read that stuff thoroughly before you purchase, so that you don't purchase the book without knowing what you're getting into!
I only bring this part up because I know that some folks might not be computer-oriented, and if that describes you, you may need to line up a family member or a buddy to help you through the process. That being said, the JEC does have a PDF available on the product page to take you step-by-step through the whole software and download process.
Overall, Japanese Embroidery: The Techniques Based on Nuido is an excellent book for your needlework library, and the digital edition makes it very convenient and affordable to have access to a copy!