Scissors. Yes. Scissors. I know! We talk a lot about scissors here on Needle 'n Thread. But today, I want to show you these particular scissors because they are pretty incredible.
And I love them! And I love the way they came to reside with me.
You see, they were a gift – a completely out-of-the-blue, surprise gift – and ever since they arrived, I have been enamored with them. I've been using them daily.
And there they are. Inside that tidy, tiny case resides a masterful feat of engineering.
You see, they are folding scissors. And they fold up incredibly small, in a perfect little package.
I've tried folding scissors before, but they have never impressed me. Usually, folding scissors are a bit on the chintzy side. Rarely are the blades precise and sharp for cutting, and usually the whole mechanical part of them feels a bit shaky and flimsy.
But these! These are hearty, sturdy scissors, and as for the mechanical movement, they rival the best of embroidery scissors. They are smooth, precise, and sharp. They Feel Good.
They unfold to a comfortable size, perfect for embroidery.
Unfolded, they're about the size of a standard pair of embroidery scissors.
The blades are a bit wider, but they cut with excellent precision.
And folded back down, they fit right in palm of your hand.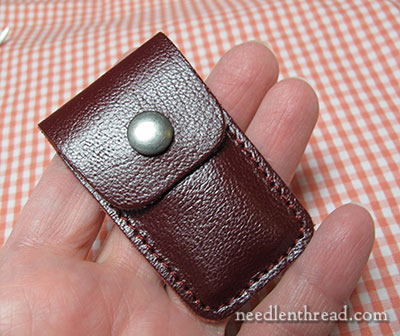 Slip them into their leather case, and they make a tidy package, indeed – perfect for tucking into small project bags, sliding into your pocket, secreting away in a handbag. They are unobtrusive, well-made, and highly functional!
I have several pairs of Good Embroidery Scissors that I love using, but these are right up at the top of the list. I've put them to work all week long, without any deviation in my first impressions of them. If you like Dovo scissors and similar scissors with precise, smooth mechanics and ultra sharp blades, you'll be impressed with these little guys.
For an online source (for those looking for them), Garrett Wade Tools carries the same folding scissors. You can even see a video of them in action there. And if you read the reviews, you'll see I'm not the only person who thinks highly of them.
Yes. Scissors. There's just something about good scissors, isn't there?!
Thank you, Cindy, for the happy surprise! They're a treasure and a treat!