Yesterday, we looked at this nifty way to hand embroider a shaded leaf, using the rose leaf stitch.
Today, I want to show you a fun variation – a little bud, using the same stitch.
Following the same instructions for the rose leaf stitch, make your tunnel of loops.
For the rose bud, I used one strand of crewel weight wool. (Fine d'Aubusson, in this case.) I made two loops in medium green, followed by three loops in a slightly darker green. Then I worked three loops in bright red, followed by two loops in a slightly darker red.
Of course, you can mix the colors up any way you wish. You might switch to pinks instead of reds, or you might work your darker green first so that it falls on the outside-most edge of the bud, and the lighter green next. This is up to you. Normally, though, you do want the darkest color for the actual bud itself to be the last color you stitch at the "top" of your tunnel of loops.
Turn the stitched loops inside-out, as instructed in yesterday's article on the rose leaf stitch, and anchor the last stitch to secure the bud.
You can see that it doesn't look extremely bud-like right now, because the base is open. So let's remedy that.
Thread up your darkest green and anchor the thread in the back of the stitches on the back of your fabric.
Make a fly stitch at the end of the bud, starting and ending the fly stitch just under the lower edge of the bud on each side, as shown…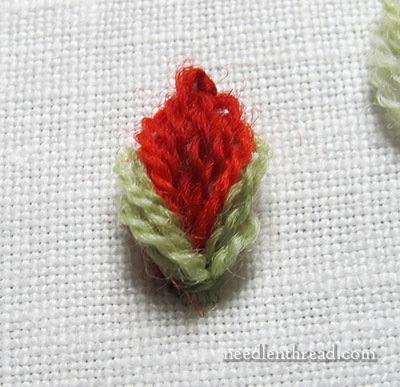 …then anchor the fly stitch just at the lower tip of the bud, pulling the fly stitch so that it scrunches the bud together at the base.
Work one or two more fly stitches at the base of the bud, and then finish with a stem stitch stem.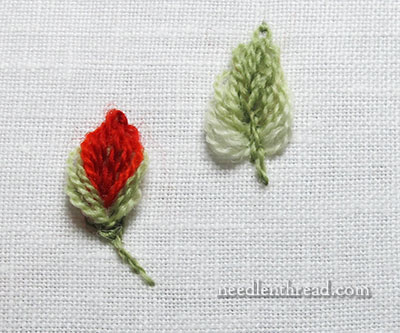 And there you have two different effects with the same stitch!
Fun, aren't they?
Stitch Fun is a series of hand embroidery tutorials here on Needle 'n Thread that explores obscure stitches, composite stitches, and easy stitches used in various combinations. If you'd like to play with more stitches, drop by the Stitch Fun Index, where you'll find a linked list of all the Stitch Fun tutorials.