I've doodled about with shisha embroidery before. I love it, especially the stitches involved and the decorative possibilities with those stitches.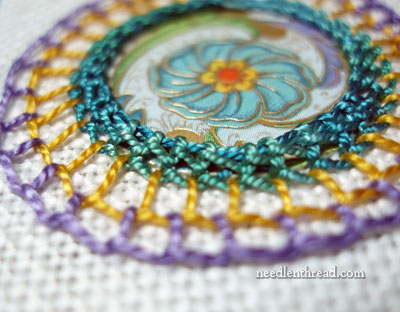 So I got it into my head that I'd like to do a few Stitch Fun articles on different approaches with shisha embroidery, or mirror work. That idea led me to playing about with all kinds of stuff.
And now I've got a mess on my work table again. And the aforementioned tutorials are not ready yet.
Isn't that always the way of it?
Erica Wilson's Video
For those who don't know what shisha embroidery is, it's a kind of embroidery originating in India, involving the fixing of little mirrored tiles (usually glass, but there are all kinds of approaches and interpretations to it these days) onto the fabric surface using decorative stitchery.
Back in the 1970's, an episode of Erica Wilson's needlework show on PBS highlighted shisha embroidery, and the episode is available on YouTube, if you want to watch it and become a little more familiar with the technique. It's fun to watch!
Alternatives to Glass Mirrors
I like to play around with shisha embroidery, straying away from mirrors in particular to fixing other things (even decorative paper, pictured above) to the fabric surface.
Recently, I ventured into playing with acrylic mirror shapes produced by Simple Shisha.
I thought I'd show these to you, in case you're looking for a fun way to add some serious sparkle and reflection to your embroidered crafts. They're a lot of fun, and they open up all kinds of possibilities not just for embroidery, but for other crafts, too.
What the folks at Simple Shisha do is back clear acrylic with a reflective coating and cut it into all kinds of fun shapes that can be fixed to fabric in different ways.
Unlike the more traditional mirrors (or mica chips), many of the acrylic shapes have holes along the outer edges so that embroidering the shapes to the fabric is fairly easy. But they also have other shapes that don't have holes along the outside edge. They have holes in the middle – like donut shapes, rings, snowflakes, gear-like shapes, hearts, diamonds, stars, teardrops, etc.
The tiles really are reflective, just regular mirrors!
There are a few definite differences between the acrylic mirrors and regular class mirrors.
On the positive side, acrylic is a lot lighter than glass. So you can pack on a lot of "mirrors" without the weight associated with glass mirrors.
Acrylic is also more versatile. With acrylic, intricate shapes can be cut. Glass would chip and break more easily with some of these shapes.
When embroidering real shisha mirrors, it's helpful to sand the edges of the mirrors with a stone (a fine, smooth pumice stone or a honing stone works well for this) to eliminate sharp edges. With the acrylic mirrors, this isn't as necessary.
On the negative side, though acrylic is pretty tough stuff, it is prone to scratching, much more so than glass is. It's easier to scratch acrylic with the sharp point of a needle than it is to scratch glass. Using a blunt tapestry needle is helpful.
Zooming in on this edge can be a little deceptive. size-wise, but another notable difference is that the acrylic mirrors are slightly thicker than regular shisha mirrors. This makes traditional shisha embroidery over the round or square mirrors a little more difficult.
I don't have the source on hand, but I read one textile artist who used a lot of shisha embroidery in her work. She didn't like using acrylic or plastic substitutes for mirrors, because she felt that, in the long run, they won't hold up as well as glass. (If I can track down the source on that one, I'll add it!)
If you're thinking of embroidering a masterpiece that you want to last through generations, acrylic might not be the way to go. But if your focus is more along the lines of fun crafts, the acrylic mirrors can open up so many possibilities. If you're interested in trying them, I got mine from Simple Shisha, where they have a great selection of all kinds of neat shapes.
And now, I'll get back to those tutorials so I can get my work table cleaned up…
…again!