Good morning and Happy Friday! Sure gets here fast, doesn't it?
Last week, I ran this give-away for one of Hazel Blomkamp's embroidery kits – Maureen the Owl – and a copy of her new book, Crewel Creatures.
So, today, I'll tell you who won the owl and the book and then share a wee bit of news with you…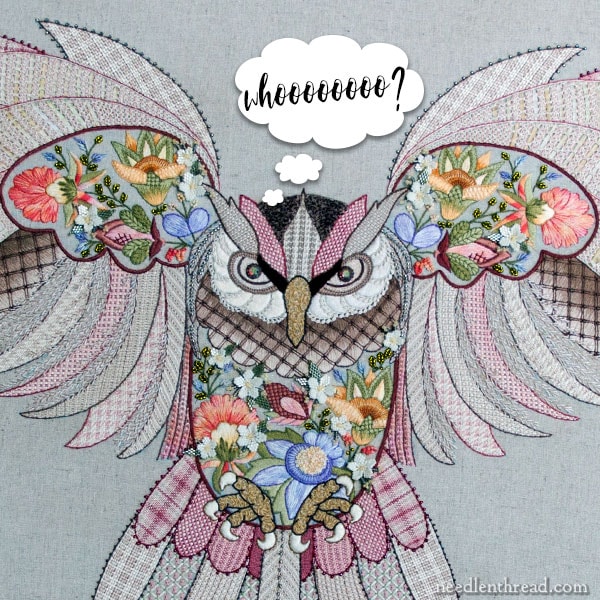 Hazel's new book, Crewel Creatures, releases this coming week. If you've already ordered it through the typical book outlets, I'm sure it will arrive close to, if not on, the release date. If you haven't ordered it yet, you'll find information on where to find it, below.
If you're keen to have your own kit for Maureen the Owl or any of the other critters in Crewel Creatures, you can find full kits available through Hazel Blomkamp embroidery, here. The convenience of a full kit can't really be underestimated, especially when working an embroidery project of this scope.
Maureen Winner
So, this morning, nice and early, I did all the requisite stuff and, using a random number generator, selected the winner for Maureen + Book.
And that winner is Linda B from Maine, who answered my question about what attracts you to the kit:
Maureen the Owl is amazing! I think it's the variety of stitches and the challenge of completing such a large pattern that attracts me. And with such variety, I'm sure I'd come across a new stitch or two. Thank you Hazel and Mary for offering such a beautiful give away!
I hope you enjoy working the kit, Linda! Let us know how it goes!
Where to Find The Book
If you're looking for Hazel's embroidery books, including Crewel Creatures, you'll find them available through the following book affiliates:
In the US, Hazel's books are all listed here on my Needle 'n Thread Recommendations page on Amazon.
Worldwide with free shipping, they're available here at Book Depository.
In Other News…
Starting next Tuesday, I'll be away from my habitual station at my desk for a little while!
My laptop is coming along with me, though, and I'm packing up a couple very low key, simple embroidery projects, so I'll still be doing the same stuff. I have the worst luck with stitching away from home, though! I've been very selective about my packing for this excursion, to help me be a little more successful about stitching on the go. We'll talk about that!
So Needle 'n Thread will still be going, and you probably won't even know I'm gone.
But while I'm away, especially while I'm driving, I won't always have immediate access to email or to the blog for moderating and replying to comments, so response times to email and comments will be necessarily a little slower.
So, lots of stuff coming up. And I'll still be here for you – though perhaps a little delayed.
Enjoy your weekend! And I'll see you Monday with some vivid color and fun stitching!