I suppose I've mentioned a few times – perhaps more – that I'm moving Needle 'n Thread into a dedicated space, out of my garage and my bedroom, and into its own studio.
I've finished the major part of moving and have everything necessary situated and ready to work in my new space. There's still a bit of work to do and some minor shifting of goods, but for the most part, I'm in!
For those who have contemplated setting up a separate needlework studio space – maybe because you operate a small business out of your home, or maybe you're just that avid of a crafter – and for those of you who are curious about what I'm up to these days, I thought I'd show you the space and discuss some of the whys and wherefores…
This is the approach, on foot, to my new space. When I look at it with objective eyes, what comes to mind? It might not be pretty…. but at least it's mine!
(That, and I need some plants around that stoop.)
It Doesn't Have to Be Perfect
In our visual, Pinterest-driven world, it's easy to dream about the ideal studio space – light, airy, cool in summer, warm in winter, sporting perfectly coordinated furniture and decor with fantastic organizational spaces, all surrounded by vast windows overlooking an abundant garden…
But, unless your business is thriving beyond capacity, producing a gargantuan income that covers all the business bills, medical insurance, the cost of living, and everything else that your income needs to cover – or unless you have a separate income to fall back on – or unless you want to go into serious debt – then chances are, the Perfect Pinterest Route probably won't be your first step in setting up a separate space.
And guess what? There's nothing wrong with that!
It's scary to take a risk. It's scary to take on the obligation of ownership or rent (in my case, a yearly lease) of an extra space.
To grow Needle 'n Thread, I knew I had to take a risk, but to keep things stable, I knew I had to keep things simple.
While I can't have my "dream space" right off the bat, I am thrilled to have a space, nonetheless.
At first, I sorely wanted a nice rental space in our little historical downtown area. I pictured a Main Street location, large plate glass windows, cool interiors, hardwood floors, and plenty of room for classes, for get togethers, for storage, for office work.
In a small town, though, historical downtown areas are ever constrained by the layout that developed organically some 150 years ago. Space is limited. The old buildings are hemmed close in by residential areas. And to get a space downtown – well, unless I could elbow my way into the upper echelons of established businesses wielding a hefty checkbook, it just wasn't going to happen.
So I turned to the residential sector, which is slightly more accessible. And I kept my eyes peeled for a rental that made sense.
When the half of a duplex pictured above became available, I took the leap.
Sure, it's old. And not "historic" old, either! It's that 1980's old! It's not beautiful. But it is functional. It has two bedrooms, a decent sized living room, a kitchen and a bathroom.
It has carpet that probably has never been changed – but at least it's been cleaned regularly!
It had old drapes and poor lighting, central air that needed work, a hot water heater that needed replacing.
Flaws, yes. But it also has potential!
Practically everything needed to get the space workable and attractive enough involved simple cosmetic adjustments. The big stuff – AC and hot water heater – were taken care of by the landlord (the advantage of renting!).
The lighting was dim, but a few new LED 100 watt daylight bulbs took care of that pretty quickly.
In the office space in the photo above (that's the back bedroom of the apartment), the drapes were old and drab and they glowed a yellow-brown with the sunlight behind them. I quickly replaced those with the (admittedly unattractive) white-gray blackout curtains you see in the photo above.
As much as the decorative side of me would like something colorful, bright, and cheery, the blackout curtains will go a long way to control the lighting in that room for photos and videos.
Notice the permanent photo set up to the right of the computer? Yay! Finally! This will make my workflow so much more efficient!
The office has a good sized closet, which will work well for storage. Ideally, I'd have sensible shelving in there to organize different sections of storage. But right now, I'll just settle for the closet space! Yay!
The front bedroom of the apartment – it lines up on the wall with the front door – is the larger of the two.
Right now, it sports a couple folding tables on one side of the room where I can work, as well as a small sewing machine table (peeking out on the left in the photo), where I can finally have my sewing machine permanently in place. Yay!
I'm going to change those curtains as soon as possible, and put something a little more colorful there.
The other side of the room – still suffering from Relocation Upheaval – are my thread cabinets, all lined up in order, and easily accessible.
As you can see, there's a smaller closet at the end of this room, where – for now – I will stack things in storage tubs.
And then there's the kitchen…
And even though it sports yellow countertops and dark laminate faux wood flooring, it's not bad! It'll be a great little place to fix a cup of tea, once I get a kettle. And there's even potential for stitch gatherings that involve socializing. Why not?
When facing out of the apartment as if to leave, this is the main room again.
In front of the window, there's room for a little sitting area.
Initially, I didn't have any chairs to put there. Since I will use that space for my own stitching when I'm working on small things, I wanted something comfortable enough to be serviceable and sturdy enough to last a while.
Shopping for new chairs was out of the question, so what's a gal to do? Craigslist, of course! Two very well-made, well-upholstered (though somewhat dated), and well-cared for chairs for $100? That was just about budget-right! And they're comfortable! Yay!
Granted, the ottoman is a bit large, but it can be wheeled out easily enough when space is in demand, and in the meantime, it works as an ottoman, a table, or an extra seat.
The front window definitely needed new curtains.
I am embarrassed to say I skimped on the curtains at first, thinking I could get away with two panels instead of four.
They look like an undersized shirt on an overstuffed teddy bear – they don't quite meet in the middle.
But don't worry – the other two panels will be added later!
These curtains were a bit of a splurge. I wanted something with a little bit of color, but still light, that let in at least some daylight (no blackout curtains for this room), and that were perhaps Jacobean-ish in design.
These filled the bill. They're fun!
There are still quite a few adjustments to make on the space, but I'm in and everything is functional, so I'll be tweaking little things as I can.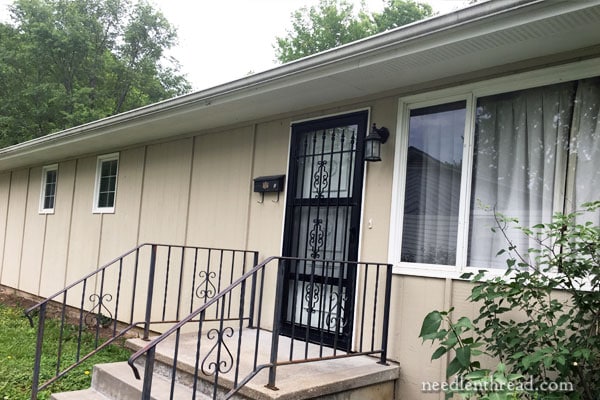 This is the studio as I leave it. The duplex splits right after that small window, which is the window in the front bedroom (or, now, the embroidery workroom).
I have great neighbors all around, too. The house next door to the duplex is surrounded by gorgeous flower beds and gardens. Behind the duplex is a small wooded area before the next property starts. Directly across the street is a grassy and wooded lot. And my own house isn't too far down the road. It's a quiet neighborhood!
Future Plans?
Now that the studio is a reality, it's time to work out my future plans for it. I have many, but I'm breaking them down into reasonable goals.
Right now, my immediate plans are to get back to photo and video tutorials for the website, and to keep providing you with a good resource for hand embroidery.
I'll be using the front room for local children and youth classes this summer, too. Needle 'n Thread has come full circle, then! I'm finally back to being able to host kids' classes again, which is how the blog first started. Yay! I'm very excited about that!
As my plans develop further, I'll certainly keep you in the loop!
In the meantime, if you want to hear more about the backstory behind the studio and a little more about my upcoming youth classes – and what's up in general – you might enjoy listening to yesterday's episode of FiberTalk, which is a podcast for needlework enthusiasts hosted by Gary Parr and Christine Williams. They invited me to chat with them this week and we recorded the episode just on Saturday. You can listen to FiberTalk online here, or you can pick it up through any of your favorite podcasting outlets (iTunes, etc.).
And now, I'm off to work! Literally, I get to walk to work now – I love it!
Hope your week is off to a great start!