Way back in January, I reviewed the book, Embroidered Treasures: Flowers, a wonderful compilation of embroidery pieces held by the Embroiderers' Guild of the UK.
Guess what? The next Embroidered Treasures album is coming soon – and today, I just wanted to give you a heads up and quick little look at it!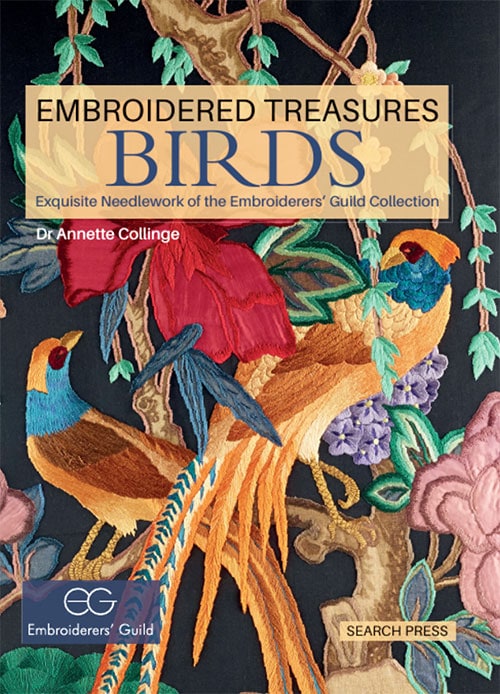 Like the Flowers book, Embroidered Treasures: Birds promises to be an exciting and inspiring look at a wide array of embroidery projects from different eras that feature our feathered friends.
If you love birds and you love embroidery, and if you're fascinated by the history of embroidery, you will love having this book in your library! Better yet, it is such a pretty book that it doesn't need to be consigned to a bookshelf. It's a perfect "coffee table" book, one that you can pick up and browse through at leisure, gleaning striking bursts of beauty and helpful bits of information every time you meander through it.
I've had the pleasure of perusing an advanced copy of the book, thanks to Search Press, and it is everything you'd want – beautiful, informative, and inspiring!
Throughout the book, you'll find embroidered birds from a wide spectrum of artistic eras, covering a wide variety of techniques.
There are 17th century birds, like those above…
…to folky, more modern birds.
All sorts of birds populate the book, from stylized birds to realistic renditions of birds in needlework.
The format and approach of the books is similar to the Flowers book, which you can see in detail here.
With each featured embroidery, you'll find dates, provenance, and all the details of techniques and materials used to create the embroidery.
Why I Like It
What I love about this new series of books from the Embroiderers' Guild of the UK is that you can learn much from each book, just by studying the pieces in it.
No, it's not an instructional project book – you won't learn how to recreate, step-by-step, the embroidery pieces you see. But you will learn a lot about the history and development of embroidery, and you'll see, at a glance, what kinds of techniques can be used to produce a certain look or style of embroidery.
This is very helpful, if you have ideas in mind for a project, but you're not sure what techniques to use to get the look you want.
Soooo…. bird lovers, historical needlework buffs, and general embroidery enthusiasts – this book's for you!
Where to Find It
You can find Embroidered Treasures: Birds available for pre-order through the following sources:
Embroidered Treasures: Birds is available on Amazon. I've added it to my Needle 'n Thread Recommendations Page on Amazon.
Here's a direct link to the book on Amazon.
Worldwide, with free shipping, you'll find the book available here at Book Depository.
This article contains affiliate links to book sources, which means that Needle 'n Thread receives a small commission for each purchase made through the link, with no added expense to you. If you shop on Amazon, please consider using my Recommendations Page as a gateway. Every little penny helps keep Needle 'n Thread afloat! Thanks so much!