If you love flowers, if you love needlework, if you love historical and modern embroidery techniques, if you love museums and collections and threads and unique things, if you love costuming and accessories…well. Here's a book for you!
Embroidered Treasures: Flowers is a book that brings to life, for you and me, the embroidered flowers found on items of needlework in the collection held by the Embroiderers' Guild of the UK. It's a fascinating book – one that you'll want to pore over, contemplate, and absorb.
When I first heard this book was coming out, I immediately put it on my List and then eagerly anticipated it for months. It does not disappoint!
Let's look at it up close! I'll show you just a mere portion of the inspiration offered in this incredibly beautiful book – enough to illustrate what it's all about – and tell you where you can find it today. It's not available everywhere just yet, and I kind of suspect it's going to be a popular book (like museum collection catalogs – they never seem to hang around long enough!).
Embroidered Treasures: Flowers is a hard cover book with a colorful cover (and dust jacket) that hints at the delights within.
The book is not a how-to book or a project book. It's a catalog of items in the Embroiderers Guild collection, with detailed information about each item – the provenance, techniques, materials used, close-ups of the stitching, and so forth.
And while it might not be exactly an instructional book, you'll definitely learn a lot from it!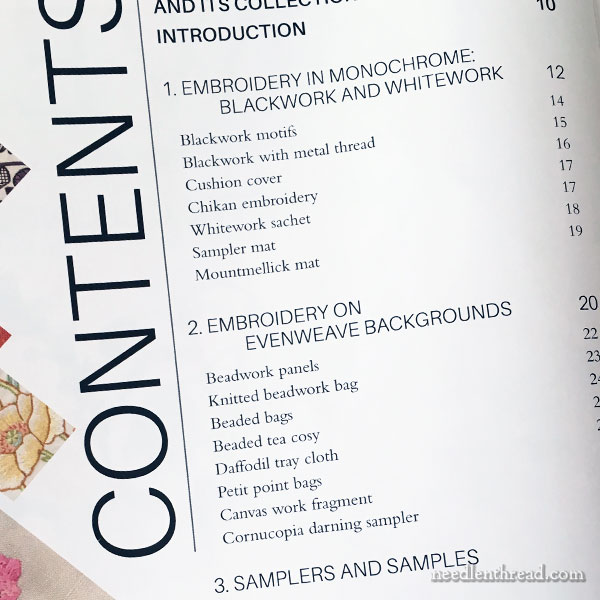 To give you an idea of the format of the book, here's a glance at a small fraction of the contents.
The book is divided into different qualifications, as follows:
Embroidery in monochrome (blackwork & whitework)
Embroidery on even-weave (counted, beadwork, canvas work)
Samplers and samples (works stitches as samplers or as a collection of samples of a type of needlework or a type of design)
Needle lace (including 17th century techniques)
Applied materials (including slips, silk ribbon work, felted appliqué and more)
Embroidery with unusual materials (think: fish scales, straw…)
Metal thread embroidery
Stitches and more stitches (embroidery worked with a variety of stitches)
Silk and wool
Machine embroidery
Symmetry in stitches (symmetrical designs)
Irregular designs
There are fantastic examples of embroidery in ever chapter!
The book begins with a short history of the Embroiderers' Guild and its collection by Dr. Annette Collinge. Fascinating reading! I think it's interesting to see that there's a clear difference between the Embroiderers' Guild in the UK and its development, compared to the EGA (Embroiderers' Guild of America).
After a short introduction, we move straight into the collection!
Each spread presents anywhere from one to several pieces of embroidery, along with details of provenance, materials, techniques, and a thorough and really readable description of the piece.
You even get a sense of the "personalities" of the pieces in these descriptions. For example, I chucked at the description of a silk and goldwork flower panel: "This is a flower with an attitude. It's meant to be seen from a distance."
In this way, Collinge makes the collection very accessible as she guides the viewer through the pieces.
Think of the pleasure you get from visiting a museum or place of historical interest in company with someone who really knows their stuff and who can make the story behind the place or the pieces come to life, by putting them into context with history and with other similar things – and that's what you get in this book.
For the stitcher and for the aspiring designer, there's a lot here, too!
You'll often find close-ups on elements that you can learn from, just by virtue of seeing them close up!
In most museums and most collections, you'd never get the opportunity to get this close the pieces and to look at them for this long and to study them in any depth.
I especially love being able to see clear stitch details on many of the pieces.
There are numerous vibrant examples of embroidery in the book, from antique to modern – many examples for every preference.
The book of samples shown above ranks high among one of my favorite pieces…
…and I especially love the detail photos!
And this is another favorite that you'll want to find out more about.
Amazing how something as seemingly simple as straw can produce such a luxurious look, isn't it? Definitely worth reading about!
And as far as eye-catchers go, is this not gorgeous?
Aaaaaaaaah. I love this piece! I love the detail in the thread – look at that sumptuous, soft, gleaming silk!
In a Nutshell
Embroidered Treasures: Flowers is a fantastic book! It's inspirational. It's informative. It's beautiful!
For most of us who will never see a collection of embroideries like these up close and personal, this lovely book is the best way to experience them and learn about them. We can take what we learn and apply it to our own needlework pursuits. Or we can just enjoy the beauty of the pieces and appreciate the history behind them.
It's a great book for your reference library… and even for your coffee table!
Where to Find It
You can find Embroidered Treasures: Flowers available through the following book affiliates:
Worldwide, with free shipping, Embroidered Treasures: Flowers is available here from Book Depository. It's available now!
In the US, the Embroidered Treasures: Flowers is available here through Amazon, but it won't be released here until the beginning of March. You can pre-order it now.