It's midweek – a perfect time for a little burst of inspiration for you!
Over on the Needle 'n Thread Community on Facebook, members are treated to incredible amounts of inspirational embroidery each week.
For the past couple weeks, one member – Cathinka Hoff Strønstad, from Norway – has been sharing her exploration of Schwalm whitework embroidery, which she is learning thanks to the excellent tutelage of Luzine Happel, in Germany. If you're not familiar with Luzine's beautiful Schwalm embroidery books, you should take a look at them!
As Cathinka worked her way through one of the projects designed by Luzine, she shared her progress. And then she showed us what happens when you become familiar and confident with a technique, and your mind starts playing with possibilities.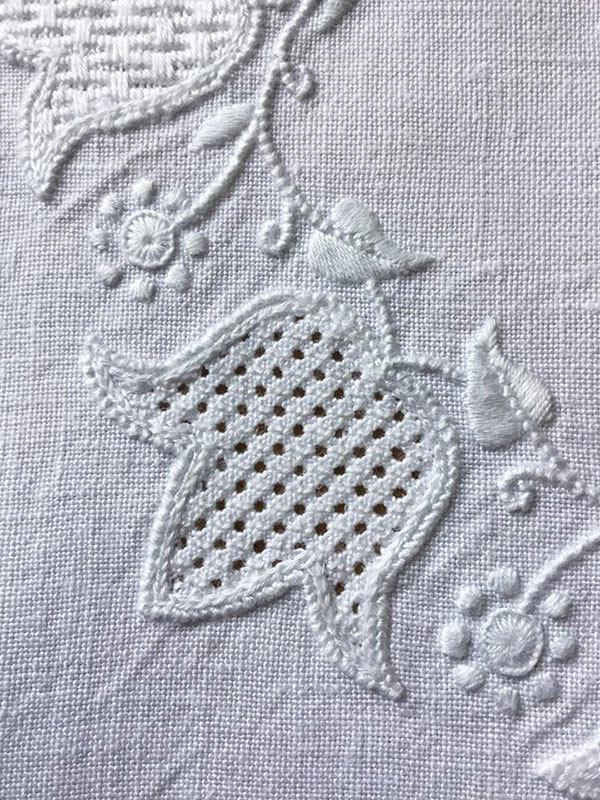 Luzine's Schwalm embroidery designs are ideal for learning this form of whitework, which incorporates surface embroidery stitches and multiple types of fillings – patterned, drawn thread, and pulled thread.
Cathinka shared with us her excellent progress on Luzine's Schwalm Tulip wreath, where she was able to practice a nice variety of the filling patterns that are such a lovely part of Schwalm work.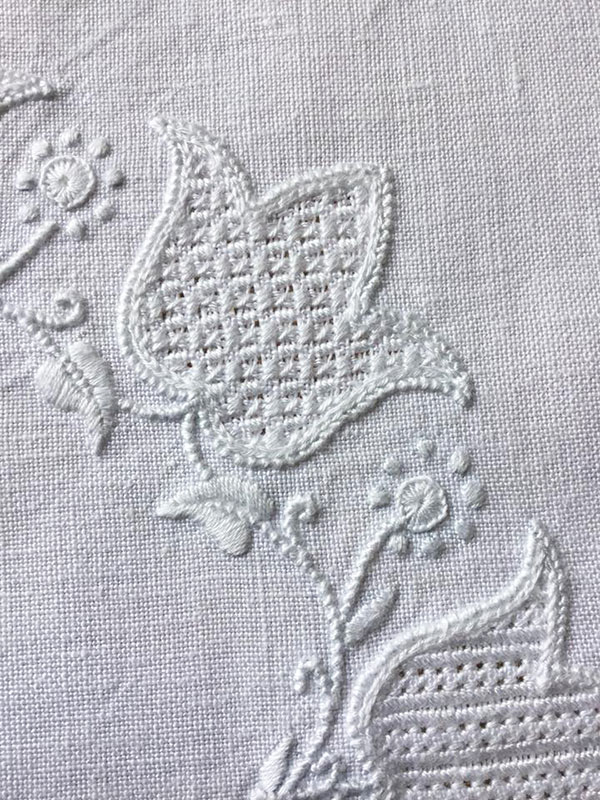 The tulip wreath is a perfect learning sampler, and Cathinka's stitching is superb!
Then, when branching out on her own little Schwalm design, Cathinka had an idea. Why not incorporate a little color into the Schwalm work – not as part of the Schwalm embroidery, but rather, as an ornamental addition?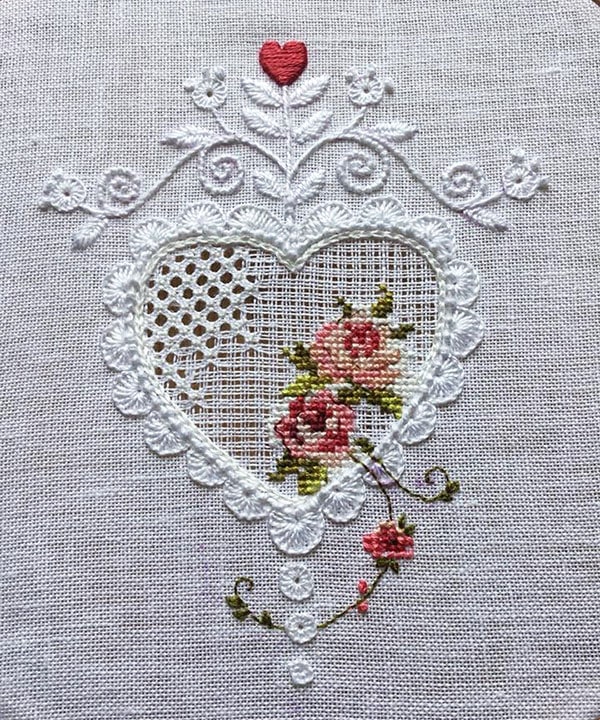 Using cross stitch, she worked some lovely roses on the inside edge of her Schwalm heart, allowing a little tendril to escape over the buttonhole scallops and continue down the design.
The effect is really lovely!
And what I especially love about it is that she keeps the integrity of the Schwalm embroidery, using the color and cross stitch as a decorative – and still somewhat separate – addition to the technique. The integrity of the Schwalm foundation is not marred.
Unlike taking a whitework technique – for example, Mountmellick embroidery – and working the whole design in color, and then calling it "Mountmellick whitework in color" (at which point, it is no longer Mountmellick embroidery, but simply surface embroidery!), the whitework in this piece is still whitework and still recognizably Schwalm whitework.
Here's an example of Cathinka's second go at the design, with all but the small heart at the top completed.
I think this is a beautiful twist on Schwalm embroidery, very pretty and delicately done, don't you?
I hope it inspires you to be bold and experiment with your embroidery. You never know what pleasing results lie just around the creative bend!
Looking for More on Schwalm?
I've reviewed several of Luzine's books on Schwalm whitework here on Needle 'n Thread. Here are a few favorites linked to the reviews, if you'd like to check them out:
Basic Principles of Schwalm Whitework
And for the fun of it, here's my Schalmish Christmas Chicken, on paper!
Another beautiful example of Schwalm whitework by a Needle 'n Thread reader – it's a gorgeous tablecloth!