Many of you, I know, subscribe to Inspirations Magazine, which is one of the longest-running contemporary magazines devoted to hand embroidery.
It's been going since the 1990's, when I was in college. I've previously told the story of my introduction to the magazine (and how I used to steal my sister's copies) here, if you're interested in reading a bit about my backstory with Inspirations.
The latest issue is a fantastic celebration of needlework and an exciting milestone. The latest issue is #100, and that's definitely something to celebrate!
When #100 arrived in the mail the other day, I just knew I'd have to share it with you, so that those of you who don't subscribe will have a chance to know what's in this issue, and perhaps take the leap and at least purchase the single copy (if not start your own collection of the next 100 issues!). Issue #100 is an excellent sampling of what Inspirations Magazine is all about.
SPOILER ALERT: If you haven't received your copy yet and you like to savor the surprises in each issue, you might not want to read ahead, because I'm going to highlight the projects in issue #100.
Keep in mind, Inspirations is more than just the projects within an issue. Each issue features articles that take the reader into all kinds of different worlds of needlework. Sometimes, I find the feature articles just as alluring as the projects, especially when I want a little inspirational escape.
But, really, the meat of the matter in any issue of the magazine is the array of projects. Each issue is a project and instructional book, in magazine form.
This particular issue features a nice array of gorgeous projects, with something for everyone!
The cover of Inspirations issue 100 features a mistletoe-bedecked bell designed by Julie Kniedl. Christmas, after all, is right around the corner, and this little stumpwork piece is a delightful way to add to your holiday decor. It would make a nice accent on a very special gift box.
But of course, it's mistletoe, so I think it should be hung above a door!
Whenever I open Inspirations, I don't start reading slowly, from cover to cover. I start by thumbing through to get an overview of the projects, because it's kind of like Christmas that way – it's a surprise package, and you don't know yet what delights are within! I can never wait to discover each project slowly!
My heart leapt when I saw the first project – and boy, did it bring back memories!
I think the very first projects I fell completely in love with – to the point of absolute twitterpation – in any of the earlier magazines were Jenny McWhinney's camels and her Monet books.
Monet is a mouse, of a rather Beatrix Potter style, and he has adventures! His adventures are depicted in a series of three books now (the earlier two are in previous issues).
I remember his first adventure, and oh! was it the most delightful thing I'd ever seen! A Beatrix Potter-ish tale, replete with darling illustrations – and all embroidered! What's not to love?
I always thought the designs would make great little story time quilts for kids, too.
So I was pretty happy to see Monet back at it, this time with Hugo the Hedgehog and some goldfish. The illustrations are superb and the story is sweet.
And then, lo! Another beautiful project that brought back memories!
This is a Trish Burr needlepainting project – Redouté's Tulips.
Trish's needlepainting is exquisite. I was first introduced to her work through one of her earlier books, Redouté's Finest Flowers in Embroidery, which I reviewed here.
The tulips are a very elegant project!
Jane Nicholas. What else is there to say?
I never really liked stumpwork all that much, until I came across Jane Nicholas.
Jane's work is delicate, artistic, and magical. She really sets the bar, when it comes to stumpwork.
Just in case you aren't familiar with how Inspirations works, each project is presented with a full list of materials to complete the project, followed by step-by-step instructions for working through the project. Finally, you'll find, where necessary, specific stitch or technique instructions, illustrated step-by-step as well, for the particular stitches or techniques used in the project.
So, in this sense, this is what I mean by saying each issue is a project and instructional book.
Over the years, Inspirations has featured a fairly wide array of embroidered blankets, and so, in this issue, I was happy to see the tradition commemorated, with a beautiful blanket designed by Carolyn Pearce.
The blanket sports a lovely wreath of embroidered flowers, buds, greenery and ribbon, worked in a variety of techniques.
The kit for this particular project is already available on the Inspirations Studios website. You can find it here.
Hazel is definitely a recognizable character! (No, the chameleon above is not named Hazel!) What I mean is, Hazel Blomkamp's work is recognizable from a mile away.
She has such a unique style, wherein she fearlessly combines stitches, colors, textures, beads, and bit of whimsy to produce her embroidery works.
Clive the Chameleon is no exception. He is an eye-catching character, full of color and life, and perhaps just a little smugness. But then, he is a chameleon. He's fantastic!
This kit is already available on the Inspirations Studios website, here, if you're keen to get it. I have a feeling it's going to be popular!
For those who want something small and manageable, and quite elegant, Jenny Adin-Christie's White Rose brooch (or ornament) will fill the bill.
I love Jenny's designs and projects! I think she has a nice sense of "embroidery style," and she comes up with such pretty pieces. This one incorporates several whitework techniques in a small space, and the result is elegant simplicity.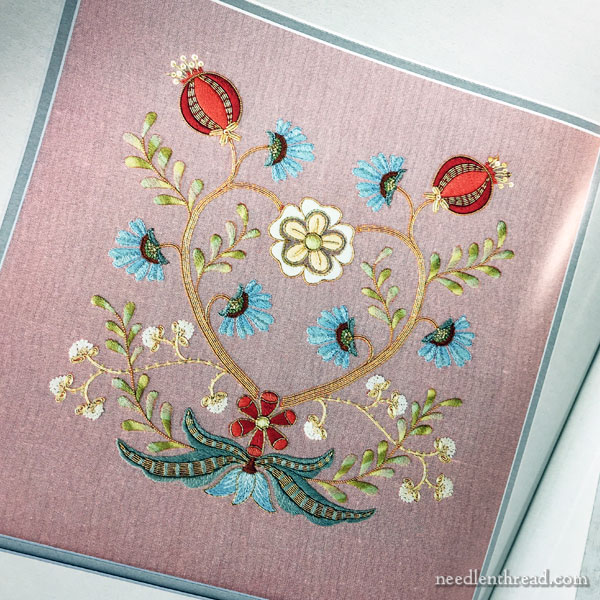 Finally, for those looking for goldwork and color, combined in a light and airy modern design, Anna Scott contributed a beautiful piece – Pomegranate and Rose.
Surely I'm not the only one who thrills at the sight of embroidered pomegranates? They're one of my favorite motifs in embroidery. I find the light airiness of this design quite pleasing – and I like the combination of colors that at first struck me as a little unusual, but that work beautifully together.
100! And Where to Find It
And so you see that this milestone issue of Inspirations magazine features some really gorgeous projects – something for everyone! It's a beautiful issue and worth having in your collection.
Maybe something in this issue catches your eye, but you aren't keen on building a collection of magazines. If you're not a subscriber to the magazine, you can buy the issue separately, too.
The latest issue isn't quite available singly yet on the Inspirations Studios website. But keep on eye on the website, here, for the latest issue to be available as a single copy.
You can subscribe to either the print or digital editions of the magazine here. There are four issues per year. If you go digital, you'll be able to download the printable PDFs for the patterns. The print copy has a pull out section in the back for the patterns.
If you're in the States, you can pick up single issues here through Wooly Thread once they're available, and you can also subscribe to Inspirations print edition through Wooly Thread, too.