I've been working lately on some tiny embroidery projects. Technically, they're petit point – they're worked on 48 count silk gauze. And they're a lot of fun! (I will share them soon!)
As I work on any embroidery project, I troubleshoot to make sure the project can be accessible to anyone who wants to undertake it, too. And this can sometimes be tricky, especially when working with small scale embroidery.
When it comes to seeing small scale stitching, there's always lighting and magnification to help.
But when it comes to doing certain things – for example, threading a little needle – it's sometimes hard to find a solution if difficulties arise.
I've written about threading needles in this article here (read the comments, too). No matter what kind of needle I use, the pinch and saw method of threading always sees me through.
But for some folks, threading a needle is more difficult – and not being able to thread a fine needle can put them off their stitching game altogether. So I figured I'd seek out a fine needle threader that actually works for small needles.
When it comes to threading a needle, most of the ubiquitous wire needle threaders out there can't handle small needles.
Those inexpensive wire threaders (you know the kind: a tiny wire attached to a piece of tin or plastic) might fit into the needle's eye initially. But once you add the thread and start to pull the wire back through, the tight fit often causes the wire to break or to separate from the tin or plastic base.
The most stable type of needle threader has a flat, thin hook on it. The hook is an integral part of the body of the threader. It's not simply a wire attached to a base.
So I started searching for a flat-hook needle threader with a teeny tiny hook that would fit into smaller needles' eyes.
I doubted I'd find one.
Most of the flat hook needle threaders looks like these, or some configuration thereof: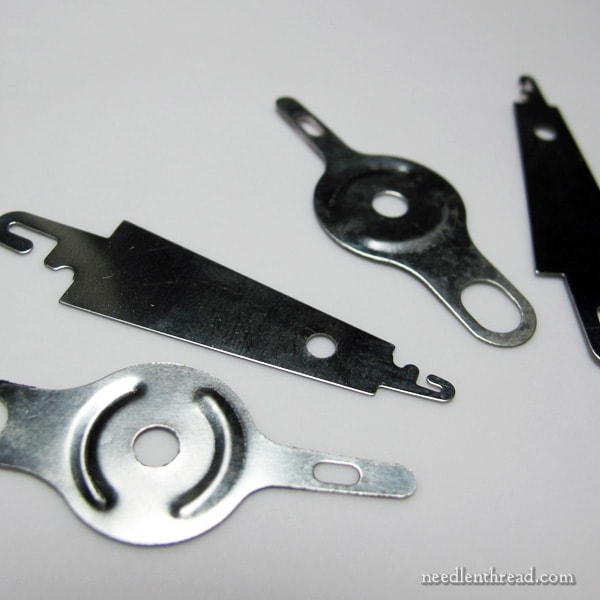 These are excellent needle threaders. They're inexpensive, but they last. They're easy to see. They do the job. But they are large – even their small ends are large! The small ends work on about a #7 crewel needle fairly easily.
I'm using #10 beading needles, which are significantly smaller!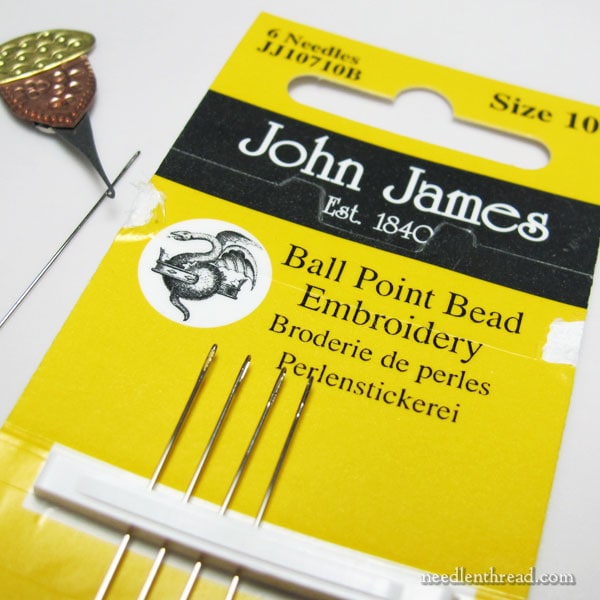 Lo and behold, eventually, I came across the acorn threader featured in the first photo above. It's made by Puffin & Co.
They make two sizes of decorative flat-hook threaders, and one of them is a micro threader.
The threaders come in different configurations (a bunny instead of an acorn, for example), so you can get all seasonal with them if you want!
The threader has a fine magnet on the back of the micro threader, to keep it from slipping away somewhere (it's pretty small, after all).
Now, the micro threader is not necessarily an easy fit into the #10 beading needles, especially with the silk thread I'm using (a single strand of Soie de Paris). But it does work, if you use a careful rocking motion to pull the threader and the thread through the eye.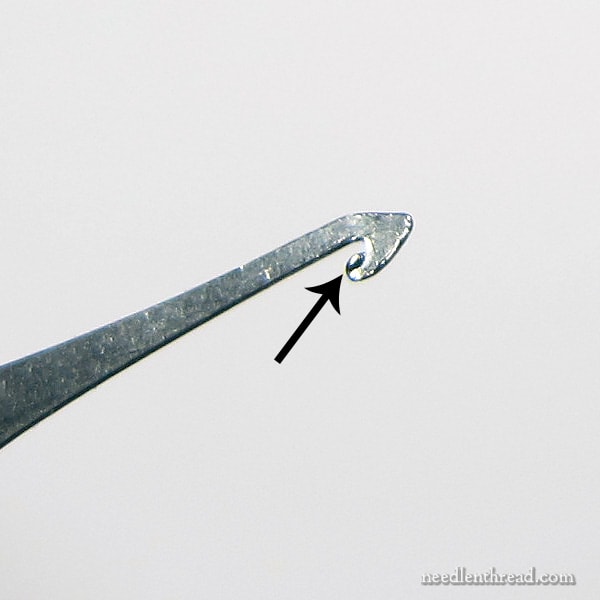 In fact, I think the threader would work even better if it didn't have a small burr on the end of the hook. I'm pretty sure this was the luck of the draw – it just happened that I got a threader with a burr on it.
If you're at a shop, you can always feel the end of the hook carefully to check for a burr, but if you're ordering online, you won't have the opportunity to feel the threader first, obviously.
Even with the tiny burr (which I'm going to try to buff out), the micro threader still works in my little needle – and that's an amazing thing!
I love it! And I'm glad I took a chance and tried it!
An Up Close Look at Needle Threaders & How They Work
I found a video on different type of needle threaders here, by Cathe at Needle in a Haystack. She covers different threaders and how to use them correctly. The Puffin micro threader is included in the video, as well as the other threaders shown above and the typical wire threaders.
If you have trouble threading your needles and you've wondered about needle threaders, the video is a great place to start exploring possibilities!
Where to Find Needle Threaders
If you have a local needlework shop or even a local quilting shop, you'll probably find a decent selection of needle threaders available there.
Some threaders, you can find at chain fabric stores on the notions wall.
I ordered my Puffin & Company micro threader through Needle in a Haystack, here on their needle page. Just scroll all the way down towards the end of the page for the ordering information. Make sure to choose the micro threader if you're looking for a really small threader!
You can also order from Puffin & Company directly here, or you can at least browse through the different designs for the threaders.
Since the price is the same in either place, I ordered from Haystack because I needed a few other little items. (No, really, I did! I "needed" them!) Saves on shipping, after all!
So, there you have it. A tiny flat hook needle threader that works in small needles. And it's cute, to boot!
Do you have any needle threader recommendations, for those struggling to thread smaller needles? I'd love to hear your suggestions. Please join in the conversation below – you might just save another stitcher's sanity with your ideas!
Ok, back to the grindstone! You have a marvelous Wednesday now, ok?