If you spend much time in the needlework world part of social media, or you receive regular advertising from various needlework outlets, you probably already know that DMC has recently come out with a sparkly embroidery thread called Étoile (French for "star").
I just now have the chance to take a look at the thread, thanks to the folks at DMC who recently sent some of it along to try.
If you haven't seen it up close yet, I'm going to give you a close look at it, too. I have not yet stitched extensively with it, beyond a simple line of stem stitch. But I have plans to, shortly. In the meantime, we'll look at it, talk a little about initial impressions, toy with some ideas for stitching with it, and open the conversation so we can share thoughts on the thread with the wider community.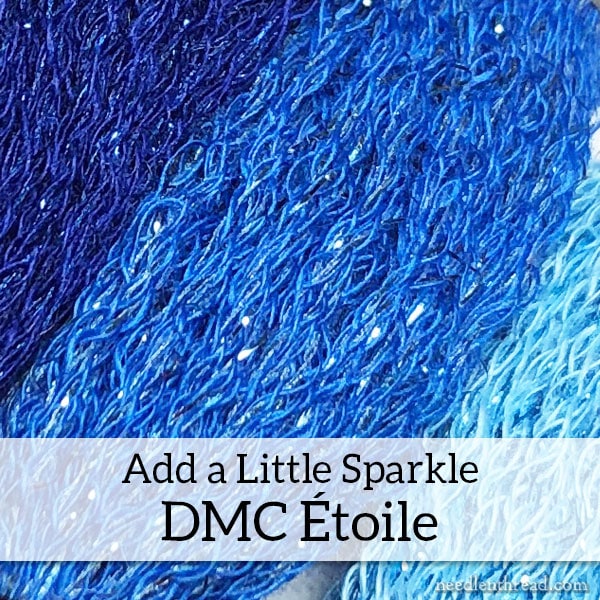 This sparkly thread called Étoile – what is it, exactly?
DMC Étoile is a 6 stranded embroidery thread that comes in a skein just like their regular stranded cotton. It's composed of strands made up of 3 separate "plies" – two of which are cotton thread and one of which is a sparkly synthetic (viscose) filament.
In the photo above, you can see the Étoile laid out on the left side (the darker blue) and regular stranded cotton on the right side of the photo.
The plies do not twist together tightly to form a smooth thread like they do with stranded cotton. Instead, they are loosely twisted and quite open, making for a very light, airy thread. It looks like it would be bouncy – in fact, once tension is placed on it, it's more of a soft, slightly fluffy thread.
The sparkle throughout the thread is very subtle, but definitely visible.
In fact, "star" is the perfect name for this thread. The deeper blues remind me of the night sky here in Kansas, twinkling with starlight. And that's how this thread works. It's not overly metallic. There are small, consistent sparkles throughout, but don't expect the same type of sparkle that you'd get out of a full metallic thread.
The tin that my threads came in was not one of the broad and flat collector's tins – and I'm actually glad of that! This one is a smaller, deeper tin, and it'll be great for tools and whatnot.
But I'm only bringing up the tin because I think it had a lot to do with my initial impressions.
The spread and layout of the threads in the collector's tin (you can see photos of it on the DMC website, here) help to convey a specific first impression of the threads.
Unfortunately, I didn't have that impression when I opened my tin. The threads were all packed into a cellophane bag, thus:
I have to admit, this was not the best impression to start with!
I was somewhat taken a-back and a little worried. If I had to go on absolute first impressions, I would probably have closed the tin and set it aside, to explore (or not!) another day.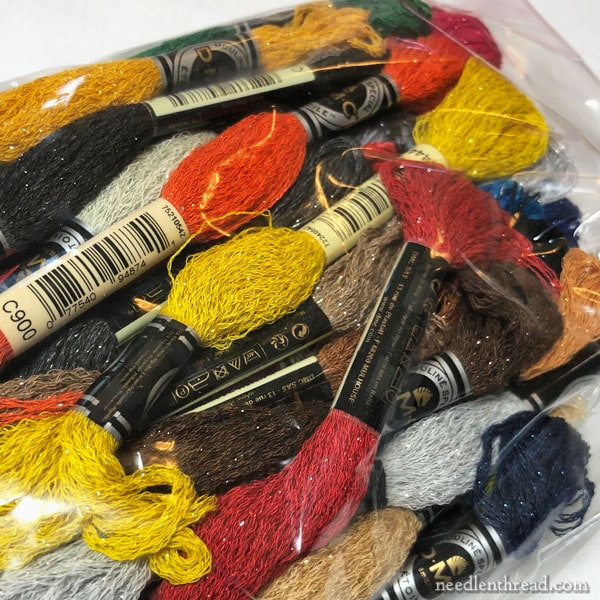 When all grouped together like this, these threads don't shine. And I don't mean in a sparkly sense!
The first idea that popped into my head upon opening the tin was, "Ugly Sweater Contest."
Oh, we are not off to a good start, my friends! I said to them. And they agreed!
It actually takes laying the threads out, to appreciate them.
This first phase of Étoile (I'm assuming there will be more, but I don't know for sure) began with 35 of their more popular colors, along with some good neutrals. I'm pretty sure there was some color marketing theory going on here, especially when considering the way the threads are laid out in the collector's tin. They're quite appealing when laid out in a specific order.
The color numbers on the threads correspond, to a degree, with the color numbers of their floss, but are preceded by the letter C. For example, C321 is essentially regular 321 (Christmas red) with a bit of sparkle.
Blanc is not quite white, though – it looks a bit like a pale, almost dingy, gray. If you want a really bright white, take one strand of the Blanc in this line, and one strand of B5200, and stitch with both in the needle at once. You'll end up with a bright white with a bit of sparkle that mimics snow beautifully.
Over in the Needle 'n Thread Community on Facebook, one of the members embroidered the edge of a snowy roof with this combination, and the result was really pretty and, when it comes to mimicking snow, quite impressive!
The more I considered the Étoile line-up of 35 colors, the more convinced I became that these sparkly threads would be especially favored for stitching three particular subject areas: night skies, snow scenes, and Things Christmas.
And then I started thinking that I might test these threads out specifically on a snowflake. It just so happens that I have a snowflake embroidery pattern available right here on the website – not to mention several patterns for snowflakes in counted work that would work well, too. (You can find those right here on my free patterns page.)
As soon as I can dabble with it, I think that's how I'll go about playing with Étoile and getting a better feel for how it performs.
In the meantime, though, just for kicks, I stitched up a double line of stem stitch very quickly to see how it would go…
…and I wasn't too impressed with my effort. I used two strands in the needle. The thread tends to be soft and almost fuzzy, and it "buckled," in a sense, as I stitched with it. That is, individual plies made their way out of the strands, and stood out alone, more or less buckling from the main thread.
This could very well be my fault – it was just a hasty trial. So I'm going to give the thread a better chance by stitching more carefully with it and trying other stitches, too.
On Combining with Regular Stranded Cotton
I've heard some folks say that the thread works best when it is combined with regular stranded cotton.
So, for example, the NnT Community member of Facebook who combined Blanc Étoile with B5200 got better results using one strand of each. I've also seen some examples of two strands of regular stranded cotton mixed with one strand of Étoile, for heavier lines with a bit of sparkle to them.
But I really want to test whether or not it's necessary to combine Étoile with stranded cotton for the best results. If this is the case, then it seems to me that the Étoile would be redundant, that it's just being used as a blending filament, of which there are already plenty available on the market that can be blended with any thread.
I think the whole point of Étoile – and the fascination with the thread – will be the convenience it offers of having cotton threads that correspond with the DMC color line, that are already twisted with a blending filament and that are ready to stitch right off the skein.
This is what I'm hoping to find when I can devote some solid time to experimenting with thread.
What About You?
I'd love to hear your impressions if you've tried Étoile! If you have any comments, questions, suggestions, ideas, feel free to join in the conversation below!
Where to Find It
You can find individual skeins of Étoile (for US and Canada only) available here through 123Stitch.
The DMC collector's tin is still available on the DMC website, here. It's a great way to get all 35 skeins laid out in one neat tin.