Good morning, and a Happy Monday all around!
Time's a-ticking, and this week will see the end of A Stitcher's Christmas!
Today, it's all about tools – and a wonderful array of them, too!
Imagine toddling down the stairs on Christmas morning at 5:07 am in your fuzzy sleeper, your blanket dragging behind you and your bunny slippers scuffling along. As you rub the sand from your eyes, suddenly you behold, in the glow of the Christmas tree, your Christmas stocking, bulging with embroidery treats!
Well, you'll have to supply the stocking (and the blanket, the fuzzy sleeper, and the bunny slippers), but Needle in a Haystack is supplying the embroidery treats – a whole collection of useful and fun tools for the stitcher. In fact, for two stitchers, as I'll draw two winners who will each win a collection!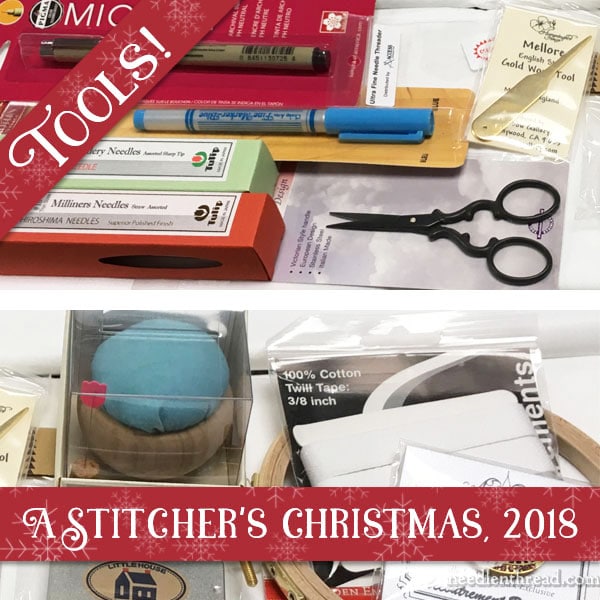 Before we launch into the delectable details of today's give-away, though, we'll take care of the business of drawing the winners of last Wednesday's give-away for this luscious collection of beautiful wool embroidery threads from Renaissance Dyeing.
There are two winners from the give-away, and they are Deana Vaughn and Louise in Mt. Gretna. Congratulations, ladies! I will drop you a line so we can get the ball rolling and get those threads winging their way to you!
If you're looking for a beautifully cohesive color range of crewel wool in colors suitable for any stitching, hand dyed with all-natural dyes, do check out the Elizabethan Collection at Renaissance Dyeing. It's a wonderful full color palette for Jacobean styled crewel work, without having to fuss over color choices. And the wool is quite dreamy to stitch with!
Needlework Tools & Fabric
And now, on with the tools!
Needle in a Haystack is a locally-owned needlework shop in Alameda, California. They carry a vast array of fine needlework goods.
They're also one of the (very) few well-inventoried and well-stocked online stores for fine needlework supplies in the US. While there are still some excellent needlework shops out there (sadly, fewer and fewer), they don't necessarily have a thorough online inventory and shopping system. Fortunately for the rest of us who don't have access to locally owned needlework shops, Needle in a Haystack does.
Today's give-away incorporates lots of little (and some big) things that every stitcher can use. Here's what you'll find in your package, should you win:
Two tubes of Tulip Needles (crewel & milliner)
An ultra-fine needle threader
A Tulip pincushion
A Hardwicke Manor 5″ embroidery hoop with twill tape to bind the hoop
A Pigma 003 Micron Pen (.15mm – this is very, very fine)
A fine-tipped water erasable pen by Bohin
A metal tin of Little House glass head pins
A gold-plated mellore (used in goldwork, but also works as a laying tool)
1 yard of Southern Belle white muslin (this makes a great backing fabric, but it's also excellent to stitch on as a ground fabric)
A pair of black scissors
A Felt Chip board (gray) and French Macron needle minder – both Needle in a Haystack exclusives
With a retail value of $120, this is a fine collection for any stitcher, whether absolute beginner or thoroughly seasoned.
Give-Away Guidelines
This give-away is now ended. Thanks for participating!
To join in today's give-away, please follow these guidelines:
1. Leave a comment below, in the comment form following this article. You can follow this link directly to the comment form, if you are unsure of where to go. Please do not comment as a reply to someone else's comment.
2. On the comment form, please fill out the name line with a recognizable name (no anonymous comments) and the email address line (which is not published). Please make certain your email address is entered correctly. Leave the website line on the form blank, unless you own your own website.
3. In the comment box, answer the question posed below.
What's your favorite subject matter for embroidery? Are you a floral person? A bird person? Stylized or geometric designs? A sampler person? A people or character person? What subjects do you like to stitch, or what subjects do you find yourself stitching most frequently?
Please do not leave your email address, mailing address, or phone number in the actual comment box. The comment box is also not the place to advertise your own needlework business, so please do not leave links to other websites in the comment box.
4. Please leave your comment by Friday, December 21st, 5:00 am central time (Kansas, USA). I'll randomly draw the winners that morning and notify them by email.
5. Please leave only one comment on the give-away. Multiple comments will be deleted. You can enter all the give-aways in the series, but please enter them only once each.
And that's it! Two winners for this one, so you have double the chance to win!
Coming Up…
After today, two more fabulous installments of A Stitcher's Christmas. On Wednesday, look for some splendid silk specialty threads; and Friday … oh, the most exquisite scissors in the whole wide world! (Want a hint?)
I hope your week is off to a wonderful start!