If you've been embroidering for a while – or even if you're just recently indulging in the practice for the first time – you're probably very aware that, these days, there are innumerable threads for hand embroidery!
But when it boils down to the actual fibers used to make hand embroidery threads, in the natural fiber arena, you have four main contenders: silk, wool, linen, and cotton. Lately, it's true, there are some upstarts (like bamboo fibers), but those four are the widely used natural fibers in the embroidery (and actually the entire textile) world.
Today's give-away focuses solely on wool thread, specifically crewel wool hand dyed at Renaissance Dyeing, where they use the traditional dyes and mordants available in the 16th century to produce their colored embroidery wools.
Read on, and I'll tell you a bit more about today's give-away and I'll also announce the winner of last Friday's installment of A Stitcher's Christmas, which included some beautiful silk and scissors from Tres Chic Stitchery.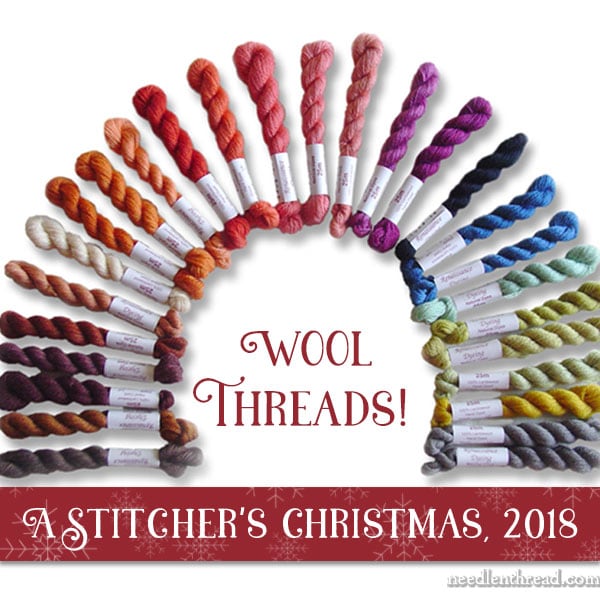 Before we delve into the new give-away, let's take care of business!
Sajou Scissors & Silks Winner
First thing this morning, I randomly drew the winner for last Friday's give-away of a fantastic pair of decorative scissors and a beautiful set of silk threads, courtesy of Tres Chic Stitchery, who distributes Sajou products here in the US.
The winner for the scissors and silk is Allison H. The question posed in that give-away was "What's your favorite accessory for your needlework (aside from scissors and needles). Here's Allison's answer – it might give you a fun idea for transporting your projects!
My favorite accessories are my collection of metal lunch boxes – I'm a huge geek, and was really delighted to realize that metal lunch boxes make the greatest needlework carrying containers. They're (mostly) water- and crush-proof, and I am entirely delighted to carry a 16th century style piece inside a TARDIS lunchbox…
My sister totes her hand-pieced quilting projects exactly the same way, so you'll be happy to know there's another lunchbox geek out there, Allison. I'll drop you an email to get the process started, and before you know it, you'll have new scissors and silk to carry about inside your favorite lunchbox, too.
If you're looking for Sajou products in the US, you'll find a whole collection of them here at Tres Chic Stitchery. Check them out – you may find just the perfect gift for you!
Renaissance Dyeing Elizabethan Range
For today's give-away, Renaissance Dyeing has offered two complete sets of their Elizabethan range of wool threads (which you can read about here), one set for each of two winners.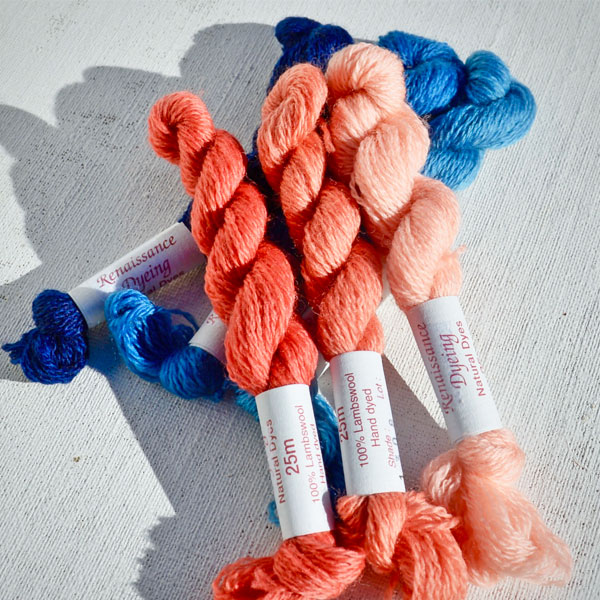 There are 27 skeins of beautifully dyed wool in the Elizabethan range. And the wool is lovely to stitch with!
Give-Away Guidelines
This give-away has ended. Thanks for participating!
If you'd like to enter today's give-away, please follow these guidelines:
1. Leave a comment below, in the comment form following this article. You can follow this link directly to the comment form, if you are unsure of where to go. Please do not comment as a reply to someone else's comment.
2. On the comment form, please fill out the name line with a recognizable name (no anonymous comments) and the email address line (which is not published). Please make certain your email address is entered correctly. Leave the website line on the form blank, unless you own your own website.
3. In the comment box, answer the question posed below.
What's your favorite two- or three-color combination, and have you ever stitched anything in it?
Please do not leave your email address, mailing address, or phone number in the actual comment box. The comment box is also not the place to advertise your own needlework business, so please do not leave links to other websites in the comment box.
4. Please leave your comment by Monday, December 17th, 5:00 am central time (Kansas, USA). I'll randomly draw the winners that morning and notify them by email.
5. Please leave only one comment on the give-away. Multiple comments will be deleted. You can enter all the give-aways in the series, but please enter them only once each.
Coming Up…
On Friday, we'll take a break from give-aways and talk about some stitchy stuff!
Next week is the last week of A Stitcher's Christmas, and you can look forward to three really splendid give-aways that you won't want to miss if you love beautiful needlework tools and specialty threads.
If you'd like to know exactly what those three are, I talked about them with Gary Parr at the end of this episode of FiberTalk, which aired this past Sunday. You're welcome to listen along! I can't stand hearing my own voice, but if you can tolerate it, you never know what you'll discover!
See you Friday!